Background:
The House of Godimmortalized the capricious Medical Admitting Resident who decides on assignment of patients based on favors and grudges. In reality, this has always been a complicated role and it has evolved over time and in different settings based on the local needs and changes in emergency department and medicine service staffing. At NYU Langone Medical Center Tisch Hospital, a tertiary care academic medical center, patients admitted to the medicine service need to be assigned to an appropriate team, bearing in mind patient factors (diagnosis, severity of illness) as well as taking into account the state of the hospital (team caps, number of available 'admitters', beds in the hospital, etc.). Prior to 12/2010, the information gathered and used to make assignments was managed using pen and paper. This system was fraught with error and supported little accountability.
Purpose:
The goal was to create a database to store information regarding team assignments which would facilitate the process by automating some tasks and also would allow for reporting and auditing of the process. Additionally we wanted to improve communication by adding an system‐generated email to go out to patient caregivers regarding patient admissions.
Description:
A password protected, secure, web based database was developed and deployed to be used by the staff responsible for assigning medicine teams to incoming admissions. The application was built to interface with the scheduling software and with the electronic medical record in order to display in one place all of the providers that were available at any given time as well as to show 'real‐time' team censuses. The user interface allows for basic information about the admission to be entered and upon team assignment logs each admission to keep an ongoing census count to monitor admission caps. Finally, for each admission the system sends out an email to the admitting team, to the admitting attending and to the patient's primary care physician, notifying them of the incoming patient. 34,650 patients have been entered into the system since 12/2010. The system has been used to generate reports that have been used in audits to troubleshoot problems regarding team assignment as well as to understand diurnal patterns in patient volume. The email system was integrated with the rollout of the resident 'team' iPhones and is now used as the standard way that housestaff receive initial communication about admissions.
Conclusions:
Sharing information via a web‐enabled database has minimized information loss and error and has improved timeliness in the admission process. An additional benefit of automating and standardizing documentation regarding this process was that the responsibility for team assignment was transferred from physicians to administrative staff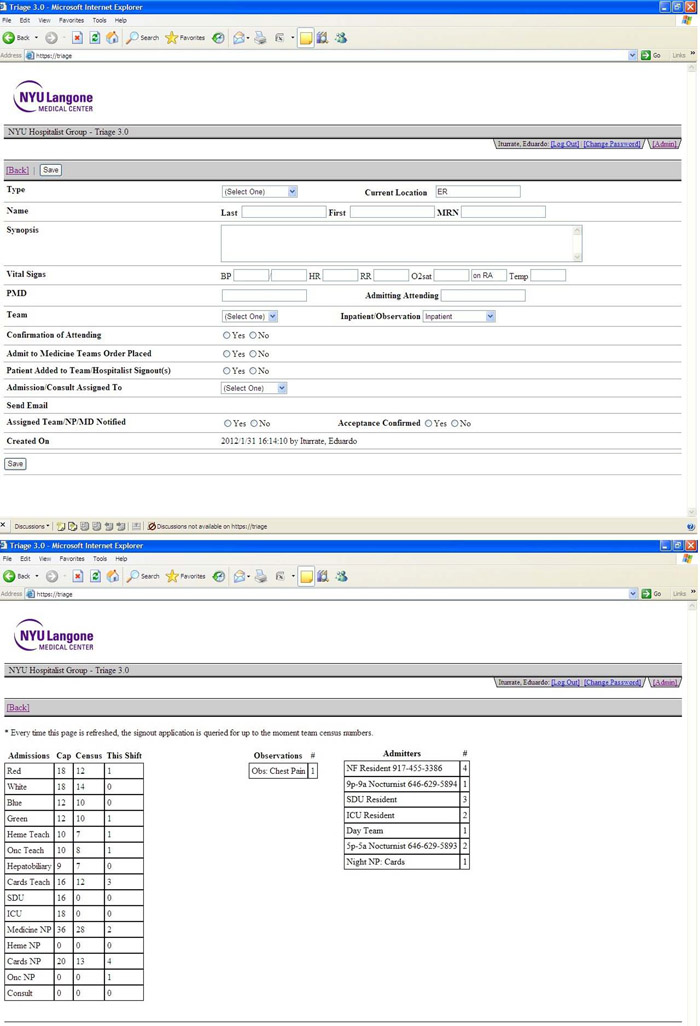 To cite this abstract:
Iturrate E, Adler N. From Paper to Web: Implementation of a Database to Manage Team Assignment. Abstract published at
Hospital Medicine 2014, March 24-27, Las Vegas, Nev.
Abstract 239.
Journal of Hospital Medicine.
2014; 9 (suppl 2). https://www.shmabstracts.com/abstract/from-paper-to-web-implementation-of-a-database-to-manage-team-assignment/. Accessed March 28, 2020.
« Back to Hospital Medicine 2014, March 24-27, Las Vegas, Nev.