Background: The ACGME identifies care transitions as both a core competency and focus area for the Clinical Learning Environment Review, but there is a scarcity of literature on standardized curricula designed to teach residents how to facilitate safe discharges. While focusing on the patient as the central locus of the transition is important, an under appreciated aspect is teaching communication skills for effective and safe care transitions practices. Our institution sought to create and implement a longitudinal formalized care transitions curriculum and standardize the process of discharging patients. During an initial needs assessment, differing stakeholders with multiple perspectives on care transitions drove us to utilize nominal group technique, an organized brain storming approach.
Purpose: To derive the key tenants of a transitions of care curriculum and highlight elements that are important for patient safety during the discharge process, we conducted a focus group of primary stake holders. These stake holders included primary care physicians, hospitalists, geriatricians and sub-specialists, those impacted most by care transitions hand-offs. During the focus group we utilized nominal group technique to engage participants, and focus the conversation. The nominal group technique is a structured consensus method that is used in business to achieve a general agreement or convergence of opinion around a particular topic,. Here we inonovatively applied it to curricular development and improving patient safety at discharge.
Description: Twenty themes were identified after round robin reporting and idea generation. The items deemed most important included: creating an accurate discharge medication list, writing accurate discharge summaries, identifying patients who require a "warm" hand off, and precise patient-centered discharge instructions. This approach yielded positive feedback from all the providers, and promoted dynamic dialogue amongst outpatient and inpatient physicians to drive discussion around educational necessities and key patient safety barriers at the time of discharge. These fundamentals have been utilized as the core of the care transitions curriculum and have led to standardization of discharge practices at the hospital level. The implementation embraces an interdisciplinary approach amongst hospitalists, nurses, nursing care manger managers, and pharmacists to teach, model and evaluate residents in these different domains.
Conclusions: We learned that the nominal group technique is a useful tool that can be applied to curriculum development and to create consensus for hand offs at the time of discharge. During our focus group of inpatient and outpatient physicians, use of the nominal group technique helped identify curricular elements and domains to improve care transitions within the hospital structure at the time of discharge. Going forward, we anticipate improved overall satisfaction for the patients, resident learners, hospitalists, and the providers assuming the care of the patient following discharge.
IMAGE 1: Care Transitions Elements – Nominal Group Technique Results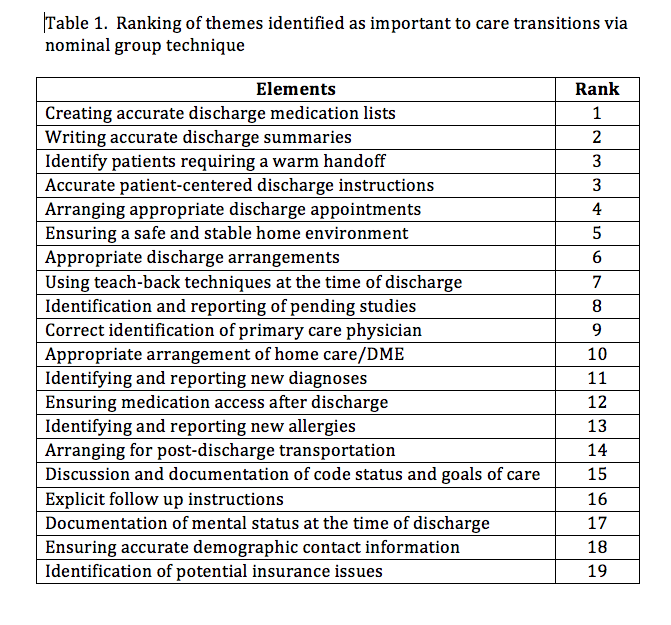 To cite this abstract:
Pandya, DS; Williams, P; Rubin, R; Taqui, B. FROM HOSPITAL TO HOME: CREATING CARE TRANSITIONS STANDARDS FROM CONSENSUS USING NOMINAL GROUP TECHNIQUE. Abstract published at
Hospital Medicine 2019, March 24-27, National Harbor, Md.
Abstract 418. https://www.shmabstracts.com/abstract/from-hospital-to-home-creating-care-transitions-standards-from-consensus-using-nominal-group-technique/. Accessed December 6, 2019.
« Back to Hospital Medicine 2019, March 24-27, National Harbor, Md.