Factors Related to Hospital Readmission among Hospitals in the University Health Consortium
1Northwestern University Feinberg School of Medicine, Chicago, IL
2Clarian Health Partners, Inc., Indianapolis, IN
3NYU Langone Medical Center, New York, NY
4University HealthSyslem Consortium, Oak Brook, IL
5University HealthSystem Consortium, Oak Brook, IL
6Fletcher Allen Health Cane, Burlington, VT
7Massachusetts General Hospital, Boston, MA
8Froedtert Memorial Lutheran Hospital, Milwaukee, Wl
9Virginia Commonwealth University Health System, Richmond, VA
10Northwestern University Feinberg School of Medicine, Chicago, IL
Meeting: Hospital Medicine 2010, April 8-11, Washington, D.C.
Abstract number: 62
Background:
Up to three quarters of hospital readmissions may be avoidable, incurring a total cost from unplanned readmissions of $17.4 billion annually. Knowledge regarding the characteristics of patients at highest risk of readmission has been derived largely from single center or regional analyses. Analysis of Medicare claims data confirms previously identified patient risk factors for readmission including a prior expenence of hospital readmission, advanced age, and multiple comorbidities. However, examination of these factors for rehospitalization within a national cohort has not been conducted among patients with other insurers. In collaboration with the University Health Consortium (UHC), an alliance of 104 academic medical centers, we examined patient demographic variables and discharge medication data to better understand risk factors for readmission.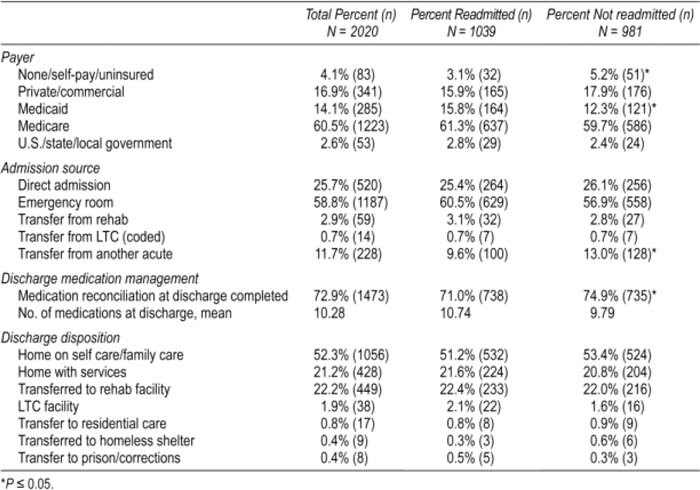 Methods:
Thirty‐four hospitals reviewed sequential medical records for patients readmitted following care for 1 of 9 index admission diagnoses. For patients admitted with AMI, heart failure, and pneumonia, eligible cases were limited to patients ≥ 65 years of age. Cases of readmission were matched based on admission diagnosis, age. and severity of illness to contemporaneous discharges not associated with readmission. Comparison of readmitted patients to those not readmitted was performed for admission source for index admission (e.g., home, long‐term care), discharge disposition on index discharge, patient payer status, number of discharge medications, and use of medication reconciliation at discharge, Statistical analysis used chi‐square and t tests.
Results:
A total of 2020 patient records were reviewed: One thousand and thirty‐nine records represented readmissicns, and 981 were matched observational controls, Rates of self‐pay insurance or no insurance were significantly lower among the readmission cohort (P = 0.016), whereas rates of Medicaid insurance were significantly higher (P = 0.026). The mean number of medications on discharge was significantly higher among individuals in the readmission cohort (P = 0.001). Documentation of completed medication reconciliation on discharge was significantly lower in the readmission cohort (P = 0.049).
Conclusions:
This national sample of hospital readmissions indicates that patient‐level variables (insurance status) and discharge process variables (medication reconciliation) are related to the likelihood of hospital readmission.
Author Disclosure:
L. Hansen, none; M. Williams, none; R. Press, none; L. Smith, none; A. Strater, none; N. Ward, none; J. Weigelt, none; E. Weil, none; P. Boling, none.
To cite this abstract:
Hansen L, Koenerman O, Press R, Smith L, Strater A, Ward N, Weil E, Weigelt J, Boling P, Williams M. Factors Related to Hospital Readmission among Hospitals in the University Health Consortium. Abstract published at
Hospital Medicine 2010, April 8-11, Washington, D.C.
Abstract 62.
Journal of Hospital Medicine.
2010; 5 (suppl 1). https://www.shmabstracts.com/abstract/factors-related-to-hospital-readmission-among-hospitals-in-the-university-health-consortium/. Accessed April 3, 2020.
« Back to Hospital Medicine 2010, April 8-11, Washington, D.C.