Case Presentation:
A 56 year-old female with no PMH presented to hospital with left sided chest pain of 2 months duration. Chest pain was pleuritic in nature and not associated with exertion. She also had occasional non-productive cough. She denied fever, chills, fatigue and weight loss. She was taking Ibuprofen for chest pain. EKG was normal. Chest x-ray revealed a left sided pleural-based opacity. She was a lifelong non-smoker. CT chest confirmed a 6 cm pleural based soft tissue mass eroding the lateral aspect of the fifth rib. Physical examination, vital signs and lab studies were unremarkable. Percutaneous biopsy of the mass revealed plasmacytoma. Laboratory analysis showed an M-protein [immunoglobulin (IgG) κ type] on serum and urine electrophoresis and a mildly reversed albumin/globulin ratio; however, any other finding such as renal failure or hypercalcaemia was not found. Bone survey revealed fifth rib erosion with no other lesions. A bone marrow biopsy showed increased plasma cells up to 64%, consistent with multiple myeloma and patient was started on chemotherapy.
Discussion:
Multiple myeloma is a malignant neoplasm of plasma cells and it is part of a spectrum of diseases ranging from monoclonal gammopathy of unknown significance (MGUS) to plasma cell leukemia. A plasmacytoma is a discrete, solitary mass of neoplastic monoclonal plasma cells in either bone or soft tissue (extramedullary). Primary extramedullary plasmacytoma (EMP) can be solitary or multiple. EMP presents as a mass growing in the aerodigestive tract in 80-90% of patients and the mediastinum is rarely involved. Our patient did not have typical features of multiple myeloma such as anemia, skeletal destruction with osteolytic lesions, pathological fractures, bone pain, hypercalcemia and renal insufficiency but a thorough work up unveiled the diagnosis. Our case is also unique in the sense mediastinal plasmacytoma with multiple myeloma presenting simultaneously is extremely rare. Plasmacytomas are treated with radiotherapy, surgery or both. Chemotherapy may be considered for patients with refractory or relapsed disease whereas multiple myeloma is mostly treated with chemotherapy.
Conclusions:
Our case highlights mediastinal plasmacytoma as differential diagnosis for mediastinal masses and aggressive search for multiple myeloma even in the absence of typical features. An early diagnosis of plasmacytoma and coexisting multiple myeloma is essential to overall patient survival.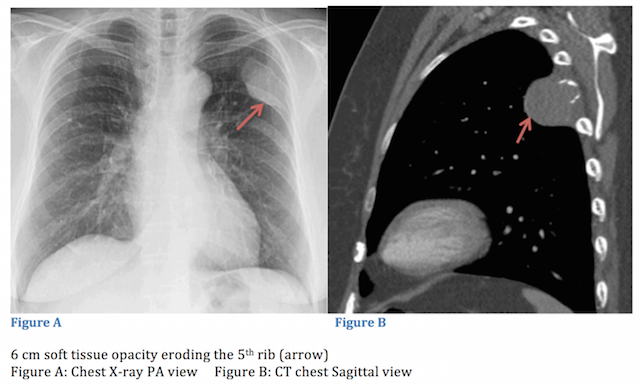 To cite this abstract:
Gudivada D, Rajasurya V. Extramedullary Plasmacytoma and Multiple Myeloma Presenting As Chronic Chest Pain: A Rare Case. Abstract published at
Hospital Medicine 2015, March 29-April 1, National Harbor, Md.
Abstract 534.
Journal of Hospital Medicine.
2015; 10 (suppl 2). https://www.shmabstracts.com/abstract/extramedullary-plasmacytoma-and-multiple-myeloma-presenting-as-chronic-chest-pain-a-rare-case/. Accessed April 9, 2020.
« Back to Hospital Medicine 2015, March 29-April 1, National Harbor, Md.