Background:
The HEART (History, ECG, Age, Risk factors and Troponin) score was recently shown to be potentially useful in identifying patients presenting with chest pain with a very low pretest probability of acute coronary syndrome (ACS) and where further testing may not be beneficial. However, all of the previous studies relied on the investigators' retrospective appraisal of the patient's chest pain history and used a nonstandard definition for classifying chest pain. We adopted the American Heart Association's clinical classification of chest pain to modify the HEART score and prospectively evaluated its ability to predict outcomes in patients with low‐risk chest pain.
Methods:
Patients presenting with chest pain were considered at low risk for ACS and were referred to the observation unit of an 805‐bed hospital if they had none of the following features :ongoing chest pain, dynamic ST‐segment changes and cardiac troponin I ≥ 0.20 ng/mL. As part of the initial evaluation, clinicians filled out a standard data collection tool that included clinical variables necessary to calculate the modified HEART Score (Table 1). The occurrence of the composite endpoint of death from any cause, acute myocardial infarction and coronary revascularization within 30 days of the visit were recorded through follow‐up phone call and medical records review. Sensitivity, specificity, and positive and negative predictive values were calculated.
Results:
Of the 420 patients that were enrolled, 298 (71%) had complete follow‐up data and were included in the analysis. The composite endpoint occurred in 9 (3%) patients within 30 days (1 died, 3 had nonfatal acute myocardial infarction and 5 had significant disease requiring coronary revascularization). A cardiac endpoint occurred in 3 of 155 (1.9%) patients with a HEART score 0 to 3, and in 6 of 143 (4.2%) with a score of > 3 (p=0.25). The sensitivity, specificity, and positive and negative predictive values of a HEART score > 3 in predicting a cardiac endpoint are shown in Table 2.
Conclusions:
The incidence of significant coronary events is very low among patients presenting with chest pain who do not have ongoing chest pain, dynamic ST‐segment changes or abnormal cardiac troponin. The modified HEART score does not appear to be useful in further identifying those who are at very low risk.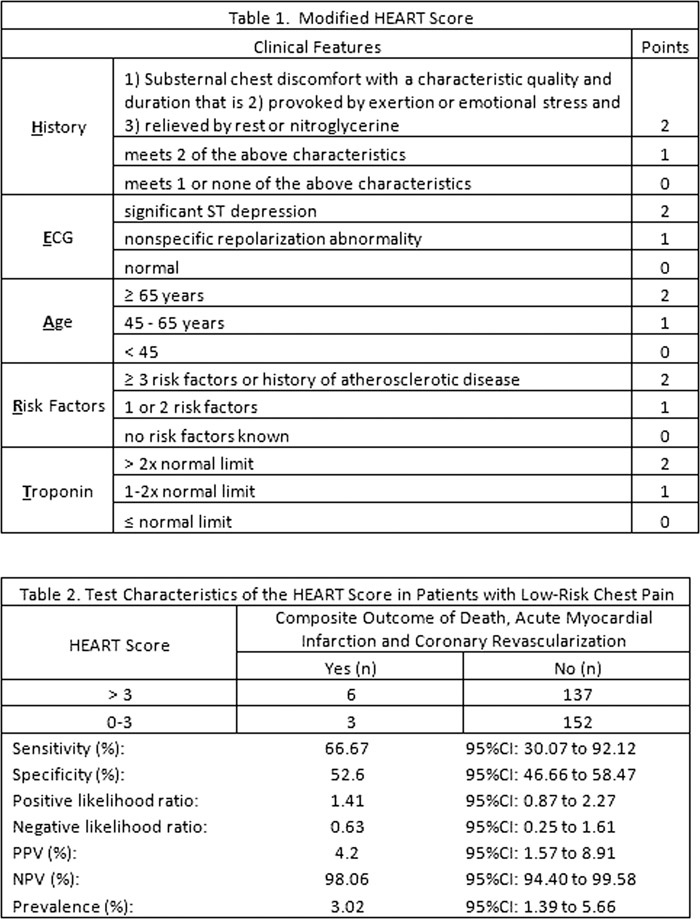 To cite this abstract:
Calle C, Paje D, Cerasale M, Patsias I. Evaluation of the Modified Heart Score in Predicting Outcomes in Patients with Low‐Risk Chest Pain. Abstract published at
Hospital Medicine 2014, March 24-27, Las Vegas, Nev.
Abstract 48.
Journal of Hospital Medicine.
2014; 9 (suppl 2). https://www.shmabstracts.com/abstract/evaluation-of-the-modified-heart-score-in-predicting-outcomes-in-patients-with-lowrisk-chest-pain/. Accessed April 7, 2020.
« Back to Hospital Medicine 2014, March 24-27, Las Vegas, Nev.