Evaluating a Hospitalist‐Based Intervention to Reduce Treatment of Asymptomatic Bacteriuria
1University of Michigan, Ann Arbor, MI
2Ann Arbor VA Healthcare System, Ann Arbor, MI
3University of Michigan Medical School, Ann Arbor, MI
4St. Joseph Mercy Hospital, Ypsilanti, MI
Meeting: Hospital Medicine 2014, March 24-27, Las Vegas, Nev.
Abstract number: 111
Background:
Treating asymptomatic bacteriuria — a positive urine culture in the absence of symptoms — in hospitalized patients is a key driver of excess antimicrobial use. Decreasing overuse of antimicrobials in hospitalized patients will require strategies targeting the treatment of asymptomatic bacteriuria. Therefore, we: 1) evaluated the rate of treating asymptomatic bacteriuria at a major academic medical center and a large community teaching hospital; and 2) assessed the impact of a hospitalist‐focused intervention designed to reduce inappropriate antimicrobial use for asymptomatic bacteriuria.
Methods:
Using a before‐after design, the medical records of consecutive adult patients with a positive urine culture while admitted to hospitalist services at 2 hospitals were reviewed to assess the rate of treatment of asymptomatic bacteriuria. Exclusion criteria included: intensive care unit admission, major urological procedure (e.g., renal transplant), active treatment for a urinary tract infection (UTI) at the time of admission or >48 hours prior to urine collection. The classification of positive urine cultures as asymptomatic bacteriuria (vs. UTI) utilized adjudicated review of the medical record by two hospitalists and two infectious disease physicians using signs and symptoms compiled from national and professional society guidelines. The intervention was delivered to 95% of the hospitalists practicing at both institutions and consisted of a 60 minute case‐based educational session regarding overtreatment of asymptomatic bacteriuria (web‐based video review of the presentation was allowed for hospitalists who missed the educational session), and use of a pocket card with guideline‐based signs and symptoms of UTI including recommended antimicrobials and treatment durations.
Results:
Pre‐intervention, 112 patients met inclusion criteria: 65 patients (58.0%) were diagnosed with asymptomatic bacteriuria. Of these, 48 (73.9%) were treated with antimicrobials. Post‐intervention, 101 patients met inclusion criteria and 59 (58.4%) had asymptomatic bacteriuria. Fewer patients with asymptomatic bacteriuria (52.5%) were treated with antimicrobials (p= 0.01) (Figure).The significant reduction in treatment of asymptomatic bacteriuria was largely due to improvement at one hospital (Figure). Despite improvement in the recognition of asymptomatic bacteriuria after the intervention, over half of patients with asymptomatic bacteriuria still received treatment for UTI resulting in 204 excess antimicrobial days.
Conclusions:
Inappropriate treatment of asymptomatic bacteriuria remained a common problem despite being significantly reduced by an intervention focused on education and availability of best practices at the point of care. The differential effect of the intervention by hospital and the significant residual antibiotic overuse after the intervention suggests that additional strategies, such as facilitated implementation and real‐time interventions at the time of prescribing, are desperately needed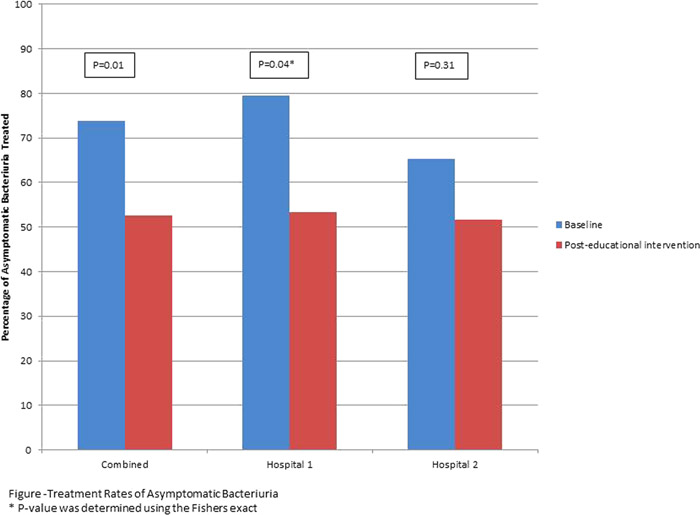 To cite this abstract:
Hartley S, Kuhn L, Valley S, Washer L, Gandhi T, Meddings J, Chenoweth C, Malani A, Sabnis S, Robida M, Saint S, Flanders S. Evaluating a Hospitalist‐Based Intervention to Reduce Treatment of Asymptomatic Bacteriuria. Abstract published at
Hospital Medicine 2014, March 24-27, Las Vegas, Nev.
Abstract 111.
Journal of Hospital Medicine.
2014; 9 (suppl 2). https://www.shmabstracts.com/abstract/evaluating-a-hospitalistbased-intervention-to-reduce-treatment-of-asymptomatic-bacteriuria/. Accessed April 3, 2020.
« Back to Hospital Medicine 2014, March 24-27, Las Vegas, Nev.