eMed Rec: One List One Process, Universal Access
1Mount Sinai Hospital, New York, NY
2Mount Sinai Hospital, New York, NY
3Mount Sinai Hospital, New York, NY
4Mount Sinai Hospital, New York, NY
5Mount Sinai Hospital, New York, NY
6Mount Sinai Hospital, New York, NY
7Mount Sinai Hospital, New York, NY
8Mount Sinai Hospital, New York, NY
9Mount Sinai Hospital, New York, NY
Meeting: Hospital Medicine 2010, April 8-11, Washington, D.C.
Abstract number: 165
Background:
Medication errors are common, costly, and have Ihe potential for harm. In 2006, Ihe Joint Commission challenged hospitals to implement medication reconciliation at transition points across the continuum. At our institution, compliance with this activity on paper was poor (< 50%). related to the process poorly matching our work flows, unclear role delineation in The collection and reconciliation of medications, and duplicative work.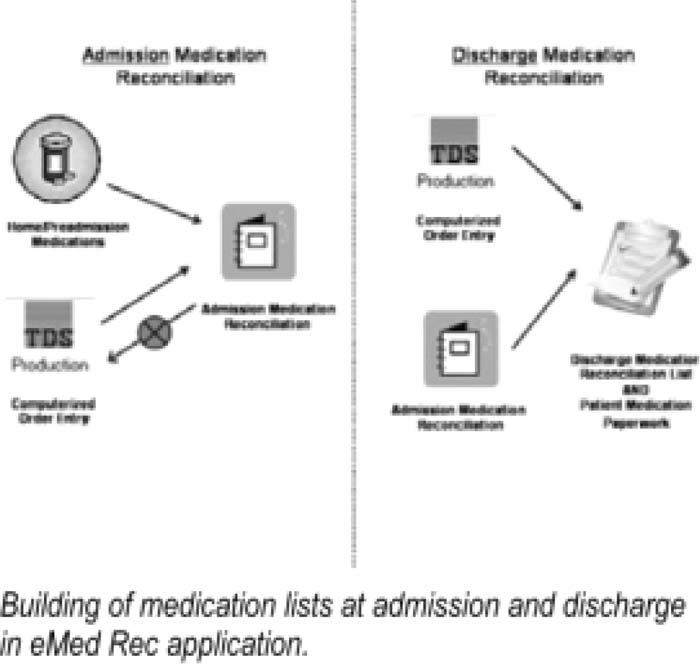 Purpose:
To develop a multidisplinary electronic medication reconciliation application (eMed Rec) To improve medication reconciliation compliance, patient safety, decrease duplicative work, and format medication instructions for the patient on discharge.
Description:
In 2006, our hospital implemented a paper medication reconciliation tool. Our paper process required the hospital provider (MD, NP, or PA) to compile a list of home medications and reconcile with hospital medications, A copy of The Tool was senT to the inpatient pharmacy for verification with our computerized order system (TDS). Nursing at admission collected medication information on a paper nursing form. On discharge, providers manually reconciled The home and discharge medications using the same tool and hand‐transcribed a separate list of discharge medications. We recognized that nursing and providers were collecting the same medication information in different locations, that our pharmacy rarely received a copy of the admission medication list, and that our paper process was highly error prone. In 2008, we developed an electronic medication reconciliation application universally accessible to the patient care team. Using eMed Rec nursing and providers together electronically populate 1 home medication list, providers reconcile hospital and home lists, and pharmacy verifies hospital orders with the home list. At discharge, providers reconcile hospital and home lists to generate a discharge medication list that cleariy designates changed, new, and slopped medications. In less than 2 months after initiation of eMed Rec. we have achieved 79% compliance for medication reconciliation at the time of discharge.
Conclusions:
We have developed an innovative mu Hi disciplinary medication reconciliation application That has streamlined work flow, reduced duplicative processes, and dramatically increased our compliance rate. eMed Rec assists with reconciliation of home, hospital, and discharge medications and produces clearly Typed medicaTion instrucTions for patients at discharge.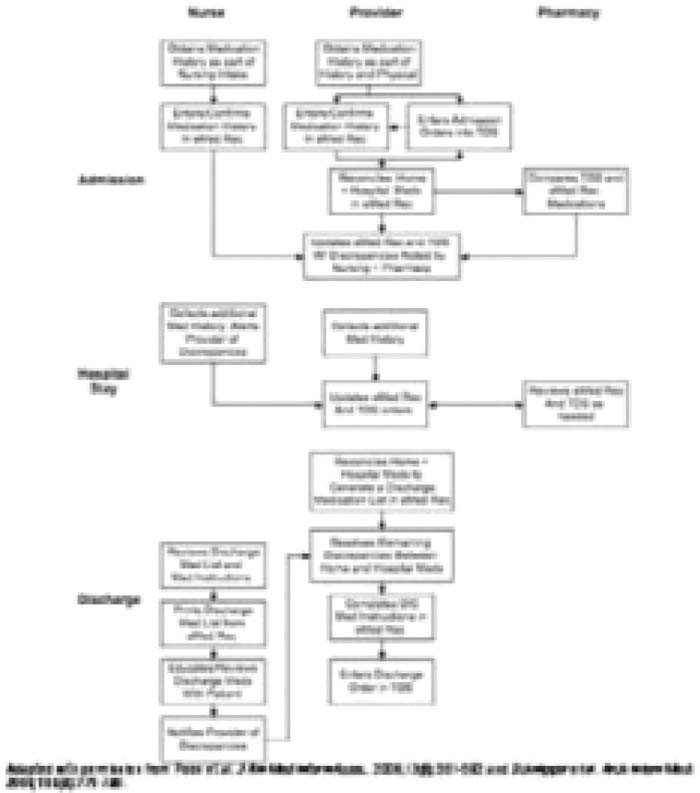 Author Disclosure:
J. Goldenberg, none; L. Finke I stein‐Blond, none; P. Bilumane, none; J. Forman, none; R. Jervis, none; B. Markoff, none; D. Chang, none; J, Kannry, none; D, Medelson, none.
To cite this abstract:
Goldenberg J, Finkelstein‐Blond L, Bilumane P, Joel F, Markoff B, Chang D, Jervis R, Mendelson D, Kannry J. eMed Rec: One List One Process, Universal Access. Abstract published at
Hospital Medicine 2010, April 8-11, Washington, D.C.
Abstract 165.
Journal of Hospital Medicine.
2010; 5 (suppl 1). https://www.shmabstracts.com/abstract/emed-rec-one-list-one-process-universal-access/. Accessed April 6, 2020.
« Back to Hospital Medicine 2010, April 8-11, Washington, D.C.