Case Presentation:
A 49 year old African American woman with a history of diabetes mellitus presented to the ED with persistent cough, chest pain, fevers, and acute nausea and vomiting. She had visited an urgent care center two weeks prior and was prescribed empiric oseltamivir and levofloxacin without improvement in in symptoms. On exam she febrile to 101.5 F with a heart rate of 103 bpm and blood pressure of 98/62 mmHg. Her respiratory rate was 18 with an oxygen saturation of 92% on room air. She appeared ill, with diffuse bilateral crackles and mild upper abdominal tenderness. Labs revealed leukocytosis of 23.5 10*3/uL and diabetic ketoacidosis. Liver function tests were normal. She was treated with IVF, insulin infusion, and azithromycin/ceftriaxone. Due to persistent fevers and atypical CXR, CT thorax was obtained. It demonstrated extensive bilateral pulmonary densities some with cavitation (Figure A), multiple hepatic hypodensities (Figure B), and a wedge-shaped deformity of the right kidney. All were concerning for septic emboli. Transesophageal echocardiogram revealed no evidence of endocarditis and she had persistently negative blood cultures (following 7 days outpatient levaquin). CT abdomen/pelvis demonstrated multiple liver abscesses, splenic abscess, as well as left renal, left gonadal and IVC thrombi. An aspirate and drainage of a large liver lesion grew Klebsiella pneumoniae confirming the diagnosis of Klebsiella pneumoniae liver abscess syndrome. She was treated with ceftriaxone and eventually ciprofloxacin for a prolonged antibiotic course, as well as anticoagulation, with significant clinical improvement.
Discussion:
Klebsiella pneumoniae liver abscess syndrome has been frequently reported in Asia. Although uncommon in North American populations, it is typically seen in poorly controlled diabetic patients. Klebsiella is a common pathogen of pyogenic liver abscesses; however, these are typically solitary without extrahepatic manifestations. The constellation of pulmonary and extra-pulmonary metastatic infection should prompt suspicion for this syndrome. Extra-pulmonary metastatic sites of infection have been documented to include bone, pericardium, meninges and brain, kidney, eye, and soft tissues. Portal and hepatic vein thrombophlebitis have been rarely described. Source control of abscesses and prolonged antibiotic therapy are crucial to successful therapy. Further investigation in molecular epidemiology is ensuing to identify specific serotypes of Klebsiella pneumoniae associated with invasive infection to better predict virulence of infection.
Conclusions:
Invasive Klebsiella pneumoniae liver abscess syndrome has been increasingly documented in the Unites States, specifically in poorly controlled diabetics.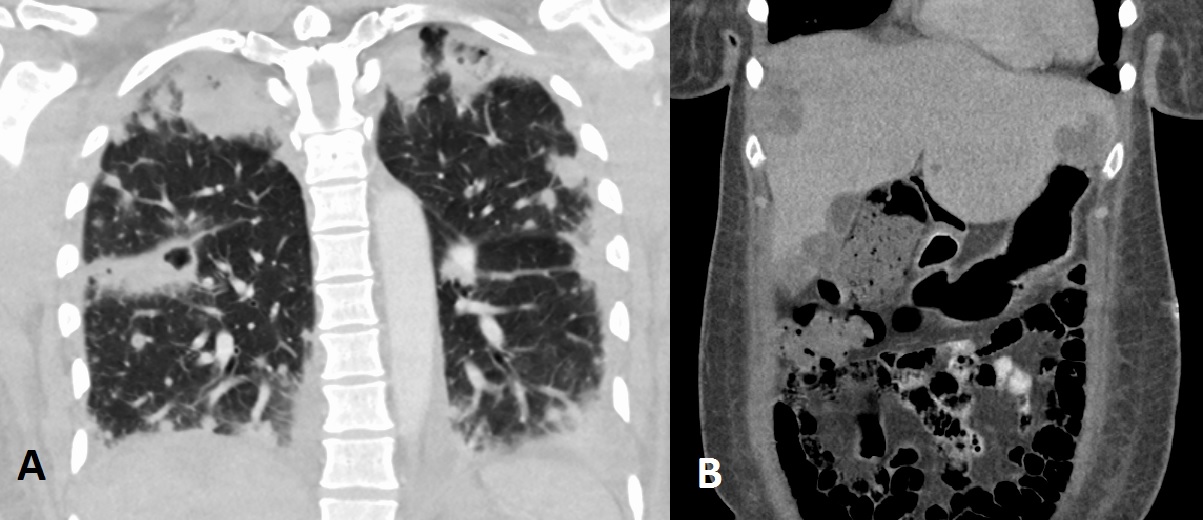 To cite this abstract:
Kapadia NR, Martin AI, Pettigrew A, Oller KL. Emboli Everywhere! an Emerging Invasive Infection. Abstract published at
Hospital Medicine 2016, March 6-9, San Diego, Calif.
Abstract 597.
Journal of Hospital Medicine.
2016; 11 (suppl 1). https://www.shmabstracts.com/abstract/emboli-everywhere-an-emerging-invasive-infection/. Accessed February 25, 2020.
« Back to Hospital Medicine 2016, March 6-9, San Diego, Calif.