Effects of Hand‐Carried Ultrasound Echocardiography by Hospitalists Among Inpatients Referred for Standard Echocardiography: A Randomized Trial
1Stroger Hospital of Cook County and Rush Medical College, Chicago, IL
2Milton S. Hershey Medical Center, Hershey, PA
3New York Presbyterian Hospital and Weill Cornell Medical College, New York, NY
Meeting: Hospital Medicine 2011, May 10-13, Dallas, Texas.
Abstract number: 71
Background:
The projected role of hand‐carried ultrasound echocardiography (HCUE) is not to replace state‐of‐the‐art standard echocardiography (SE) but instead to precede and, in some cases, obviate it with simple and routine assessments by frontline physicians. This seems possible because in the hands of noncardiologists who have undergone brief training programs, HCUE is accurate for the most common indications for SE referral. Yet beyond diagnostic accuracy studies, patient outcome data are sparse. In fact, although HCUE has become more widespread, there are no randomized trials of noncardiologists applying HCUE‐guided care to general medicine inpatients.
Methods:
We performed an unblinded, parallel‐group randomized trial between July 2008 and March 2009 at 1 teaching hospital. We randomly assigned adult general medicine inpatients referred for standard echocardiography (SE) with HCUE‐investigatable indications to usual care or care guided by early HCUE for 6 cardiac abnormalities. The main outcome measure was length of stay on the referring hospitalist's service. Secondary outcomes included a before–after analysis of reported changes in management due to HCUE and the diagnostic accuracy of HCUE. Even though participants were randomized as individuals, clustering by hospitalists could affect our conclusions. Thus, for our primary outcome and subgroup analyses we constructed post hoc multilevel models with random effects to adjust for heterogeneity between hospitalists.
Results:
Figure 1 depicts the effect of HCUE on length of stay in relation to participants' location, day of randomization, and indication for echocardiography. The difference in length of stay between 227 participants randomized to HCUE‐guided care (geometric mean, 46.1 hours; IQR, 29.0–70.9 hours) and 226 participants randomized to usual care (46.9 hours; IQR, 34.1–68.3 hours) corresponded to a 1.7% reduction in length of stay that was not statistically significant (95% CI, 212.1% to 9.8%). In post hoc subgroup analyses, HCUE‐guided care reduced length of stay in participants referred for heart failure (P = 0.0008). Multilevel modeling to adjust for clustering by hospitalist did not affect any conclusions from the primary outcome, including subgroup effects. Among participants who underwent both HCUE and SE, hospitalists changed management due to HCUE in 37%. Despite the favorable diagnostic accuracy of HCUE, most changes to the timing of hospital discharge occurred after SE.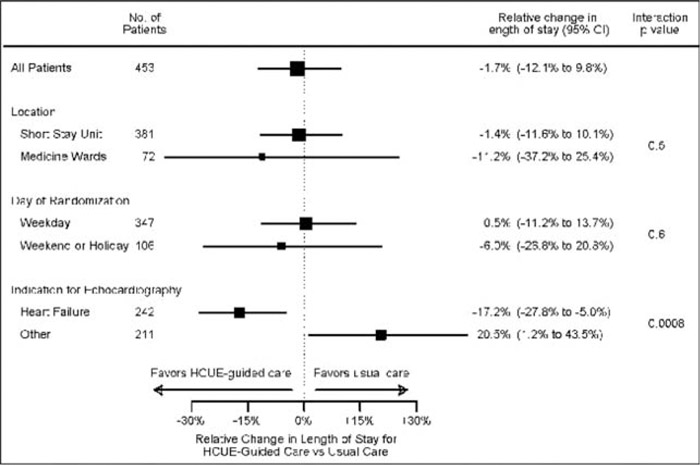 FIGURE 1. Effect of HCUE on length of stay in relation to participants' location, day of randomization, and indication for echocardiography. The overall treatment effect of HCUE‐guided care compared with usual care is shown by the square at the top of the figure and the vertical solid line. For each subgroup, the square is proportional to the number of patients and represents the point estimate of the treatment effect. The left and right edges of the horizontal lines represent the borders of the 95% CI for each point estimate.
Conclusions:
HCUE‐guided care by hospitalists for unselected general medicine patients does not meaningfully affect length of stay. Whether or not it affects care quality remains unstudied.
Disclosures:
B. P. Lucas ‐ none; C. Candotti ‐ none; B. Margeta ‐ none; B. Mba ‐ none; R. Kumapley ‐ none; A. Asmar ‐ none; R. Franco‐Sadud ‐ none; J. Baru ‐ none; C. Acob ‐ none; S. Borkowsky ‐ none
To cite this abstract:
Lucas B, Candotti C, Margeta B, Mba B, Kumapley R, Asmar A, Franco‐Sadud R, Baru J, Acob C, Borkowsky S, Evans A. Effects of Hand‐Carried Ultrasound Echocardiography by Hospitalists Among Inpatients Referred for Standard Echocardiography: A Randomized Trial. Abstract published at
Hospital Medicine 2011, May 10-13, Dallas, Texas.
Abstract 71.
Journal of Hospital Medicine.
2011; 6 (suppl 2). https://www.shmabstracts.com/abstract/effects-of-handcarried-ultrasound-echocardiography-by-hospitalists-among-inpatients-referred-for-standard-echocardiography-a-randomized-trial/. Accessed April 1, 2020.