Effects of a Hospitalist Medical Director Initiative on Patients with Long Lengths of Stay
1Northwestern University, Chicago, IL
2Northwestern Memorial Hospital, Chicago, IL
3Northwestern Memorial Hospital, Chicago, IL
4Northwestern University, Chicago, IL
5Northwestern University, Chicago, IL
Meeting: Hospital Medicine 2010, April 8-11, Washington, D.C.
Abstract number: 132
Background:
Patients with very long lengths of stay (LOS) comprising the tail of a normal distribution contributed significantly in raising the overall LOS in our academic teaching hospital. This finding held, even when cases were severity adjusted and compared to expected rates as determined by the University Health Consortium, an alliance of 104 academic medical centers. Given the often complex care coordination, case management, and social needs of the high LOS population, a dedicated multidisciplinary meeting led by hospitalist medical directors was developed to evaluate its effect on reducing overall LOS.
Methods:
Weekly interdisciplinary meetings to discuss patients with an LOS > 7 days were started on 2 hospitalist medical director‐led inpatient units at our academic teaching hospital. One unit comprised mainly hospitalists who cared for cardiac telemetry and heart failure patients, whereas the other unit consisted of resident‐staffed general medicine patients. The weekly meeting was attended by the hospitalist medical director, unit nurse‐manager, case manager, and social worked assigned to the unit. Attending hospitalists and house staff were also invited to their respective meetings. Data forms were completed by each unit listing the key drivers for high LOS and reasons preventing discharge were discussed. After various drivers of high LOS were discussed, strategies were developed to address unmet patient needs to facilitate their discharge. After a trial period of 3 months, the high LOS meetings were rolled out to all units including surgery and other disciplines. The hospilalist medical directors from the first pilot units provided guidance on the structure and content of the meetings on subsequent units.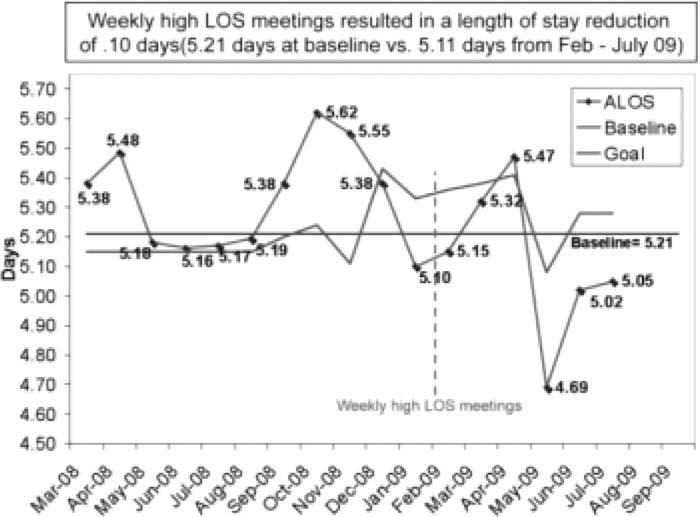 Results:
Patients with an LOS of 7–14 days comprised 50% of all patients discussed, whereas the range was from 7 to >40 days. Before the high LOS meetings, medical necessity comprised 65% of cases, whereas a delay in patient placement to other facilities such as nursing homes and rehabilitation centers comprised 15%. This changed to 54% and 11%, respectively, after the meetings started. Hospitalwide roll out of the weekly high LOS meetings resulted in LOS reduction of 0.10 days (5.21 days at baseline vs. 5.11 days from February to July 2009), Overall, a total of 2406 inpatient days were saved over a 1‐year period.
Conclusions:
High LOS meetings had a positive impact on reducing overall severity‐adjusted LOS Given the significant time demands necessary to address complex case management and discharge planning needs of the high LOS population, a dedicated meeting led by hospitalist leaders may be developed by units seeking strategies to decrease their overall severity‐adjusted LOS.
Author Disclosure:
H. Shah, none; K. Goetz, none; K. Ramsey, none; K. O'Leary, none.
To cite this abstract:
Shah H, Goelz K, Ramsey K, O'Leary K, Williams M. Effects of a Hospitalist Medical Director Initiative on Patients with Long Lengths of Stay. Abstract published at
Hospital Medicine 2010, April 8-11, Washington, D.C.
Abstract 132.
Journal of Hospital Medicine.
2010; 5 (suppl 1). https://www.shmabstracts.com/abstract/effects-of-a-hospitalist-medical-director-initiative-on-patients-with-long-lengths-of-stay/. Accessed April 7, 2020.
« Back to Hospital Medicine 2010, April 8-11, Washington, D.C.