Effect of a Multicomponent Campaign on Pressure Ulcer Prevention and Care
1University of Chicago, Chicago, IL
2University of Chicago Medical Center, Chicago, IL
3University of Chicago Medical Center, Chicago, IL
4University of Chicago Medical Center, Chicago, IL
5University of Chicago Medical Center, Chicago, IL
6University of Chicago Medical Center, Chicago, IL
7University of Chicago Medical Center, Chicago, IL
Meeting: Hospital Medicine 2010, April 8-11, Washington, D.C.
Abstract number: 43
Background:
A 2‐year quality improvement campaign at a single teaching hospital was launched to improve the identification, documentation, and treatment of pressure ulcers (PUs) in the wake of the CMS declaration that severe hospital‐acquired PUs are never events. This study evaluates the campaign's impact on the proportion of PUs documented using stage, size, and location.
Methods:
The campaign inducted (1) distribution of reference materials, (2) incorporating prompts into documentation templates, (3) staff education on PU documentation, and (4) hospital wide mattress replacement. At the conclusion of the campaign, electronic medical records (EMR) were implemented for nursing notes. An ongoing retrospective chart review of frail older patients on the medical ward determined the presence of PU documentation, which provider (nurse or physician) documented the PU, and which descriptors (stage, size, or location) were used. Control charts were used to examine changes over time in relationship to interventions. Multivariate logistic regression models, adjusting for age, sex, unit, and ICU transfer status, were used to examine the relationship between time and complete documentation of PUs.
Results:
At baseline, nurses outperformed physicians in PU identification (96.7% vs. 70.6%; P < 0.05) and complete documentation (stage, size, and location; 26.5% vs. 12.3%; P < 0.05). The campaign increased the proportion of PUs. which were completely documented by nurses from 27% to a high of 55% and by physicians from 12% to a high of 36%. The time course improvements in documentation practices were highly correlated for physicians and nurses (r = 0.66). Mullivariate logistic regression confirmed that the increase in complete documentation in Q3 2008, following mattress replacement and resident education, was statistically significant over baseline for nurses (OR 3.68, P = 0.001, 95% Cl: 1.68–8.08), Although the odds of complete documentation by a physician also increased, this change was not statistically significant (OR 2.11, P = 0.12, 95% Cl: 0.82–5.39). These improvements were short‐lived because of the implementation of EMR for nursing notes in Q4 2008. Although the quality of nursing documentation decreased in that quarter, it recovered in Q1 and Q2 2009, as nurses adapted to the new documentation system. With EMR implementation for nursing notes, complete documentation by physicians fell to a nadir of 0% in Q1 and Q2 2009. After EMR implementation, complete documentation rates between physicians and nurses were negatively correlated (r = −0.95).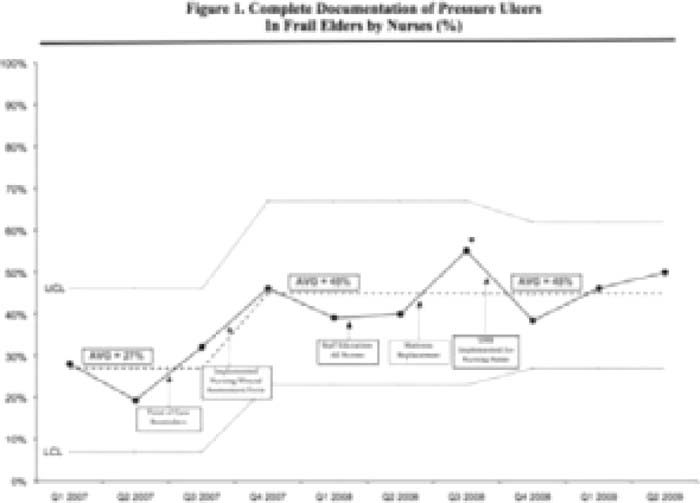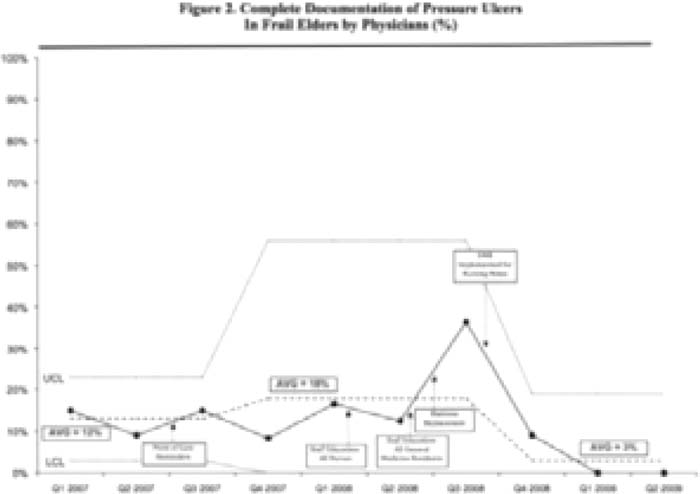 Conclusions:
The campaign increased the proportion of PUs documented with stage, size, and location by both physicians and nurses. However, these improvements were short‐lived due to EMR implementation, which acutely worsened chart documentation of PUs. This emphasizes the importance of frequent and repeated interventions as well as adapting interventions to the changing documentation environment to sustain improvements in PU documentation.
Author Disclosure:
M. Dahlstrom, none; T. Best, none; C. Baker, none; A. Davis, none; D. Doeing, none; J. Doty, none; V. Arora, NIA and AHRQ, research funding.
To cite this abstract:
Dahlstram M, Best T, Baker C, Davis A, Doeing D, Doty J, Arora V. Effect of a Multicomponent Campaign on Pressure Ulcer Prevention and Care. Abstract published at
Hospital Medicine 2010, April 8-11, Washington, D.C.
Abstract 43.
Journal of Hospital Medicine.
2010; 5 (suppl 1). https://www.shmabstracts.com/abstract/effect-of-a-multicomponent-campaign-on-pressure-ulcer-prevention-and-care/. Accessed April 3, 2020.
« Back to Hospital Medicine 2010, April 8-11, Washington, D.C.