Background:
Severe neurological impairment is a tragic outcome in survivors of sudden cardiac arrest (SCA). Standard practice to assess neurological recovery requires clinical and diagnostic evaluation 3–4 days after SCA. It is unclear whether this standard of practice is implemented or whether physicians advise or families choose to withdraw care at earlier intervals. We examined the pattern of care withdrawal in patients surviving SCA.
Methods:
All SCA patients admitted in 2 consecutive years (n = 45) were studied. Five had incomplete data. We evaluated when life‐sustaining therapies were withdrawn. Patients were divided into 3 groups. Profiles of patients with early care withdrawal (<72 hours) versus withdrawal > 72 hours versus no withdrawal of care are as noted below. Neurological status was assessed by daily Glasgow–Pittsburgh cerebral performance category (CPC) scores and by evaluating EEG and brain stem reflex scores on day 3 (higher = better neurological function).
Results:
Care was withdrawn in 20 patients. Of these, 70% of the care was withdrawn within 72 hours. Patients with early care withdrawal have longer collapse to ROSC time (58 ± 18 vs. 30 ± 17 minutes) and lower brain stem reflex score on day 3 (0.3 ± 0.8 vs. 1.8 ± 1.4).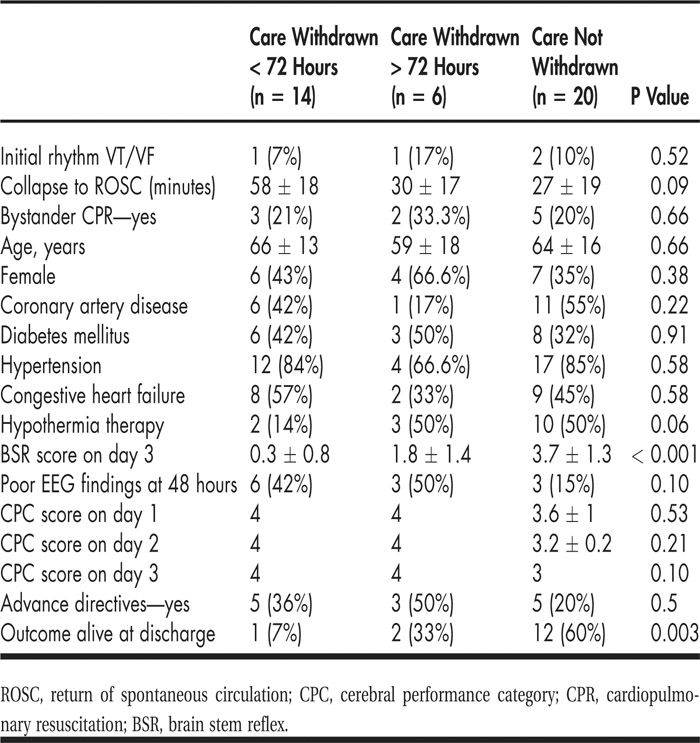 Conclusions:
Fewer than one third of patients have advanced directives. In approximately 50% of survivors of sudden cardiac arrest, care is withdrawn; in many (70%), this decision is made before the recommended time for assessment of neurological recovery. Patients with early care withdrawal differ from others only in that they have a longer time to return of spontaneous circulation and a worse brain stem reflex score. However, their CPC score is no different on day 3 than that of those in whom care is not withdrawn, many of who survive to discharge. These observations are concerning and prompt an in‐depth evaluation of such a decision process.
Disclosures:
U. Lakshmanadoss ‐ none; S. Eid ‐ none; D. Dobrosielski ‐ none; J. Palachuvatti ‐ none; K. Stewart ‐ none; S. Carey ‐ none; N. Chandra‐Strobos ‐ none
To cite this abstract:
Lakshmanadoss U, Eid S, Dobrosielski D, Palachuvattil J, Stewart K, Carey S, Chandra‐Strobos N. Early Withdrawal of Care Following Sudden Cardiac Arrest: Defining Patient Profiles. Abstract published at
Hospital Medicine 2011, May 10-13, Dallas, Texas.
Abstract 66.
Journal of Hospital Medicine.
2011; 6 (suppl 2). https://www.shmabstracts.com/abstract/early-withdrawal-of-care-following-sudden-cardiac-arrest-defining-patient-profiles/. Accessed April 1, 2020.