Case Presentation:
A 22‐year‐old woman presented to the emergency department with fever and a rash. Daily fevers had been occurring for 1 month, for which she took cephalexin and high doses of ibuprofen. She had diffuse arthralgias and a 10‐pound unintentional weight loss. She had nausea and vomiting and a rash of 2 days' duration. Two weeks prior she was diagnosed with a right ovarian dermoid cyst. She was tachycardic with a palpable, tender right lower quadrant abdominal mass. A diffuse, erythematous, nonpruritic macular‐papular rash was noted over her entire body without mucosal lesions. She had acute renal failure, anemia and an elevated alkaline phosphatase (234) and lactate dehydrogenase (1518). A rheumatologic etiology was initially thought to tie together her complex picture of acute renal failure, rash, fevers, and arthralgias. When she was noted to be anuric, concern for an obstruction prompted pelvic imaging. MRI of the abdomen and pelvis noted a 16‐cm intrapelvic, extrauterine mass without ureteral dilatation. Ultrasound‐guided percutaneous biopsy revealed dysgerminoma. A review of her labs was consistent with spontaneous tumor lysis syndrome, and dialysis was required. She underwent fertility‐sparing right salpingo‐oophorectomy. Pathology was consistent with dysgerminoma, and all other biopsied sites were negative for malignancy. A renal biopsy revealed interstitial nephritis, presumed secondary to the patient's high doses of nonsteroidal anti‐inflammatories or preadmission cephalexin. It resolved with a short course of steroids. Her nausea and vomiting were secondary to uremia. Her rash was consistent with a drug rash and improved without intervention. Fevers resolved after removal of the tumor.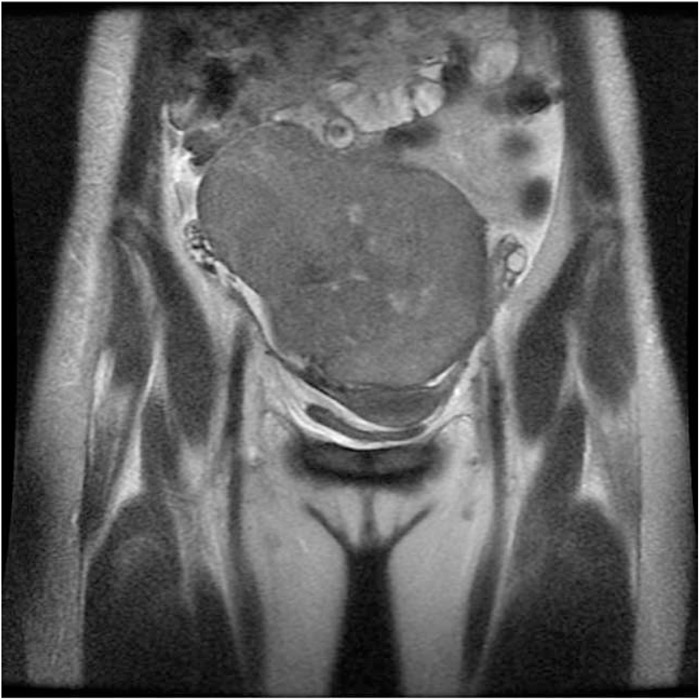 FIGURE 1. MRI abdomen without contrast: Intraperitoneal, extrauterine 16‐cm lobulated solid mass. Right ovary cannot be separately identified, suggesting the mass arises from here.
Discussion:
Dysgerminomas are malignant germ cell tumors of the ovary with an excellent prognosis. They can occur at any age (85% < 30 years old) and are very rare (1%–2% of ovarian malignancies). They grow rapidly and can be associated with production of hormones (including human chorionic gonadotropin), alpha‐fetoprotein, lactate dehydrogenase, and alkaline phosphatase. They are more likely to be bilateral than any other ovarian germ cell tumors but are usually stage I (confined to 1 ovary). Surgery is used for definitive diagnosis, staging, and treatment. Masses must have complete pathologic examination to rule out other neoplastic components within the dysgerminoma. They respond well to cisplatin‐based chemotherapy and can recur, most commonly in the first 2 years. Overall 5‐year survival is >90%.
Conclusions:
Paraneoplastic presentations are rare in a young, otherwise healthy females; however, a delay to diagnosis may cause irreversible renal failure and progressive malignancy, compromising fertility. When a female presents with a large pelvic mass, rare germ cell tumors with a paraneoplastic presentation must be considered.
Disclosures:
C. Swanson ‐ Mayo Clinic Arizona, employment; J. Charles ‐ Mayo Clinic Arizona, employment; J. Collins ‐ Mayo Clinic Arizona, employment.
To cite this abstract:
Swanson C, Charles J, Collins J. Dysgerminoma: The Nonsexy Germ Cell. Abstract published at
Hospital Medicine 2011, May 10-13, Dallas, Texas.
Abstract 410.
Journal of Hospital Medicine.
2011; 6 (suppl 2). https://www.shmabstracts.com/abstract/dysgerminoma-the-nonsexy-germ-cell/. Accessed March 31, 2020.