Case Presentation:
A 26‐year‐old man presented 4 months of a painful, growing left neck mass with purulent drainage and a 1‐week history of a bleeding suprascapular superficial skin lesion with pain. The patient tried topical cream and oral penicillin without improvement. He reported subjective fevers, chills, nausea, and a 10‐pound weight loss. He denied cough, night sweats, changes in bowel habits, insect bites, recent travel, or sick contacts. He had a recent tooth extraction from the right side of the mouth. He immigrated to the United States 2 years ago from Guatemala. He had a fever of 100.3°F. The left neck mass was 3 × 3 cm, round, mobile, firm around the edges, soft in the center, tender, and hyperpigmented without rubor or calor. The suprascapular wound was 3 × 3 cm with irregular borders and scabbing. There was bilateral inguinal lymphadenopathy. His white blood cell count was 6000. Total protein was 8.6 and albumin was 3.6 with a protein gap of 5.0. Ultrasound revealed a 4‐ to 5‐cm irregularly shaped fluid collection in the left neck and a 1‐ to 2‐cm shallow collection deep to the midline with no fistulous tract connecting them. Computed tomography of the neck revealed bilateral enlarged submandibular lymph nodes measuring 3.5 × 2 and 3 × 1 cm. There was lymphadenopathy along both jugular chains; some nodes had necrotic centers. Bilateral lung apices had nodular densities with a small cavitary lesion in the left. Pathology of the neck mass revealed granulomatous inflammation with giant cell reaction. Gram stain, GMS stain, PAS stain, and acid‐fast bacilli (AFB) stain were negative. Culture was positive for Mycobacterium tuberculosis. Sputum AFB smear was negative; culture was positive for Mycobacterium fortuitum. Blood cultures, rapid plasma reagin, acute hepatitis panel, and HIV tests were negative. The patient was diagnosed with extrapulmonary tuberculosis and discharged home on antituberculous therapy.
Discussion:
Fever and abscess are commonly encountered by the general internist. However, the internist must entertain etiologies other than the most common bacterial causes when facing a patient from a foreign country where other infectious agents are endemic. The global prevalence of HIV/AIDS requires considering other etiologies for an abscess as well as early HIV testing. This Guatemalan patient's initial presentation was concerning for abscess, but other possible diagnoses were malignancy (including lymphoma and head and neck cancers), lymphadenitis, cyst, and Lemierre's syndrome.
Conclusions:
The most commonly seen form of extrapulmonary tuberculosis is tuberculous lymphadenitis, or scrofula, most commonly in the cervical lymph nodes. Scrofula can be caused by tuberculous and nontuberculous mycobacteria (NTM). Identifying the etiology is crucial in deciding management. For tuberculous scrofula, surgical treatment alone is associated with high rates of recurrence, fistula formation, and possible hematogenous spread. Antituberculous therapy with multiple drugs is indicated.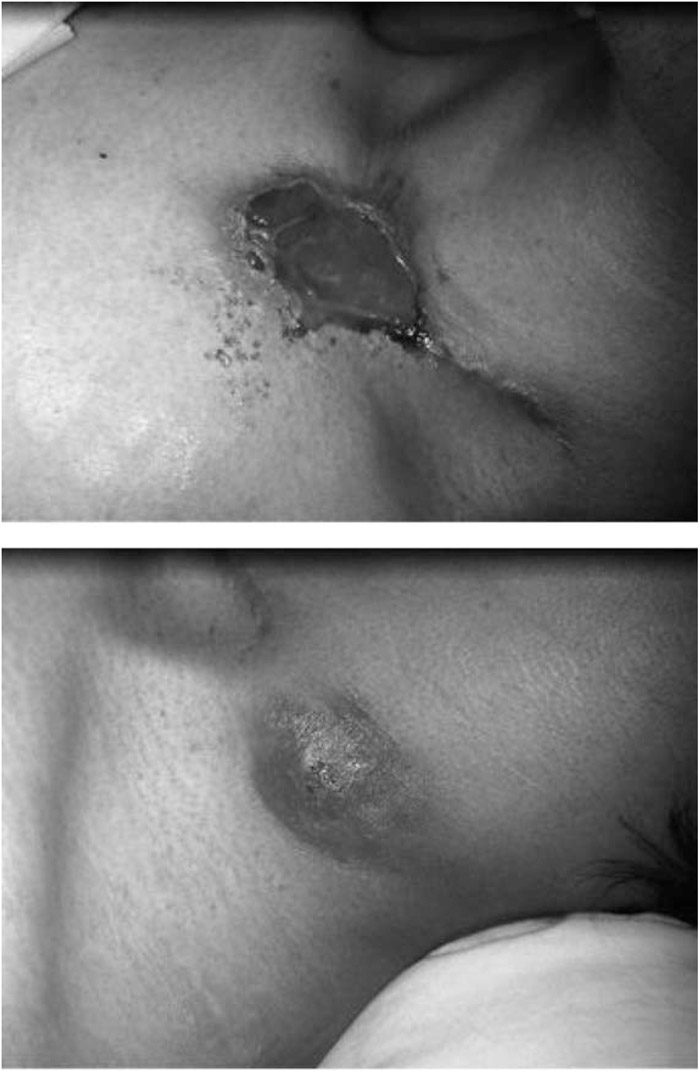 Disclosures:
V. Somasekharan ‐ none; A. Postolova ‐ none; C. Tyson ‐ none; C. Miller ‐ none
To cite this abstract:
Somasekharan V, Tyson C, Postolova A, Miller C. Dubious Tuberculosis. Abstract published at
Hospital Medicine 2011, May 10-13, Dallas, Texas.
Abstract 404.
Journal of Hospital Medicine.
2011; 6 (suppl 2). https://www.shmabstracts.com/abstract/dubious-tuberculosis/. Accessed April 8, 2020.