Don't Go Viral! a Rare Cause of Pericardial Pathology
1Washington University in St. Louis School of Medicine, St. Louis, MO
2 Washington University School of Medicine in St. Louis, St. Louis, MO
3 Washington University, St Louis, MO
4 Washington University in St. Louis, St. Louis, MO
Meeting: Hospital Medicine 2015, March 29-April 1, National Harbor, Md.
Abstract number: 494
Keywords: Clinical Vignette Abstracts — Adult
Case Presentation: A 50 year old woman was admitted with generalized fatigue, exertional dyspnea, epigastric discomfort and night sweats. Two months prior she had been to the Pacific coast of Mexico with family. A CT scan on the day of admission revealed a large pericardial effusion without hemodynamic compromise as well as a small pleural effusion, hepatic congestion and mild ascites. Pericardiocentesis removed 1 liter of hemorrhagic fluid. She was diagnosed with viral pericarditis after serum Coxsackie B antibody titers were elevated. Her symptoms resolved in 3 weeks after treatment with NSAIDs and prednisone.
A year and a half later, she developed recurrent dyspnea and night sweats as well as cough, palpitations and weight loss. Echocardiogram displayed a trace effusion with pericardial thickening causing constrictive physiology. Chest CT showed re-accumulation of the effusion as well as right ventricular bowing, mediastinal lymphadenopathy and pulmonary nodules. Thoracic surgery performed a VATS procedure with pericardial and lymph node biopsies, which confirmed the diagnosis of primary malignant pericardial mesothelioma. She received three cycles of gemcitabine. Unfortunately, she developed multisystem organ failure secondary to constrictive heart failure and expired six months after her formal diagnosis.
Discussion: Primary malignant pericardial mesothelioma (PMPM) is a rare oncologic diagnosis. A large necropsy study of over 500,000 decedents revealed a prevalence of less than 0.003%. It affects males more than females and typically presents between the fifth and seventh decades of life. Its presentation often mimics pericarditis, especially tuberculous pericarditis. It can cause constrictive physiology and rarely tamponade. CT and cardiac MRI are the most commonly used imaging modalities. Unlike pleural and peritoneal mesothelioma, the relationship to asbestos exposure is unclear. There are 3 histologic types: epithelioid, sarcomatoid, and mixed; epithelioid is most common. All histologic variants are very aggressive and minimally responsive to chemotherapy. Radiotherapy is of limited utility. Surgical resection can be curative in localized cases but most patients have metastatic disease at diagnosis. Thus, PMPM is almost uniformly fatal with a median survival time of less than 6 months.
Conclusions: PMPM is an exceptionally rare oncologic entity, though it is the most common primary pericardial malignancy. Initial symptoms include chest discomfort, dyspnea, fatigue, weight loss and fevers or night sweats. Hemorrhagic pericardial effusion with constrictive physiology is a common sequela. Tamponade is less common. It is not very responsive to chemotherapy and carries a dismal prognosis. Hospitalists should include PMPM in the differential of hemorrhagic pericardial effusion and constriction.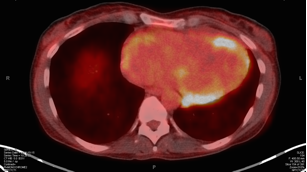 To cite this abstract:
Cras J, Rubio M, Atwood C, Anchala P. Don't Go Viral! a Rare Cause of Pericardial Pathology. Abstract published at
Hospital Medicine 2015, March 29-April 1, National Harbor, Md.
Abstract 494.
Journal of Hospital Medicine.
2015; 10 (suppl 2). https://www.shmabstracts.com/abstract/dont-go-viral-a-rare-cause-of-pericardial-pathology/. Accessed March 30, 2020.
« Back to Hospital Medicine 2015, March 29-April 1, National Harbor, Md.