Case Presentation:
68 year old man with history of hypothyroidism, hypertension and longstanding history of allergic rhinitis, and asthma who presented with a 4 day history of subjective fevers and lower extremity numbness. The numbness extended from his feet up to the mid‐calf region. He denied low back pain, stool or urine incontinence. He denied any recent trauma to his back or any joint pain, night sweats or skin rashes. He had recently been seen in hospital emergency departments on two occasions and diagnosed with sinustis and with presumed viral myositis. He was treated with antibiotics, and with a combination of medrol dose pak and Ibuprofen respectively. He had loss about 4‐5lbs in the past 6 months. On examination he was afebrile, heart rate was 78/min, Blood pressure was 154/85, and oxygen saturation level was 98% on Room air. Not pale, anicteric. No nasal polyps noted. No lymphadenopathy. Chest: Diffuse rhonchi with scattered wheezes but no crackles. Cardiac examination was within normal limits. He had no murmurs. Abdomen: Soft not tender. No palpable masses. Normal bowel sounds. CNS: Alert. No fasciculations or muscle atrophy noted. Power: grade 5 with intact and normal deep tendon reflexes. Planter reflexes were flexor. Sensation to pain and light touch were reduced from the feet to the mid‐calf. Proprioception was intact. There was no dysmetria. Romberg's sign was absent. Extremities: Bipedal edema. Skin‐ No rash noted. Lab data:WBC 18.2, HB 13.7, PLT 308,000. He had 27% segs, 2% bands, 5% mono, 50% eosin, 15% lymph. Electrolyes and glucose were normal. Transaminases and LDH levels were normal. Sed rate was 53. CRP was 21.0. CT scan of chest: revealed patchy multi‐lobar infiltrates and a tree‐and‐ bud appearance in both lung fields. CT scan of the abdomen and pelvis: showed no evidence of lymphadenopathy or organomegaly. His P‐ANCA was 1:20 and his Myeloperoxidase level was elevated at 59. He was seen by Rheumatology, and subsequently had a sural nerve biopsy which showed perivascular eosinophilic infiltration but no granulomata. He was diagnosed with Allergic granulomatoses with polyangiitis(Churg‐Strauss disease) and started on 60 mg Prednisone daily.
Discussion:
The presence of neuropathy in an asthmatic who now had significant eosinophilia raised many potential diagnoses: HIV test was negative, TSH and HbA1C were normal. Serum IgE level was elevated but nasal smear for eosinophils was negative, and his strongyloides titers were negative. Churg‐Strauss disease has 3 stages; Asthmatic, Eosinophilic and Vasculitic. Patients need to have 4 out of the following 6 findings: History of asthma, peripheral eosinophiila(>10%),mononeuropathy or polyneuropathy, non‐fixed pulmonary infiltrates, paranasal sinus abnormalities, and biopsy specimen containing a vessel showing extravascular eosinophilc infiltration. A high index of suspicion is required for a timely diagnosis to be made. Patient outcomes are dependent on disease stage at the time of diagnosis and the prompt initiation of treatment with steroids and in some cases other immunosuppressants such as Cyclophosphamide. There is no true causal relationship between the use of leukotriene inhibitors and this disease.
Conclusions:
Hospitalists need to be keenly aware of the differential diagnoses of eosinophilia in asthmatics and pursue a prompt work‐up to exclude Allergic granulomatosis with polyangiitis. Patients' prognoses are adversely affected by worsening renal function, proteinuria, evidence of vasculitis involving GI tract, CNS and myocardium.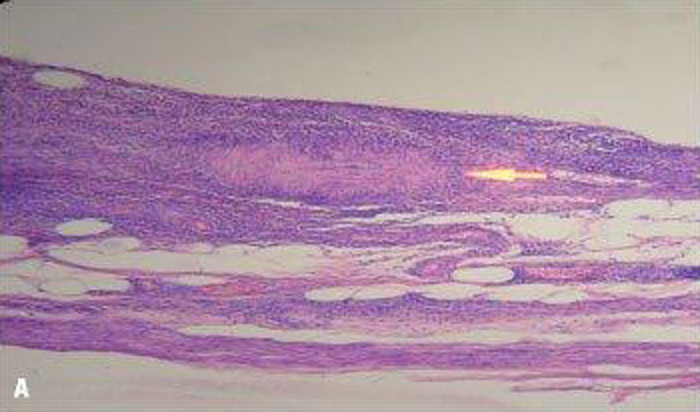 To cite this abstract:
Dapaah‐Afriyie K, Dapaah‐Afriyie R. Doctor the Problem Is with My Legs Not My Asthma. Abstract published at
Hospital Medicine 2014, March 24-27, Las Vegas, Nev.
Abstract 399.
Journal of Hospital Medicine.
2014; 9 (suppl 2). https://www.shmabstracts.com/abstract/doctor-the-problem-is-with-my-legs-not-my-asthma/. Accessed March 31, 2020.
« Back to Hospital Medicine 2014, March 24-27, Las Vegas, Nev.