Doctor, I'm Coughing Up a Lung
1University of Texas Health Science Center, San Antonio, TX
2 MS 3, UTHSCSA, San Antonio, TX
3 The University of Texas Health Science Center at San Antonio, San Antonio, TX
Meeting: Hospital Medicine 2015, March 29-April 1, National Harbor, Md.
Abstract number: 445
Keywords: Clinical Vignette Abstracts — Adult
Case Presentation:
A 25 year old man was recently diagnosed with HIV/AIDS and had a CD4 count of 29 and a viral load of 85 thousand. At the time of his initial presentation, he was acutely ill with presumed Pneumocystis jiroveci pneumonia and was treated for such without a confirmatory test. He subsequently presented multiple times with significant shortness of breath and cough over a span of 4 months.
He followed up in clinic and his physicians noted that he had a bluish-black lesion under his right eye and a similar one on his left hand. A skin biopsy was performed which confirmed Kaposi Sarcoma.
He presented to an outside hospital with increasing cough and dyspnea on exertion and was again treated empirically for PCP. When he followed up in clinic, a CT chest revealed numerous bilateral speculated pulmonary nodules with marked worsening of peri-hilar soft tissue density seen throughout the hila, subcarinal space and along the bronchovascular bundles. Given these new findings, a bronchoscopy was performed and lung biopsies showed Kaposi Sarcoma.
The patient was seen by Oncology who decided to treat with liposomal daunorubicin in addition to his anti-retroviral therapy in light of his extensive disease.
He presented to the hospital yet again with a one week history of coughing incessantly and bringing up "chunks of lung" (image). Bilateral coarse crackles were readily heard on auscultation of the lung fields. He was admitted to the hospital with an arterial PO2 of 57 and was again empirically started on trimethoprim/sulfamethoxazole. Repeat bronchoscopy was performed to obtain a sterile sample of the bronchial casts, which turned out to be fibrin with scattered neutrophils. All tests for bacterial, fungal and viral infections were repeatedly negative.
Discussion:
Plastic bronchitis is an extreme form of secretory hyper-responsiveness characterized by the formation of branching airway gelatinous, mucoid casts which can lead to the occlusion of major airways. It is most often associated with congenital heart disease, asthma and influenza infections. No clinical prospective studies have examined plastic bronchitis therapy and therefore evidence is based on success or failure within individual case studies. However, it is important to realize that no therapy is likely to be uniformly effective as plastic bronchitis is not likely to be due to a single disease.
Conclusions:
Shortness of breath is a common problem encountered by hospitalists. This can be challenging as a diagnosis must often be assigned to a clinical problem without a confirmatory test. Patients with HIV/AIDS are at risk for multiple different and less common causes. Assigning an etiology in these patients must be done with caution, as that often leads to anchoring of the diagnosis in future encounters.
Unfortunately, the diagnosis can often only be confirmed on invasive testing but we must realize that securing a diagnosis in a clinically complex patient may outweigh the risks of invasive testing so that appropriate treatment may be initiated in a timely manner.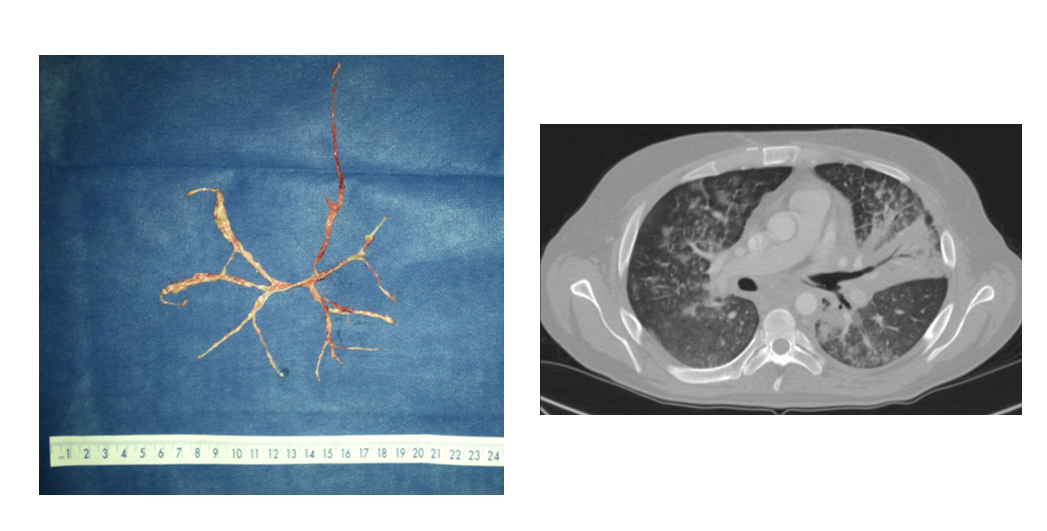 To cite this abstract:
Badawy J, Vasko R, Bowling J. Doctor, I'm Coughing Up a Lung. Abstract published at
Hospital Medicine 2015, March 29-April 1, National Harbor, Md.
Abstract 445.
Journal of Hospital Medicine.
2015; 10 (suppl 2). https://www.shmabstracts.com/abstract/doctor-im-coughing-up-a-lung/. Accessed April 4, 2020.
« Back to Hospital Medicine 2015, March 29-April 1, National Harbor, Md.