DIAGNOSTIC PERFORMANCE OF INCREASED CARDIOTHORACIC RATIO ON CHEST RADIOGRAPHS TO DETECT LEFT VENTRICULAR DILATION USING ECHOCARDIOGRAPHY AS THE REFERENCE STANDARD: A SYSTEMATIC REVIEW AND META-ANALYSIS
Jin Ei Chan, Wakil Irfan, Yanjun Wang, Aurelia Minuti, Robert Faillace, Jacobi Medical Center/Albert Einstein College of Medicine, Bronx, NY
Meeting: Hospital Medicine 2019, March 24-27, National Harbor, Md.
Abstract number: 432
Categories: Hospital Medicine 2019, Research, Translating Research into Practice
Keywords: Cardiac hypertrophy, Meta-Analysis
Background: An increased cardiothoracic ratio (CTR) on chest radiographs (CXR) is considered equivalent to cardiomegaly. However, its diagnostic value to identify left ventricular (LV) dilation is unclear.
Methods: We reviewed and included the diagnostic studies that utilized CXR as the index test and TTE as the reference standard to diagnose LV dilation. Two-gate (case-control) diagnostic studies and the studies without sufficient data were excluded. MEDLINE (1947 to 08/2018), EMBASE (1970 to 07/2018) and Cochrane Database of Systematic Reviews (2005 to 07/2018) were searched for studies. The reference lists of primary studies and of existing reviews were checked for eligibility.
Results: A total of 38,646 reports were retrieved from the above literature search. Full-text reviews of 33 potentially relevant studies were performed. Finally, 6 studies (n=891) were included in our review. (Figure 1) The sensitivity and specificity of CXR to detect LV dilation were found to be 0.65 (95% CI: 0.42 to 0.82) and 0.60 (95% CI: 0.30 to 0.84), respectively, at the patient level. The analysis showed a positive Likelihood Ratio (LR) of 1.6 (95% CI: 1.0 to 2.6) and negative LR of 0.58 (95% CI: 0.46 to 0.75).
Conclusions: The CXR has very limited value to diagnose LV dilation. This might be explained by the different axis of the LV that is being measured by CXR (long axis) and TTE (short axis). Integration of findings from both is recommended if there is clinical suspicion of LV dilation. PROSPERO registration: CRD42018103303
IMAGE 1: Figure 1: Forrest Plot for Diagnostic Performance of CXR to diagnose LV dilation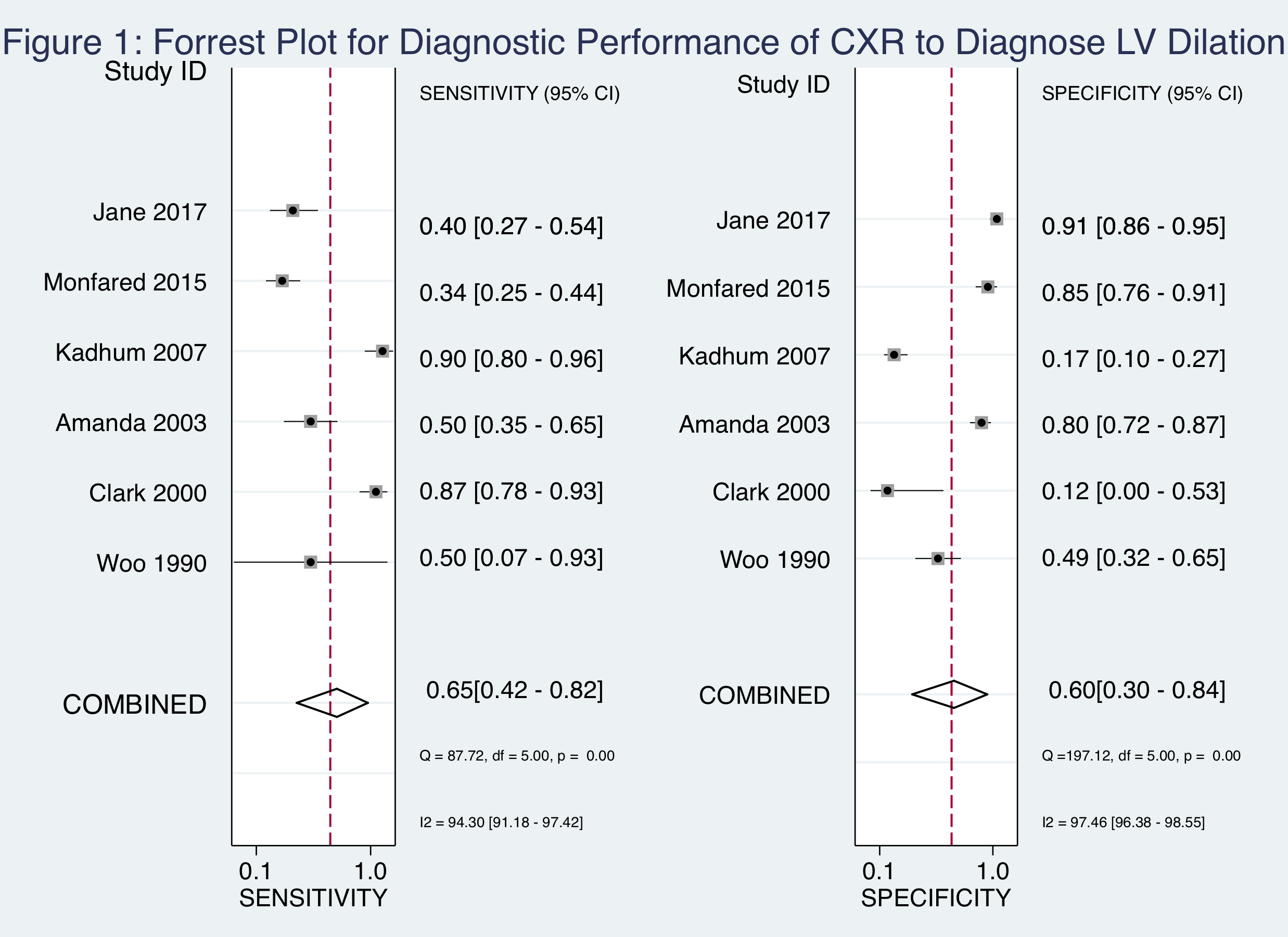 To cite this abstract:
Chan, J; Irfan, W; Wang, Y; Minuti, A; Faillace, R. DIAGNOSTIC PERFORMANCE OF INCREASED CARDIOTHORACIC RATIO ON CHEST RADIOGRAPHS TO DETECT LEFT VENTRICULAR DILATION USING ECHOCARDIOGRAPHY AS THE REFERENCE STANDARD: A SYSTEMATIC REVIEW AND META-ANALYSIS. Abstract published at
Hospital Medicine 2019, March 24-27, National Harbor, Md.
Abstract 432. https://www.shmabstracts.com/abstract/diagnostic-performance-of-increased-cardiothoracic-ratio-on-chest-radiographs-to-detect-left-ventricular-dilation-using-echocardiography-as-the-reference-standard-a-systematic-review-and-meta-analysi/. Accessed November 15, 2019.
« Back to Hospital Medicine 2019, March 24-27, National Harbor, Md.