Background:
Preoperative anemia has been shown in multiple studies to be an independent risk factor for perioperative blood transfusion. Blood transfusions impart risks of transfusion reactions, increased infections, increased length of stay and hospitalization cost. Several medical societies have adopted practice guidelines recommending blood management to better mitigate these risks, particularly in the perioperative setting. Clinical support for management of anemia is a key pillar in blood management. Hospitalists can play an important role in diagnosing and treating anemia in collaboration with our surgical colleagues.
Purpose:
To establish a perioperative Anemia Management service to evaluate and treat anemia for surgical patients. Secondly, to provide consultative support to non‐surgical patients for treatment of anemia.
Description:
Our institution began the Anemia Management consultative service in April 2012. A hospital partnership was created between the Transfusion Safety Nurse Manager and the physician medical director to develop this service. The hospital undertook these efforts in order to reduce the number of blood transfusions in the peri‐operative setting with the goal of improving patient outcomes and reducing institutional costs for blood transfusions.
A registered nurse is the primary contact for the service with hospitalist physician oversight for individual treatment plans. The nurse's role includes evaluation of patients using an establish algorithm, communication with the hospitalist and primary team about individual patient plans, and coordination of anemia treatment. The primary team places a consult for Anemia Management services in the electronic health record and after review by the nurse and medical director a consultation note is entered with recommendations. Requisite labs are ordered by the nurse if they have not been entered already. For outpatient consultations the nurse coordinates treatment in the infusion clinic prior to the scheduled surgery date. For inpatient consultations the primary team is responsible for ordering recommended treatment. Between April 2012 to November 2013 the service received 337 consultations. The following graph provides classification of the referring services. There is a strong demand by the Cardiothoracic Surgery group for this service and thus a preponderance of consults is from that service.
We are currently studying the impact of Anemia Management consultation on treatment of anemia and reduction of blood product use in these patients.
Conclusions:
An anemia management consultative service administered by a registered nurse with a hospitalist physician for clinical oversight is a feasible means by which to provide perioperative treatment of anemia. Hospitalists have skills and knowledge to diagnose and treat anemia, which may be done in collaboration with surgical colleagues to potentially improve patient outcomes and reduce peri‐operative blood transfusions.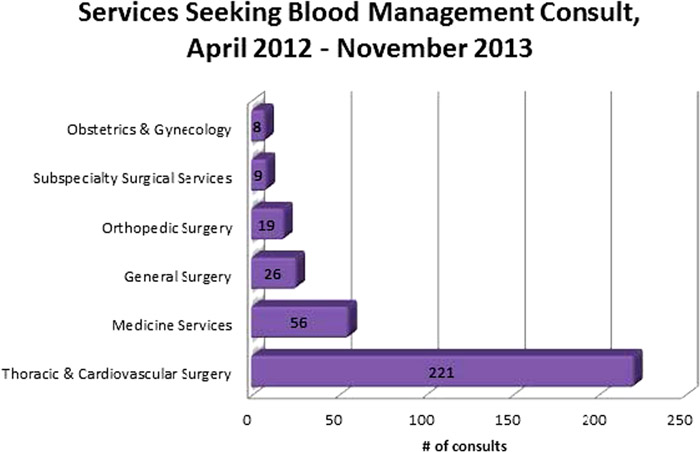 To cite this abstract:
Stoltzfus K. Development of a Perioperative Anemia Management Service. Abstract published at
Hospital Medicine 2014, March 24-27, Las Vegas, Nev.
Abstract 209.
Journal of Hospital Medicine.
2014; 9 (suppl 2). https://www.shmabstracts.com/abstract/development-of-a-perioperative-anemia-management-service/. Accessed April 1, 2020.
« Back to Hospital Medicine 2014, March 24-27, Las Vegas, Nev.