Case Presentation: A 74 year-old male with end-stage renal disease (ESRD) on hemodialysis (HD) for the past 10 years due to autosomal-dominant polycystic kidney disease (ADPKD) presented with progressive left leg pain and sudden inability to bear weight on the affected leg. He did endorse weight loss, roughly 20 pounds over six months, which he attributed to poor appetite. He denied any history of night sweats, fatigue, or dyspnea and he had no personal or family history of malignancy. Femur X-ray was consistent with a non-displaced proximal femur fracture with an underlying lytic lesion, concerning for a pathologic fracture. CT scan of his left lower extremity confirmed a focal area of cytic lesions at the fracture site and CT of his abdomen and pelvis showed renal and hepatic cysts consistent with his ADPKD but no overt malignancy. A nuclear bone scan was negative for any areas of high uptake. SPEP returned negative for monoclonal gammopathy and both kappa and lambda light chains were elevated but with a normal kappa/lambda ratio. Beta2-microglobulin (beta2-m) was markedly elevated at 25mg/L (ULN 2.4). He had stable baseline anemia of 11.2g/dL and an elevated PTH of 355pg/mL with normal calcium and mildly low 25-OH vitamin D level. He underwent surgical fixation of his femur with intra-operative biopsy. The final biopsy returned with Congo-red stain positive deposits consistent with amyloid deposition.
Discussion: In this patient with a pathologic fracture due to lytic femur lesions, a few common causes come to mind. Atop the differential was osteitis fibrosa cystica leading to a brown tumor, given his secondary hyperparathyroidism from ESRD. Multiple myeloma was also on the differential given high beta2-m levels, however no monoclonal gammopathy was detected and serum light chain ratio was normal. Furthermore, no overt malignancies were detected to suggest metastatic disease. Dialysis-related beta2-m amyloidosis (DRA), a less commonly known cause, had risen on our differential given the high serum levels of beta2-m. Beta 2-m is the primary amyloid protein in DRA in contrast to primary or secondary amyloidosis and is cleared by the kidneys and insufficiently filtered by HD. It commonly deposits in tissues and tendons, but also deposits in bone forming cystic lesions. Prevalence is unknown given biopsies are often not pursued and the disease is often subclinical, but post-mortem biopsies have shown deposition correlates with years on HD.
Conclusions: Given the rising number of patients developing ESRD and receiving HD, the incidence of DRA and its associated complications will continue to rise. Besides multiple myeloma, elevated levels of beta2-m in ESRD patients with cystic bone lesions should raise suspicion for DRA.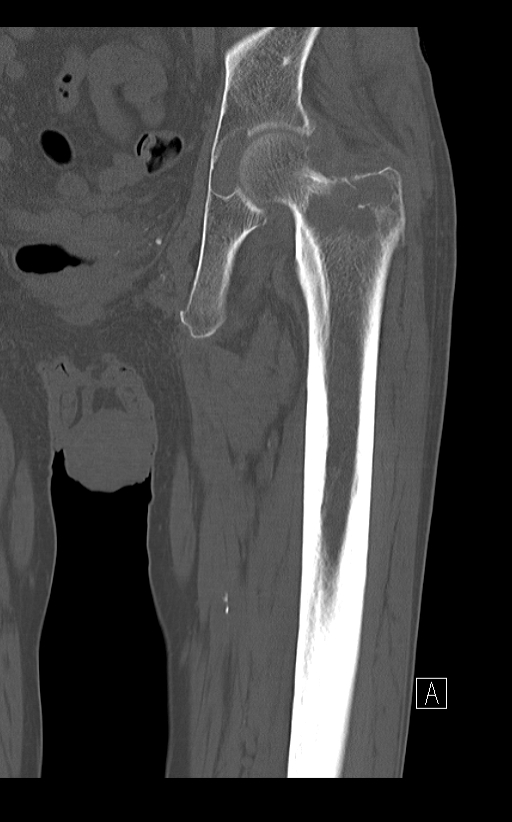 To cite this abstract:
Garber A. Cystic Bone Lesions; Not Always Malignancy. Abstract published at
Hospital Medicine 2015, March 29-April 1, National Harbor, Md.
Abstract 526.
Journal of Hospital Medicine.
2015; 10 (suppl 2). https://www.shmabstracts.com/abstract/cystic-bone-lesions-not-always-malignancy/. Accessed March 30, 2020.
« Back to Hospital Medicine 2015, March 29-April 1, National Harbor, Md.