Cystatin C and Prognosis Following Hospital Admission for Acute Congestive Heart Failure: A Prospective Cohort Study
1Johns Hopkins University, Baltimore, MD
2Johns Hopkins University, Baltimore, MD
3Johns Hopkins University, Baltimore, MD
4Johns Hopkins University, Baltimore, MD
5Johns Hopkins University, Baltimore, MD
6Johns Hopkins University, Baltimore, MD
Meeting: Hospital Medicine 2009, May 14-17, Chicago, Ill.
Abstract number: 14
Background:
Cystatin C is a cysteine proteinase inhibitor that is produced by almost all cells of the human body and is freely filtered by the glomerulus. In some settings, it may be a better marker of renal function than creatinine‐based equations as it is not dependent on muscle mass and is not secreted by kidney tubules. Cystatin C has been found to predict adverse cardiovascular outcomes in ambulatory patients. We sought to investigate whether this biomarker predicts adverse outcomes in patients hospitalized for congestive heart failure (CHF).
Methods:
We prospectively enrolled 240 consecutive patients aged 25 and older admitted to Johns Hopkins Hospital with exacerbations of CHF. Cystatin C levels were measured on admission. Patients were followed for 1 year. Our primary outcome measure was length of hospitalization. Secondary outcomes included all‐cause mortality and readmission for CHF. We used Cox regression to calculate hazard ratios and adjusted hazard ratios.
Results:
Despite indicating a positive trend, cystatin C showed no significant association with length of hospitalization. However, as shown in the figure, patients in the top quartile (Q4) of cystatin C levei were at increased risk of death [hazard ratio (HR) 2.07 for Q4 vs. Q1‐3, P = 0.01] and of death or rehospitalization (HR = 1.61 for Q4 vs. Q1‐3, P = 0.01). The association between cystatin C and the combined end point of death or rehospitalization during the 1‐year follow‐up remained significant after adjusting for all the factors used to calculate creatinine‐based glomerular filtration rate, including age, race, sex, and creatinine (HR 1.65 for Q4 vs. Q1‐3, P = 0.01). When ejection fraction was included in the model, this relationship remained significant.
Conclusions:
Cystatin C may provide incremental prognostic information when used in conjunction with creatinine to predict outcomes following admission for acute CHF exacerbations.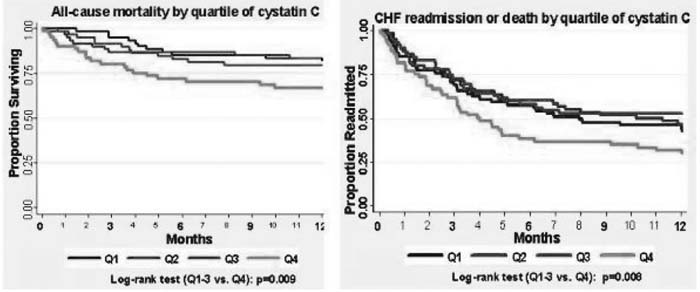 Author Disclosure:
D. Brotman, Siemens Healthcare Diagnostics, research funding; Canyon Pharmaceuticals, Advisory Board; Cubist Pharmaceuticals, Advisory Board; sanofi‐aventis Pharmaceuticals, Advisory Board; Quantia Communications, LLC, Hospitalist Leadership Panel; Bristol‐Myers Squibb/Sanofi Pharmaceuticals Partnership, Advisory Board; EMCREG International, Advisory Board; Otsuka America Pharmaceutical, Inc., Advisory Board; W. Clarke, none; C. Campbell, none.
To cite this abstract:
Brotman D, Campbell C, Park H, Haq N, Barone B, Clarke W. Cystatin C and Prognosis Following Hospital Admission for Acute Congestive Heart Failure: A Prospective Cohort Study. Abstract published at
Hospital Medicine 2009, May 14-17, Chicago, Ill.
Abstract 14.
Journal of Hospital Medicine.
2009; 4 (suppl 1). https://www.shmabstracts.com/abstract/cystatin-c-and-prognosis-following-hospital-admission-for-acute-congestive-heart-failure-a-prospective-cohort-study/. Accessed April 5, 2020.