Case Presentation:
A 48-year-old physically active woman presented with acute-onset, severe, retrosternal chest pain radiating to her arms and back. The pain started during an intensive CrossFit workout, in which she ran up nineteen flights of stairs as fast as possible. She had been hospitalized a few months earlier after an episode of mild chest pain at rest, with a normal ECG and a slightly elevated troponin-I level. A stress echocardiogram at that time was normal. With the current presentation, her pain persisted for several hours despite trial of a GI cocktail and nitroglycerin. Her cardiopulmonary examination was unrevealing. The initial serum troponin-I was < 0.04 ng/mL and the ECG showed normal sinus rhythm with subtle, 0.5 mm ST segment depression in leads V4-V5. A CT angiogram was negative for pulmonary embolus or aortic dissection. Follow-up troponin-I testing was elevated at 0.98 ng/mL, and peaked at 4.14 ng/mL. She was admitted for treatment of non-ST elevation myocardial infarction. A coronary angiogram showed a linear dissection in the mid-left anterior descending coronary artery. She was discharged on medical therapy including aspirin, clopidogrel, atorvastatin, and metoprolol with instruction to avoid significant exertion and enroll with cardiac rehabilitation. Post-discharge, she continued to have intermittent episodes of chest discomfort with mild exertion, despite treatment with multiple anti-anginal medications.
Discussion:
Non-atherosclerotic spontaneous coronary artery dissection (NA-SCAD) is defined as non-traumatic and non-iatrogenic separation of the coronary arterial wall absent atherosclerotic disease. It is a rare cause of acute coronary syndrome (ACS) occurring in less than 0.5 percent of ACS cases, and more frequently in younger patients and women. Its pathophysiology is poorly understood, but predisposing risk factors include fibromuscular dysplasia, pregnant or postpartum status, multiparity, connective tissue disorders, hormonal therapy, and physical or emotional stressors. Recent reports have advocated for CT coronary angiography rather than invasive coronary angiography for diagnosis, as high-pressure contrast injections during invasive coronary angiography can propagate the dissection. Medical management is the preferred treatment, as both percutaneous and surgical revascularization have been associated with poor outcomes. Recurrent cardiovascular events are common, occurring in upwards of 20 percent of patients.
Conclusions:
NA-SCAD is underdiagnosed, and should be considered in the evaluation of young and middle-aged women hospitalized with acute coronary syndrome. Medical management rather than revascularization is advised in the majority of patients with NA-SCAD. Moderate exercise reduces cardiovascular risk, but on occasion, extreme physical exertion can precipitate cardiovascular events, even in apparently healthy individuals.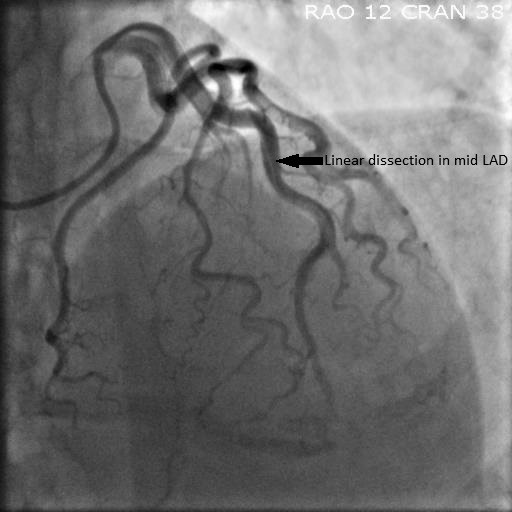 To cite this abstract:
Biebelhausen J, Baldwin DE. Crossfit Catastrophe: Chest Pain in a Healthy Young Woman. Abstract published at
Hospital Medicine 2016, March 6-9, San Diego, Calif.
Abstract 442.
Journal of Hospital Medicine.
2016; 11 (suppl 1). https://www.shmabstracts.com/abstract/crossfit-catastrophe-chest-pain-in-a-healthy-young-woman/. Accessed April 1, 2020.
« Back to Hospital Medicine 2016, March 6-9, San Diego, Calif.