Cost Effectiveness of VTE Pharmacological Prophylaxis in Total Hip and Knee Replacement: A Systematic Review
1Boston University School of Medicine, Boston, MA
2Massachusetts General Hospiial, Boston, MA
3Boston University School of Medicine, Boston, MA
4University of Pittsburgh School of Medicine, Pittsburgh, PA
5Edith Nourse Rogers Memorial VA Hospital, Bedford, MA
6Johns Hopkins University School of Medicine, Baltimore, MD
7Brigham and Women's Hospital, Harvard Medical School, Boston, MA
8Brigham and Women's Hospital, Harvard Medical School, Boston, MA
Meeting: Hospital Medicine 2009, May 14-17, Chicago, Ill.
Abstract number: 1003
Background:
Various agents are recommended bv Drofessional societies for venous thromboembolism (VTE) prophvlaxis followina total hio replacement (THR) or total knee replacement (TKR), but the cost effectiveness of individual agents is poorly understood. Although multiple cost‐effectiveness studies have been published, differences in currency, horizon (period of analysis), and effectiveness units have limited drawing conclusions and established the need for systematically summarizing the cost‐effectiveness literature.
Methods:
We searched multiple databases for recent cost‐effectiveness studies comparing fondaparinux, low‐molecular‐weight heparin (LMWH), warfarin, or aspirin. We also searched for comparisons of extended‐ versus short‐duration prophylaxis. We abstracted information on the cost and effectiveness for each prophylaxis regimen analyzed in a study over both a short‐term (90 days) and a longer‐term (>1 year) horizon. For studies reporting exclusively short‐term results, we projected the costs and quality‐adjusted life‐years (QALYs) gained at 1 year using an independent decision analysis model.
Results:
We identified 30 studies with 52 comparisons. Comparisons between LMWH and warfarin were inconclusive, whereas fondaparinux dominated LMWH (cost less and gained QALYs) in nearly every comparison. These results were based on clinical trials measuring efficacy using radiographic VTE rates. Extended‐duration therapy appeared cost effective after THR. There were few comparisons with aspirin or extended‐duration prophylaxis after TKR. Table 1 elaborates the above information including the exact number of results from the 30 studies reviewed in which a newer regimen, which is generally more potent in preventing VTE, had good value (i.e., cost effective) compared with an older, less potent, or shorter‐duration regimen.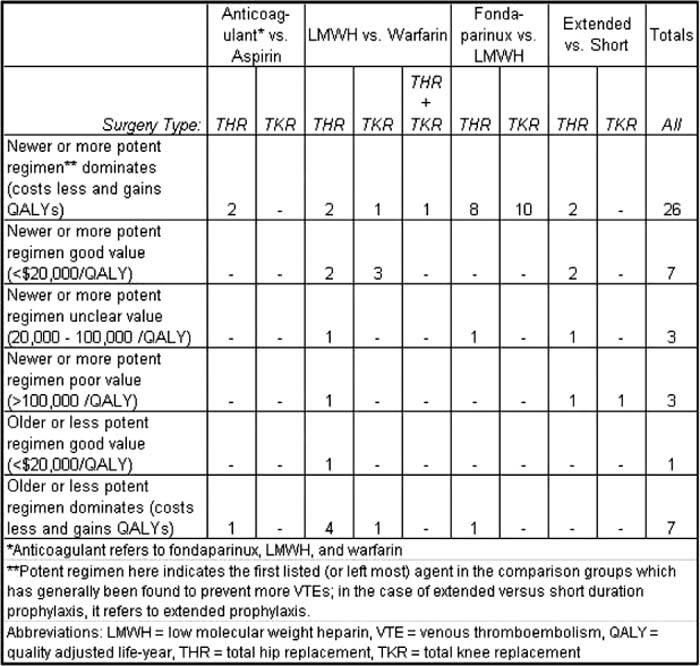 Conclusions:
Fondaparinux dominated LMWH, but firm conclusions are limited by the lack of trial data measuring symptomatic events. Other agents are recommended by professional societies, but there is insufficient cost‐effectiveness information to support their use.
Author Disclosure:
A. Kapoor, none; W. Chuang, none; N. Radhakrishnan, none; K. Smith, none; D. Berlowitz, none; J. Segal, none; J. Katz, none; E. Losina, none.
To cite this abstract:
Kapoor A, Chuang W, Radhakrishnan N, Smith K, Berlowitz D, Segal J, Katz J, Losina E. Cost Effectiveness of VTE Pharmacological Prophylaxis in Total Hip and Knee Replacement: A Systematic Review. Abstract published at
Hospital Medicine 2009, May 14-17, Chicago, Ill.
Abstract 1003.
Journal of Hospital Medicine.
2009; 4 (suppl 1). https://www.shmabstracts.com/abstract/cost-effectiveness-of-vte-pharmacological-prophylaxis-in-total-hip-and-knee-replacement-a-systematic-review/. Accessed March 29, 2020.