Case Presentation:
A 51-year-old female with past medical history of chronic renal insufficiency, insulin dependent diabetes mellitus, asthma and active nicotine dependence presented to the hospital with nausea, vomiting and abdominal pain for five days. She denied any associated chest pain, shortness of breath or dark – bloody stools. Initially she denied any active drug abuse but admitted to cigarette smoking. She was allergic to penicillins. Physical exam was remarkable only for left upper quadrant and epigastric abdominal tenderness to palpation. CBC, liver function tests, lipase, amylase and coagulation profile were normal. Creatinine was 1.4 (at baseline). Given worsening of her abdominal pain as inpatient, she underwent a computed tomography scan of the abdomen and pelvis which revealed a large wedge-shaped area of hypo attenuation involving the supero-lateral aspect of the spleen, concerning for a splenic infarct. A urine toxicology-screening test was positive for cocaine. Hematology was consulted and recommended anticoagulation for our patient. Her symptoms improved and she was discharged with outpatient hematology and primary care provider follow-ups.
Discussion:
Cocaine continues to be one of the most widely used drugs worldwide. Its deleterious effects on various organs including heart, lungs, gut, etcetera have been very well studied, but the data on splenic involvement is scarce. Well-known complications related to cocaine use are myocardial insufficiency, myocardial infarction, myocarditis, aortic dissection, neurologic damages, ischemic colitis, thrombotic phenomenon, renal infarction and acute liver failure. Cocaine-associated splenic infarctions are extremely rare and few cases were reported as a possible complication in patients with sickle hemoglobinopathies. Studies and case reports concerning the effect of cocaine use on different organs lead to the conclusion that cocaine and its metabolites can induce severe ischemia and/or (micro-) infarctions of the heart, the kidneys, the spleen, the brain and the intestinal tract. We presented a case of cocaine-associated splenic infact in the absence of hemoglobinopathies or sickle cell trait.
Conclusions:
Cocaine is one of the most commonly abused drugs, with its varied known complications. One of the less- known complications is splenic infarction. Previously known cases of splenic infarction were seen in cocaine abusers with hemoglobinopahties. We present here a case of splenic infarction with cocaine abuse. The suspicion and diagnosis of splenic infarcts in the setting of cocaine abuse can be made with detailed history-taking, symptom of abdominal pain, imaging – mainly computed tomography scan of the abdomen revealing splenic infarcts and a urine toxicology screen. The patient should be treated with morphine as needed for pain, systemic anticoagulation and supportive care. It is important to consider this less documented complication of cocaine abuse in the right clinical setting, as it can be a highly morbid and even fatal condition.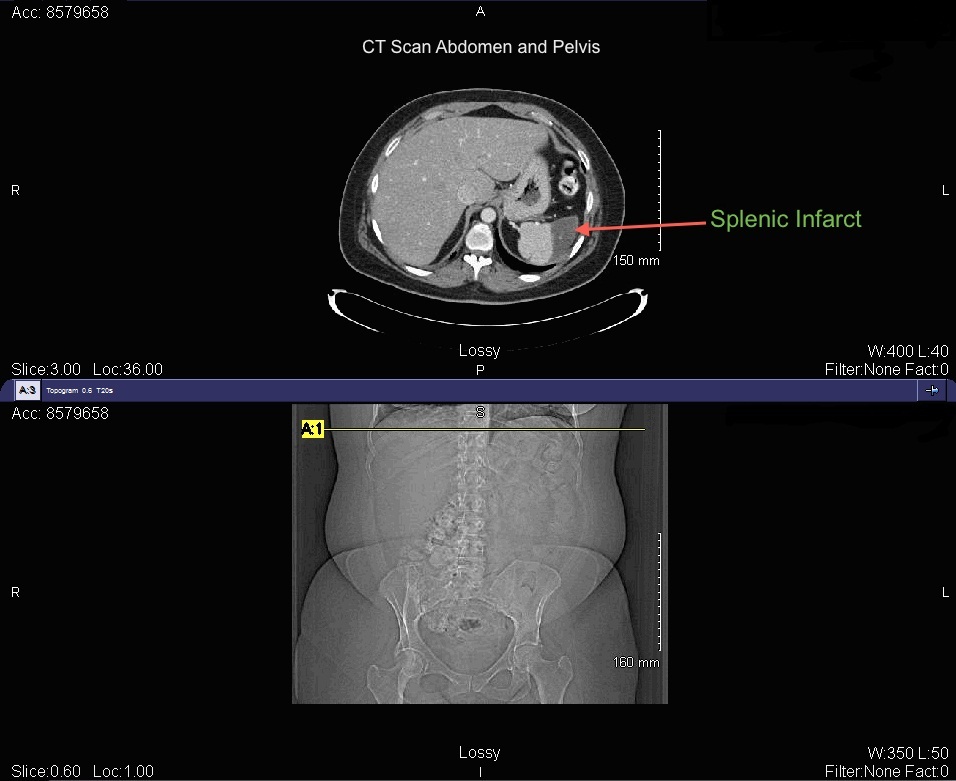 To cite this abstract:
Abed J, Gupta I, Abed E, Judeh H, Gazali R, Gurunathan R. Cocaine – Another Nocuous Effect. Abstract published at
Hospital Medicine 2015, March 29-April 1, National Harbor, Md.
Abstract 425.
Journal of Hospital Medicine.
2015; 10 (suppl 2). https://www.shmabstracts.com/abstract/cocaine-another-nocuous-effect/. Accessed March 31, 2020.
« Back to Hospital Medicine 2015, March 29-April 1, National Harbor, Md.