CO-MANAGEMENT IMPLEMENTATION WITH AGS COCARE: ORTHO™ IMPROVES HIP FRACTURE OUTCOMES
Mark Goldin, MD, Liron Sinvani, MD, Nayla Idriss, MD, Corey Karlin-Zysman, MD, Nick Fitterman, MD, Maria Toroella Carney, MD, Daniel Mendelson, MD, MS,
Meeting: Hospital Medicine 2019, March 24-27, National Harbor, Md.
Abstract number: 102
Categories: Geriatrics, Hospital Medicine 2019, Innovations
Keywords: Co-Management, FRAGILITY HIP FRACTURES, Geriatrics, models of care, Orthopedics
Background: More than 300,000 older adults are hospitalized in the US annually for hip fracture. While operative repair is recommended in most individuals, perioperative complications account for significant morbidity and mortality. Co-management programs for hip fracture care are effective in reducing mortality, as well as in-hospital complications, length of stay (LOS), readmission rate, and cost. The American Geriatrics Society (AGS), with support from the John A. Hartford Foundation, created AGS CoCare: Ortho™, an evidence based co-management program. Our institution was chosen as an alpha site for implementation of the program. We report our experience planning and implementing the program.
Purpose: To describe the planning, implementation, monitoring, and initial data/success of AGS CoCare: Ortho™ at an academic tertiary care hospital.
Description: After being approached by AGS and obtaining buy-in from leadership, a multidisciplinary steering committee (SC) was created, consisting of Hospital Medicine, Orthopedics, Geriatrics, Anesthesiology, IT, Data Analytics, Nursing, and Administration. The SC identified process and outcome metrics including LOS, 30-day readmission, perioperative order set use, time-to-OR < 48 hours, pre-operative test utilization (e.g., echocardiography [TTE]), pain scores, and use of high-risk medications (e.g., opioids, benzodiazepines). An online dashboard was created for data monitoring. Customized admission and post-operative order sets were created, with an emphasis on safety (e.g., pre-checked orders for catheter removal and eliminating/dose-reducing high-risk medications). Standardized consult/progress notes were devised by creating electronic templates, prompting providers to assess cognition, function, and advanced directives. A service agreement stipulated all patients would be admitted and geographically cohorted to Orthopedics. Hospital Medicine was immediately apprised of admissions and co-management teams met several times daily. A core group of hospitalists with co-management experience participated in the program, and providers completed AGS CoCare: Ortho™ educational online modules. Content was reinforced with in-person presentations by Geriatrics and a biweekly e-newsletter with links to modules. Since program inception (March 1, 2018), pre-operative TTE rate has decreased from 34% to 23% and time-to-OR < 48 hours has improved from 73% to 83%. Standard order set use has reached 92%; the percentages of patients with consecutive pain scores ≥ 6 both pre- and post-operatively have decreased from 84% to 80% and 60% to 53%, respectively. Hospital mortality has decreased from 3.4% to 1.1%, with comparable median LOS and 30-day readmission rate. ™
Conclusions: With careful planning and AGS guidance, AGS CoCare: Ortho™ was successfully implemented at a large, tertiary care center and achieved promising process and quality outcomes over 8 months. The program will be expanded to additional system sites to standardize care of older patients with hip fracture.
IMAGE 1: Dashboard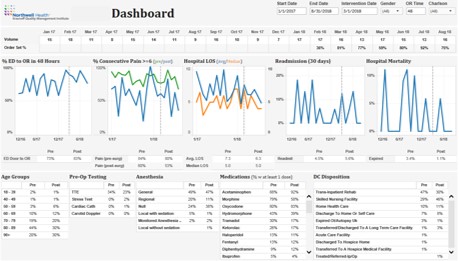 To cite this abstract:
Goldin, M; Sinvani, MD, L; Idriss, MD, N; Karlin-Zysman, C; Fitterman, MD, N; Toroella Carney, MD, M; Mendelson, MD, MS, D. CO-MANAGEMENT IMPLEMENTATION WITH AGS COCARE: ORTHO™ IMPROVES HIP FRACTURE OUTCOMES. Abstract published at
Hospital Medicine 2019, March 24-27, National Harbor, Md.
Abstract 102. https://www.shmabstracts.com/abstract/co-management-implementation-with-ags-cocare-ortho%ef%bf%bd-improves-hip-fracture-outcomes/. Accessed December 15, 2019.
« Back to Hospital Medicine 2019, March 24-27, National Harbor, Md.