Clinical and Diagnostic Pitfalls in Vitamin B12 Deficiency
1Staten Island University Hospital, Staten Island, NY
2Staten Island University Hospital, Staten Island, NY
3Staten Island University Hospital, Staten Island, NY
4Staten Island University Hospital, Staten Island, NY
5Staten Island University Hospital, Staten Island, NY
6Staten Island University Hospital, Staten Island, NY
Meeting: Hospital Medicine 2010, April 8-11, Washington, D.C.
Abstract number: 205
Case Presentation:
A 36‐year‐old woman with PMH significant for iron‐deficiency anemia, presented with weakness, dyspnea, blurry vision, and dizziness. She denied hemoptysis, hematemesis, or hematochezia. Her menstrual cycles were regular. Physical exam showed pale conjunctiva, regular tachycardia, and a systolic heart murmur. Her neurological exam was normal, and her stool was guaiac negative. A head CT was unremarkable. Initial blood work showed a hemoglobin of 3.4, MCV 95, RDW 44, WBC 6.5, platelets 131,000, D‐dimers 4195, fibrinogen 318, negative Coombs, schistocyles on peripheral smear, LDH 9613, Tbili 1,4, reticulocyte count 4.8, iron 196, TIBC 217, Transferrin 155, ferritin 391, and haptoglobin < 5.83. Monolest, cold agglutinin, IgM anti‐EBV, IgM, and IgG antiparvovirus, GBPD, urine hemosiderin, antilhrombin 3, and IgG and IgM anti‐phospholipid antibodies were all negative. The last CBC of record (2005) revealed the following: Hgb 14.2, MCV 88, RDW 13, WBC 15.2, platelets 182. She initially received 4 units of PRBCs, When the platelets dropped to 71,000, TTP was considered. A catheter was placed for plasmapheresis, and she was transferred to the ICU. A bone marrow biopsy showed hypercellularity, erythroid hyperplasia, severe erythroblastosis, megaloblastic changes, hypersegmented neutrophils, and atypical megakaryocytes. The smear showed dysplaslic erythroid precursors, nuclear budding, and dysseg mentation. Immunohistochemistry and flow cytometry were negative for leukemia and lymphoma. Finally,, the serum fbJale level was normal, but the vitamin B12 level was only 13, with positive antibodies to parietal cells and intrinsic factor. At this point, the plasmapheresis was canceled; the patient was downgraded from the ICU and started on B12 injections with improvement in her symptoms.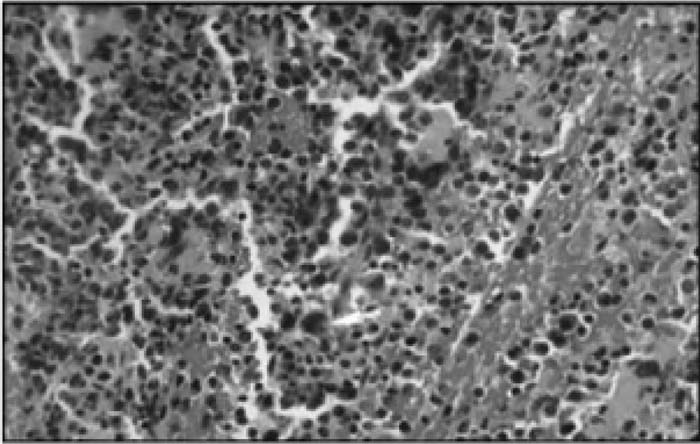 Discussion:
Severe B12 deficiency, causing megaloblastic anemia, pancytopenia, and hemolysis, should be differentiated from thrombotic microangiopathies. Also, the erythroid hyperplasia seen in B12 deficiency should be differentiated from unclassifiable myelodysplastic/myeloproliferative diseases with prominent erythropoietic hyperplasia/dysplasia (erythroid preleukemia), mainly by the hypercellularity of the bone marrow. Finally, reduced haptoglobin and high LDH can lead to a false diagnosis of autoimmune hemolytic anemia, although they are actually signs of ineffective hemopoiesis, as in this case.
Conclusions:
Severe B12 deficiency presents with an array of hematological findings and nonspecific medical symptoms and signs masking its correct diagnosis. It should always be considered high in the differential diagnosis of more severe hematological entities, as it is a well‐known cause of megaloblastic anemia, pancytopenia, and marked signs of hemolysis. Hospitalists frequently encounter B12 deficiency as a cause of anemia, and it should always be kept in mind as a great mimicker of more severe diseases involving the neurologic, psychiatric, and pulmonary systems.

Author Disclosure:
F, Abi Fadel, none; E, El‐Charabaty, none; R. Said, none; M. Odaimi, none; A. Gottesman, none; R, Wetz, none.
To cite this abstract:
Fadel F, El‐Charabaty E, Said R, Odaimi M, Gottesman A, Welz R. Clinical and Diagnostic Pitfalls in Vitamin B12 Deficiency. Abstract published at
Hospital Medicine 2010, April 8-11, Washington, D.C.
Abstract 205.
Journal of Hospital Medicine.
2010; 5 (suppl 1). https://www.shmabstracts.com/abstract/clinical-and-diagnostic-pitfalls-in-vitamin-b12-deficiency/. Accessed April 5, 2020.
« Back to Hospital Medicine 2010, April 8-11, Washington, D.C.