Case Presentation:
A 64-year-old woman with a past medical history of type 2 Diabetes Mellitus and depression presented to the hospital with subacute progressive left leg weakness over the past six months. She has had difficulty ambulating and has sustained multiple mechanical falls. She denied any bowel/bladder incontinence. She had a prior history of severe alcoholism (in remission for five years). Family history was unremarkable for any neurodegenerative disease. On examination, her vital signs were within normal range. Her neurological exam was significant for frontal release signs (snout reflex and palmomental reflexes), left lower extremity weakness (3/5 strength) and hypertonia, diffuse hyperreflexia, and a slow, unsteady gait. Initial blood work was unremarkable for metabolic or infectious etiologies. Magnetic resonance imaging (MRI) of the brain demonstrated diffuse white matter disease with involvement of anterior medial temporal lobes and anterior limb of internal capsule with associated micro-hemorrhages. The differential diagnosis included acute demyelinating encephalomyelitis (ADEM), osmotic demyelination, cerebral amyloid angiopathy, and CADASIL syndrome. The patient received intravenous steroids for possible demyelinating disease with no significant improvement. Blood work was positive for the NOTCH3 gene mutation. The patient was admitted to the inpatient rehabilitation unit.
Discussion:
Cerebral Autosomal Dominant Arteriopathy with Subcortical Infarcts and Leukoencephalopathy, or CADASIL is a very rare (unknown prevalence) autosomal dominant angiopathy caused by a mutation of the NOTCH3 gene located on chromosome 19. Patients with CADASIL classically present with stroke in their thirties or forties and typically die of complications related to dementia in their sixties. Cognitive deficits (60%), migraine with aura (30%) and psychiatric disturbances (25-30%) are frequently noted. Patients may also have seizures, spinal cord symptoms or intracerebral hemorrhage. Specific neuroimaging findings include medial anterior temporal lobe (100% specific) and external capsule hyperintensities, cerebral microbleeds, subcortical lacunar lesions and brain atrophy. Diagnosis is suspected in patients with typical clinical signs, positive family history of stroke or dementia, and MRI findings. Positive NOTCH3 mutation and/or characteristic ultrastructural deposits within small blood vessels on skin biopsy confirm the diagnosis. Our patient had a very atypical clinical presentation especially given her negative family history, however, the typical MRI findings and history of depression led to the testing for the NOTCH3 gene mutation, confirming the diagnosis of CADASIL syndrome. Currently, no specific treatment exists for this disease, and management revolves around the treatment of associated symptoms.
Conclusions:
A diagnosis of CADASIL should be suspected in patients with a history of psychiatric disease, focal neurological deficits and typical findings on brain MRI. Testing for the NOTCH3 gene mutation should be performed to confirm the diagnosis.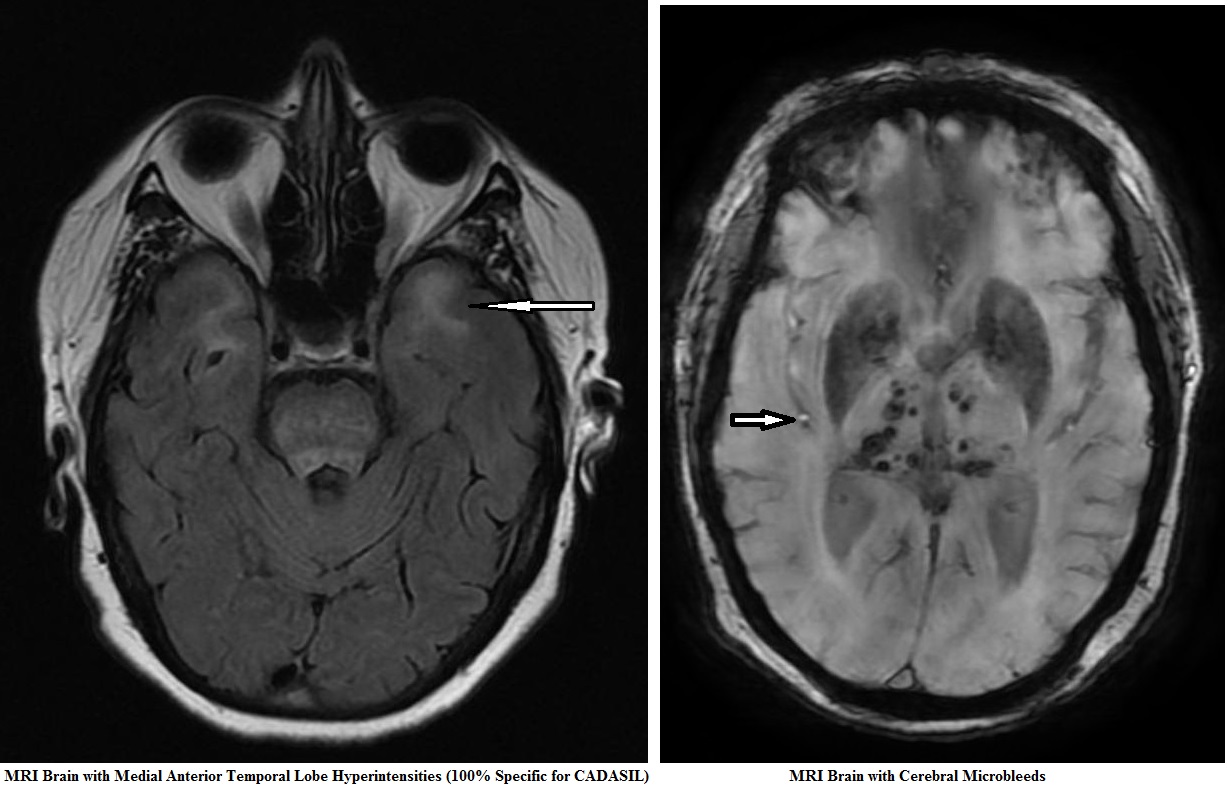 To cite this abstract:
Grover S, Kataria KK, Bansal V. Chronic Leg Weakness in a Patient with Depression. How About Cadasil?. Abstract published at
Hospital Medicine 2016, March 6-9, San Diego, Calif.
Abstract 531.
Journal of Hospital Medicine.
2016; 11 (suppl 1). https://www.shmabstracts.com/abstract/chronic-leg-weakness-in-a-patient-with-depression-how-about-cadasil/. Accessed March 30, 2020.
« Back to Hospital Medicine 2016, March 6-9, San Diego, Calif.