Case Presentation:
A previously healthy 59‐year‐old man developed low back pain, symptoms of lumbar radiculopa‐thy following a cross‐country drive. MRI showed mild lumbar spinal stenosis. Over 3 months, he developed paraplegia and urinary/fecal incontinence. Laboratory studies showed an elevated erythrocyte sedimentation rate, ANA, and positive anticardiolipin antibody (IgM). A diagnosis of antiphospholipid syndrome with myelitis was made, and therapy with hydroxychloroquine and steroids was started with significant improvement. However, on taper of his steroids, symptoms recurred. Steroids were resumed, and cy‐clophosphamide was added. One week later, kidney function worsened, requiring hemodialysis, and he was transferred to our hospital for further management. On admission, extremities were edematous, with decreased strength and sensation. Cerebrospinal fluid (CSF) showed atypical lymphocytes, and flow cytometry was negative. Repeated MRI of the brain and spine showed possible arachnoiditis at L3–L4. Whole‐body CT scan was normal. Renal ultrasound was normal. Immunosuppressive medications were decreased, and the patient developed diffuse loss of muscle strength and renal function worsened. A second bone marrow biopsy was undertaken. Soon after, the patient developed hypotension and respiratory failure and developed full cardiopulmonary arrest. Resuscitation efforts were unsuccessful. Bone marrow biopsy was reported during this episode and showed involvement by a CD20 + large B‐cell lymphoma. A postmortem exam was performed, revealing multiple artery thrombi in both lungs. The cauda equina, nerve roots and kidneys were enlarged and infiltrated with large, CD20(+) lymphocytes. The lymphoma was also found to involve the stomach, liver, pancreas, spleen, right coronary artery, and adrenals.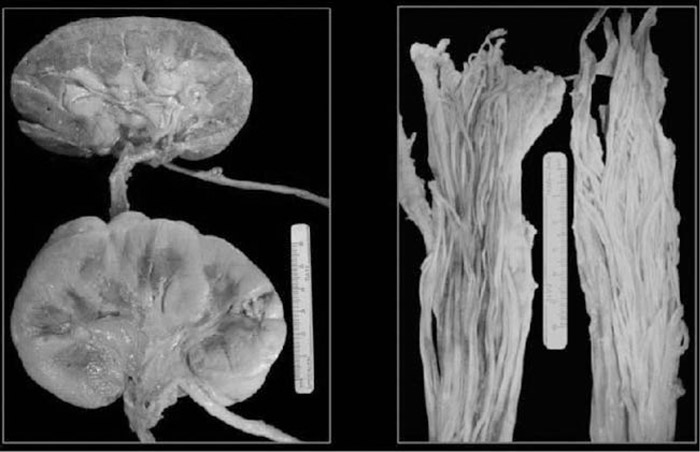 Right image: normal cauda equina (right) and postmortem sample showing cauda equina infiltration with large B‐cell lymphoma (left). Left image: normal kidney and postmortem exam showing renal infiltration (bottom).
Discussion:
Diffuse large B‐cell lymphoma may present primarily with extranodal involvement in up to one third of cases. However, cauda equina lymphoma is rare. Histologically, most cases of cauda equina lymphomas are large B‐cell non‐Hodgkin lymphomas. MRI and CT may not detect lesions until late in the disease course. Frequent false‐negative CSF cytology in central nervous system lymphomas may be related to the paucity of tumor cells, which may in part be overcome by obtaining large CSF sample volumes and repeated sampling. In this case, diagnostic difficulties were posed by comorbidities, prior immunosuppressive therapy, and the limitations of CSF analysis. A renal biopsy in this case may have yielded a more timely diagnosis, as a matter of speculation. Clinical improvement was reported in 11 patients with cauda equina lymphoma, using chemotherapy and rituximab once diagnosis was ascertained, although palliation should remain the primary goal.
Conclusions:
Hospitalists seeing patients presenting with cauda equina syndrome and leg weakness should consider extra‐nodal lymphoma. Biopsy of compromised organs should accompany complete CSF analysis (including flow cytometry) and bone marrow biopsy.
Disclosures:
M. C. Alraies ‐ none; B. Harte ‐ none
To cite this abstract:
Alraies M, Harte B. Cauda Equina Lymphoma: A Case Report with Postmortem Exam. Abstract published at
Hospital Medicine 2011, May 10-13, Dallas, Texas.
Abstract 228.
Journal of Hospital Medicine.
2011; 6 (suppl 2). https://www.shmabstracts.com/abstract/cauda-equina-lymphoma-a-case-report-with-postmortem-exam/. Accessed March 28, 2020.