Case Presentation:
A 56 year old man presented to the emergency department (ED) with acute, left-sided tongue swelling for one day. The patient had a past medical history of hyperlipidemia and recurrent ottis media and was allergic to penicillin. Five days prior to presentation he started to have left sided throat pain and was evaluated by his outpatient ENT. A CT scan of the neck at that time was unremarkable. The ENT physician felt that the symptoms were likely due to lymphadenitis and started the patient on oral Clindamycin. His pain persisted despite the use of antibiotics and over the last day he began to develop tongue swelling. He started to have trouble talking and swallowing, prompting a visit to the ED. He also complained of a subjective fever at home that started the day prior to presentation.
On physical exam, his vital signs were within normal limits and the patient had trouble speaking and swallowing but did not have stridor or shortness of breath. Exam of the mouth revealed a large, edematous tongue which the patient was unable to stick out of his mouth. The rest of the exam, including posterior pharynx, floor and roof of the mouth were normal. His lower extremities were normal as well. He had normal vitals and was saturating well on room air. The patient was admitted to the medical ICU to monitor his airway and started on metronidazole and aztreonam to cover oral flora. Shortly after admission, his tongue began to drain white pus and the swelling decreased. Two days after admission, a CT with contrast of his neck revealed no drainable abscess (see image). Blood cultures grew Pasturella multicoda on day two of admission. At this point, the patient and his wife confirmed that they had recently adopted two cats and the patient revealed a multitude of superficial scratches from the cats on both arms and legs. The patient denied being scratched or bitten in the mouth. He was switched to imipenem and was eventually discharged home with a PICC to complete a 14-day course of antibiotics for Pasturellabacteremia.
Discussion:
Pasturella is a gram negative coccobacilli, transmitted to humans via cat scratches or bites from a dog or cat. It is an uncommon cause of infection in humans, but most often causes soft tissue infections that can lead to local abscesses, septic arthritis or osteomyelitis. Soft tissue infections are characterized by rapid onset and intense inflammatory response. Bacteremia is present in about half of serious infections. Rarely, Pasturella can cause oral, upper and lower respiratory infections including pharyngitis, otitis media and pneumonia. More serious infections such as meningitis and endocarditis can also occur. The diagnosis of a Pasturellainfection depends on isolation in culture, but it is often initially misidentified because of its rarity. Most soft tissue infections resolve rapidly and without complication with appropriate antibiotic coverage.
Conclusions:
Our patient did not present classically as he lacked significant soft tissue swelling at the sites of the cat scratches and instead presented with distant soft tissue swelling in the form of glossitis. This is the second reported case of Pasturella multicoda causing glossitis. This case highlights the need to obtain a through patient history, including any pets that the patient may own.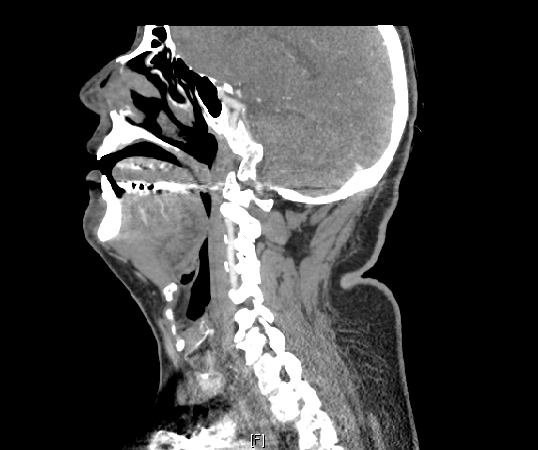 To cite this abstract:
Potashinsky A, Cagnazzi L, Narasimhan M. Cat Got Your Tongue. Abstract published at
Hospital Medicine 2016, March 6-9, San Diego, Calif.
Abstract 739.
Journal of Hospital Medicine.
2016; 11 (suppl 1). https://www.shmabstracts.com/abstract/cat-got-your-tongue/. Accessed April 5, 2020.
« Back to Hospital Medicine 2016, March 6-9, San Diego, Calif.