Background: High value care is a key priority in healthcare, but strategies are needed to empower frontline clinicians to work with organizational leadership to reduce healthcare costs and improve care.
Purpose: Caring Wisely (CW) is a program we developed that is designed to engage frontline clinicians and staff, connect them with implementation experts, and develop interventions specifically designed to reduce costs, enhance quality, and improve health outcomes. This program aims to provide an institutional model for identifying areas of low-value care, and for implementing robust interventions to address these areas.
Description: The CW program consists of 3 stages: 1) The Ideas Contest: an open call to all staff, providers, faculty and trainees to bring forward their best ideas to reduce inefficiencies and healthcare costs; 2) The Request for Proposals Stage: project teams are encouraged to submit proposals for intervention strategies; and 3) The Project Implementation Stage: frontline project and the CW teams meet regularly in works-in-progress (WIP) meetings to develop and implement intervention strategies.
Each project has a maximum budget of $50,000 and receives project support from the CW team (Table 1). The program is funded by leadership from the Medical Center. A key feature of the program is the partnership between project teams, the CW team, and the CW Steering Committee (comprised of executive health systems leaders in quality, operations, finance, and information technology).
We have collected more than 65 ideas and 20 full project proposals in each of the first 3 years of the program, via a web-based platform enabling transparent and collaborative proposal development. Each year, 2-3 projects have been chosen for implementation by the CW Steering Committee. Results show notable decreases for target groups in blood transfusions, nebulizer treatments, and operating room supply costs (Figure 1).
Exit interviews with project leaders provided insights into the program and suggestions for future improvements, including the effectiveness of components of the CW team and the WIP meetings. Based on this feedback, we better aligned the expertise of the CW team members and have clarified their specific roles, as well as have implemented more one-on-one meetings with individual project leaders.
Conclusions: Our program empowers frontline project teams to work on crowd-sourced ideas with institutional leadership support and implementation science coaching, creating an effective strategy for reducing healthcare costs and improving care in the hospital.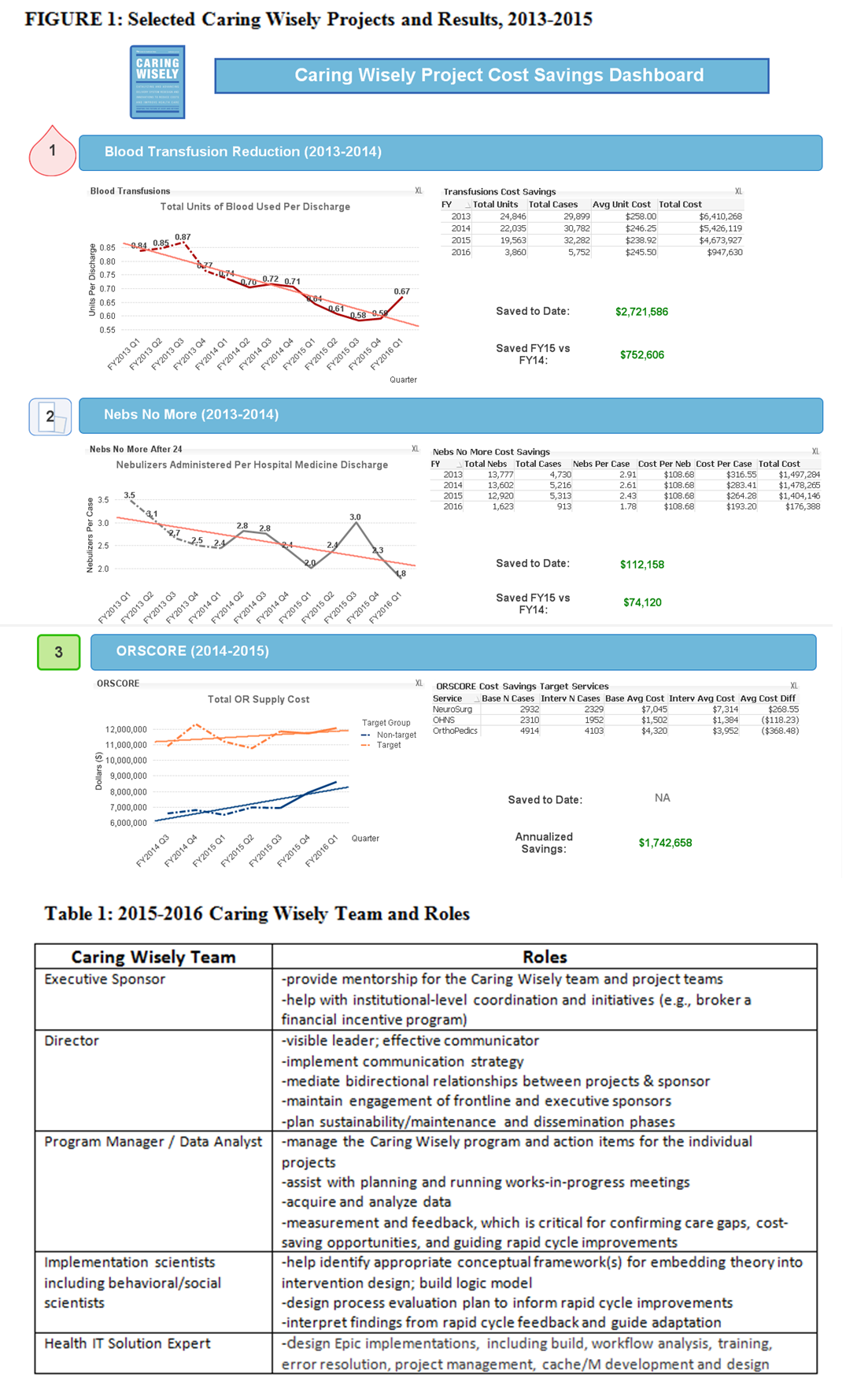 To cite this abstract:
Moriates C, Valencia V, Boscardin C, Gonzales R. Caring Wisely: A Program to Support Frontline Providers and Staff in Improving Healthcare and Reducing Costs [abstract].
Journal of Hospital Medicine.
2016; 11 (suppl 1). https://www.shmabstracts.com/abstract/caring-wisely-a-program-to-support-frontline-providers-and-staff-in-improving-healthcare-and-reducing-costs/. Accessed February 25, 2018.
« Back to Hospital Medicine 2016