Background: Beginning in 2015 Mission Hospital in Asheville, NC began noticing a rise in the number and associated length of stay (LOS) of patients admitted for medical complications of injection drug misuse. What began as a small team mainly focused on LOS reduction strategies quickly morphed into a multidisciplinary team to formalize a Care Process Model (CPM) for the care of patients admitted for medical complications of injection drug misuse.
Purpose: To improve the care, safety and patient/caregiver experience involving our patients admitted to Mission Hospital with medical complications of injection drug misuse.
Description: First, we began with a team based approach to the agreed upon best practices and developed a Powerplan to standardize the management of this population. Second, we educate(d) to which patients should have the plan. Third, we measure and learn from plan compliance with plan ordering. The main components of the plan include an initial motivational interviewing by our Licensed Clinical Addiction Specialists (LCAS) to inform the patient of the plan, verification of their agreement to the plan, followed by a contraband check, placement of a sitter (or virtual monitoring via camera), restriction of visitors and removal of personal belongings. Over the course of their hospital stay and as the care team (attending, nursing, LCAS) become familiar with the patient, their stage of change and healthy support structure if any, the care team will submit a request for "de-escalation" of restrictions to a small team of CPM members that review these requests twice weekly and as needed on a more urgent basis. Additionally, if the patient is felt to be appropriate for Medically Assisted Therapy (MAT), psychiatry will be consulted to consider/initiate/manage transition to outpatient MAT therapy. Besides the Powerplan and workflow as described, all of which continue to be refined, additional team/health system efforts have included the following: 1) development of set of learning models to educate staff on addiction, in an effort to bring more empathetic care to the beside-all nursing staff were required to take these modules and hospital medicine providers had to take four hours of equivalent training if not completing these modules 2) currently piloting with success the use of remote camera monitoring to replace live sitters for appropriate patients in this cohort 3) getting licensed clinical addiction specialists to the bedside of all patients on the plan to both help with therapeutic alliance while hospitalized and to facilitate transitions to outpatient support 4) development and implementation of a Discharge (or AMA) packet to be front loaded in the patient's chart and given to them at transition out of the hospital to include harm reduction material, safe injection practices, needle exchange options in the community, and MAT/behavioral support 5) partnering with our community and state wide teammates working in this space. At its highest in August 2018, the "census" for this cohort of patients in Mission Hospital was 34 and over the last several months has averaged 17-20.
Conclusions: The journey over the last three years has been eye opening for all involved given the difficult balance of patient wellbeing and rights, trying to treat the addiction with limited resources, patient behaviors related to their addiction and staff wellbeing and empathy in caring for a patient population for whom they often carry implicit bias and were not trained nor "signed up" to care but the drive for continuous improvement endures.
IMAGE 1: AverageDailyCensusIVDAPatients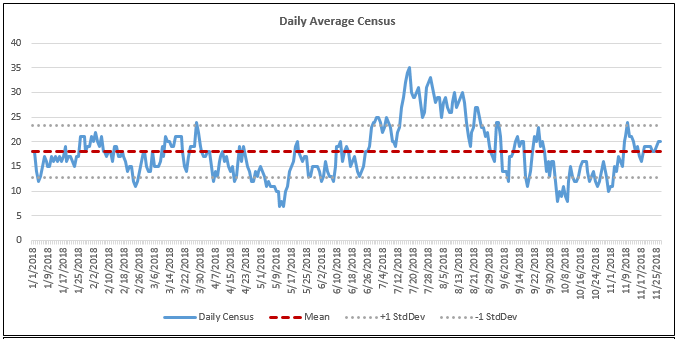 To cite this abstract:
Moreadith, JH. CARE PROCESS MODEL FOR OUR PATIENTS ADMITTED WITH MEDICAL COMPLICATIONS OF INJECTION DRUG MISUSE. Abstract published at
Hospital Medicine 2019, March 24-27, National Harbor, Md.
Abstract 11. https://www.shmabstracts.com/abstract/care-process-model-for-our-patients-admitted-with-medical-complications-of-injection-drug-misuse/. Accessed January 28, 2020.
« Back to Hospital Medicine 2019, March 24-27, National Harbor, Md.