Case Presentation:
A 66 year-old-female with a past medical history of mild hypertension on Losartan was referred to our institution after a significant workup at an outside hospital for gradual progression of dyspnea on exertion and exercise fatigue of one year duration. On presentation, patient was NYHA class IIIB ACC stage C. Patient was previously a runner, but now was unable to walk several blocks without experiencing shortness of breath. Patient described a 20 pound weight gain, leg edema, increasing abdominal girth, and palpitations. Workup included a cardiac MRI which revealed severe right ventricular enlargement with an ejection fraction (EF) of 15%, and a diminished left ventricular EF of 23%. Furthermore, it showed multiple areas of delayed hyperenhancements in the left anterolateral wall, inferior LV wall, and RV septal wall, severe tricuspid regurgitation with poor coaptation of the leaflets, severe RA enlargement, and moderate pericardial effusion. Thus, a cardiac biopsy was performed revealing occasional multinucleated giant cells and fibrosis, suggestive of sarcoidosis. Patient was aggressively diuresed, started on prednisone, and discharged on a beta blocker, ACE inhibitor (ACE-I), statin, aspirin, diuretic, and anticoagulation therapies. Aldosterone antagonist therapy was held due to the newly added ACE-I and a recent kidney injury. Patient was also discharged with a LifeVest, and was evaluated for a heart transplant.
Discussion:
Diagnosis of cardiac sarcoidosis can be a challenging one. Involvement of the heart may precede, occur in the setting of, or follow involvement of other organs such as the lungs. There have been many studies that attempted to quantify the incidence of myocardial involvement in sarcoid. There currently is a lack of consensus on key diagnostic and imaging modalities. Initial evaluation should include a thorough history and physical examination, electrocardiography, and a Holter monitor. Cardiac MRI allows fast, high resolution diagnosis of cardiac sarcoidosis, and is currently the technique of choice for evaluation. Often however, histologic diagnosis by endomyocardial biopsy with findings of non-caseating epithelioid granulomas is necessary. Appropriate use of such modalities is crucial for making a timely diagnosis.
Conclusions:
Cardiac sarcoidosis is a diagnosis that can carry a benign course, or can be life threatening. Manifestations of the disease include conduction abnormalities, tachyarrhythmias, and congestive heart failure.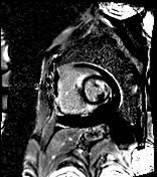 To cite this abstract:
Zetir M, Imam JS, Helgeson SA, Austin C, Shapiro B. Cardiac Sarcoidosis As a Cause of Heart Failure. Abstract published at
Hospital Medicine 2016, March 6-9, San Diego, Calif.
Abstract 892.
Journal of Hospital Medicine.
2016; 11 (suppl 1). https://www.shmabstracts.com/abstract/cardiac-sarcoidosis-as-a-cause-of-heart-failure/. Accessed October 17, 2019.
« Back to Hospital Medicine 2016, March 6-9, San Diego, Calif.