Can We Really Discharge Medicine Patients by Noon? Exploring Barriers to Earlier Discharge
1University of California, San Francisco, San Francisco, CA
2Duke School Of Medicine, San Francisco, CA
Meeting: Hospital Medicine 2014, March 24-27, Las Vegas, Nev.
Abstract number: 130
Background:
Late afternoon patient discharges create admission bottlenecks in the Emergency Department, slow elective admissions, delay transfers out of the Intensive Care Unit and Post Anesthesia Care Unit, and are a major dissatisfier for patients. Still, more than 50% of hospitals across the US have an average discharge time of 3pm or later. Physicians are key stakeholders in facilitating discharges,but their perceived barriers to discharge before noon have not been explored.
Methods:
We surveyed physicians to assess perceived barriers to earlier discharge in a convenience sample of patients discharged after noon in a 1 month period on an academic internal medicine service. Physician responses were coded into 5 primary pre‐specified domains with multiple subcategories (outlined in Table 1). We compared the average time of discharge in the 5 domains using t‐Test analyses.
Results:
Among 326 discharged patients, 46 (14%) were discharged by noon. We obtained 102 physician surveys for patients discharged after noon. The most frequently cited reason for discharge after noon was "clinical decision making" (N=39, 38.2%) and the least common was clinical logistics (N=8, 7.8%) (Figure 1). The average time of discharge for clinical logistics category was significantly later than all other categories (6:01pm, P=.001). The remaining 4 categories' times of discharge ranged from 3:45pm to 4:20pm.
Conclusions:
As hospitals increasingly emphasize earlier discharges, understanding the barriers to early discharge can help guide process improvements. Barriers related to clinical decision making, often based on test results and changes in patient status, accounted for the majority of delays and may be unavoidable. Other areas such as patient factors and discharge planning logistics offer attractive targets for improvement.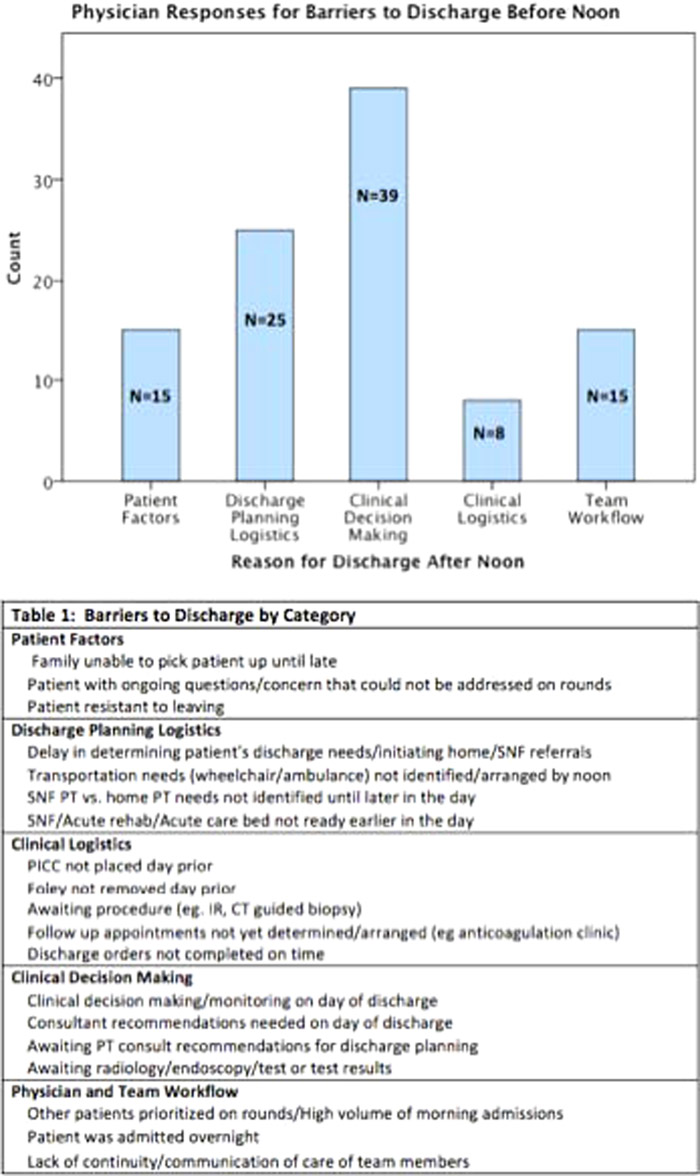 To cite this abstract:
Patel H, Elias P, Morduchowicz S, Mazzini A, Mourad M. Can We Really Discharge Medicine Patients by Noon? Exploring Barriers to Earlier Discharge. Abstract published at
Hospital Medicine 2014, March 24-27, Las Vegas, Nev.
Abstract 130.
Journal of Hospital Medicine.
2014; 9 (suppl 2). https://www.shmabstracts.com/abstract/can-we-really-discharge-medicine-patients-by-noon-exploring-barriers-to-earlier-discharge/. Accessed April 3, 2020.
« Back to Hospital Medicine 2014, March 24-27, Las Vegas, Nev.