Can Low Clinical Pretest Probability and Negative D‐Dimer Be Used to Exclude Pulmonary Embolism in Hospitalized Patients? A Systematic Review
1Cleveland Clinic Foundation, Cleveland, OH
2Cleveland Clinic Foundation, Cleveland, OH
3Lankenau Hospital, Philadelphia, PA
4Cleveland Clinic Foundation, Cleveland, OH
Meeting: Hospital Medicine 2010, April 8-11, Washington, D.C.
Abstract number: 110
Background:
There is controversy over the use of D‐dimer to exclude pulmonary embolism (PE) in patients hospitalized for other reasons. Some authors have suggested that D‐dimer has limited clinical utility for inpatients because of its poor specificity. However, those authors tested D‐dimer in "unselected inpatients undergoing radiologic evaluation for possible venous thromboembolism." In 2003, Kruip and colleagues published a systematic review of diagnostic strategies for excluding pulmonary embolism in clinical outcome studies. Inpatients were included but not evaluated as a separate subgroup, and several important studies of PE diagnosis have subsequently been published.
Methods:
We duplicated the search methods of Kruip et al. by searching Pubmed, Scopus, and Web of Science using the same medical subject headings but searched references published from January 2003 until September 2008. A second search was done for studies that referenced the original systematic review, and all studies contained in the original were considered. We also duplicated the selection criteria used by Kruip et al., with 3 important additions: (1) enroll inpatients, (2) include D‐dimer in the diagnostic strategy, and (3) use some form of clinical pretest probability to risk‐stratify patients prior to performance of D‐dimer.
Results:
Seven references including 1800 inpatients were identified that met our selection criteria (see Table 1). Two of the references (CHRISTOPER and CANPEDS) reported results in sufficient detail to draw conclusions about the clinical utility of low pretest probability and D‐dimer for inpatients. Communicating authors were contacted for the remaining 5 references, and 1 replied but did not supply data in sufficient detail to be useful in our review. One hundred and sixty inpatients from 2 studies had a low risk Wells score and a negative D‐dimer and had anticoagula‐tion withheld. There was 1 event of VTE in a 3‐month follow‐up, giving a negative predictive value of 99% (Cl 97%–100%). This cohort represented 14% of the total population of inpatients evaluated for PE in these 2 studies.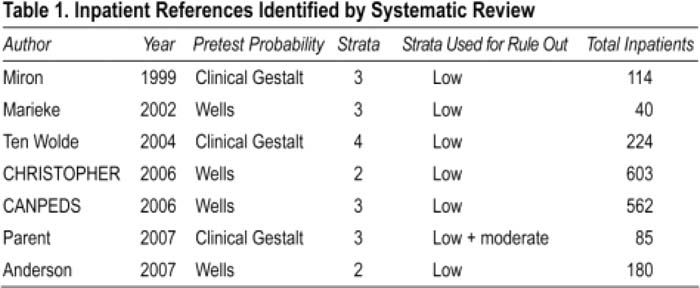 Conclusions :
The combination of low Wells score and negative D‐dimer can be used to exclude PE with a high negative predictive value in 14% of hospitalized patients who are suspected of the diagnosis.
Author Disclosure:
R. Patrick, none; P. Patel, none; I. Masood, none; C. Whinney, none.
To cite this abstract:
Patrick R, Patel P, Masood I, Whinney C. Can Low Clinical Pretest Probability and Negative D‐Dimer Be Used to Exclude Pulmonary Embolism in Hospitalized Patients? A Systematic Review. Abstract published at
Hospital Medicine 2010, April 8-11, Washington, D.C.
Abstract 110.
Journal of Hospital Medicine.
2010; 5 (suppl 1). https://www.shmabstracts.com/abstract/can-low-clinical-pretest-probability-and-negative-ddimer-be-used-to-exclude-pulmonary-embolism-in-hospitalized-patients-a-systematic-review/. Accessed April 10, 2020.
« Back to Hospital Medicine 2010, April 8-11, Washington, D.C.