Automated Real‐Time Relay of Actionable Performance Data to Nursing Units: A Transferable Quality Improvement Strategy
1Emory University School of Medicine, Atlanta, GA
2Emory University School of Medicine, Atlanta, GA
3Emory Healthcare, Atlanta, GA
4Emory Healthcare, Atlanta, GA
5Emory Healthcare, Atlanta, GA
6Emory Healthcare, Atlanta, GA
Meeting: Hospital Medicine 2009, May 14-17, Chicago, Ill.
Abstract number: 131
Background:
Hospitals still have no readily transferable strategy to deliver optimal care consistently. Moreover, the regular data flow necessary to track and drive better performance is typically not available. Pilot work from our hospital medicine program suggests that daily relay of potential quality outliers enables frontline staff to address oversights as they occur. Timely, actionable data relayed to the frontline has significant additional value. Its acquisition represents a de facto performance tracking system, a strategy that could apply to multiple hospital quality metrics, and it could be transferred throughout a hospital or system if automated.
Purpose:
To create and examine automated, real‐time relay of actionable performance data in nursing units across 5 separate Emory hospital facilities, hospitalists and health information specialists designed and developed a prototype computer program aimed at optimizing the proportion of patients receiving venous thromboembolism (VTE) prophylaxis.
Description:
Features of the prototype were designed to overcome common quality improvement obstacles, accommodate clinical work flow, and positively influence provider behavior (Figure 1). To remove the necessity for manual acquisition of outlier data, we created an automated program to query our hospital system's electronic clinical database. To ensure real‐time, geographic relevance of the information, the program runs every hour and presents the data by nursing unit. To make it readily accessible and useful to frontline caregivers, the data output is relayed to a dashboard display that care team members can launch from any clinical computer workstation. To emphasize actionable data while giving positive feedback, potential quality outliers are highlighted in red but become green within an hour of being addressed. To further influence provider behavior, performance for every nursing unit is made fully transparent to all users across our hospital system. A fully functional prototype was introduced successfully to more than 40 nursing units in 5 Emory hospital facilities within a 3‐week period. The prototype provides each nursing unit with an automated, real‐time list of patients without orders for VTE prophylaxis. This situational awareness can now be used by the care team to address oversights in VTE prophylaxis as they occur and to manage performance, including prophylaxis appropriateness, over time.
Conclusions:
Automated, real‐time relay of actionable performance data appears to be viable and transferable throughout a hospital system. As a strategy, it holds promise for improving the reliability and sustainability of quality hospital care. More research and development is needed to understand features of effective implementation and measure its impact on clinical, cost, and service outcomes. Any member of the care team can launch this application after logging in to the clinical information system at Emory hospitals. On the left side of the display, a list of all patients on the nursing unit appears, with the real‐time VTE prophylaxis status color coded. Patients without orders for VTE prophylaxis are highlighted in red. On the right side, a run chart shows the daily prevalence of VTE prophylaxis on the nursing unit. Users can view any nursing unit from any location using a drop‐down menu at the bottom of the display.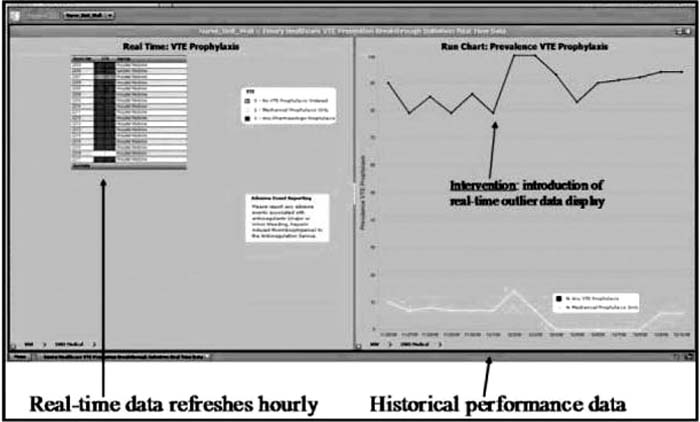 Author Disclosure:
J. Stein, Emory Healthcare and Emory University, employer; Society of Hospital Medicine, independent contractor; Emory University, Inventor on Patent (Health IT); sanofi, honoraria; Ingenious Med, stock holdings; B. Gartland, Emory Healthcare and Emory University, employer; L. Phillips, Emory Healthcare, employer; B. Douglas, Emory Healthcare, employer; J. Medley, Emory Healthcare, employer; D. Cantrell, Emory Healthcare, employer.
To cite this abstract:
Stein J, Gartland B, Phillips L, Douglas B, Medley J, Cantrell D. Automated Real‐Time Relay of Actionable Performance Data to Nursing Units: A Transferable Quality Improvement Strategy. Abstract published at
Hospital Medicine 2009, May 14-17, Chicago, Ill.
Abstract 131.
Journal of Hospital Medicine.
2009; 4 (suppl 1). https://www.shmabstracts.com/abstract/automated-realtime-relay-of-actionable-performance-data-to-nursing-units-a-transferable-quality-improvement-strategy/. Accessed March 30, 2020.