Background: Inadequate access to seven-day inpatient medicine services, particularly at weekends, can lead to poor outcomes. Most evidence in this area is from North America and Europe but there is little or no evidence from the Middle East region.
Purpose: We evaluated our practice before and after the introduction of an attending physician hospitalist delivered 7 day service in our JCI accredited, ACGME-I affiliated, 600 bed tertiary academic medical center in Qatar, a nation of approximately 2.7 million people in the Middle East.
Description: Care on the inpatient Medicine service in our hospital was delivered in a "traditional teaching model" where attending physicians rounded with trainees on weekday mornings only and provided indirect supervision for the trainees who provided direct patient care during other times. In the new model of care introduced early 2015, attending physician hospitalists rounded 7 days a week in the morning with trainees and are also available on-site up to 10 PM. All new admissions and changes in patient conditions between 7 AM and 10 PM are now evaluated by an attending physician with the trainees. We report a preliminary analysis of in-hospital mortality, length of stay, and patient flow before (May to July 2014) and after (May-Jul 2016) introduction of the new model. We also surveyed 20 nurses and 20 residents on their perceptions of impact of weekend rounding by attending physicians.
Average number of monthly admission increased from 308 to 576 (p<0.5). Median monthly inpatient mortality was unchanged at 1.0 (p=0.80). Average length of stay decreased from 8.7 to 7.4 days (p=0.24). Average weekend medical discharges increased from 5.1 to 19.6 from January to December 2015 (p<0.5). Results of nurse and resident surveys are in Fig 1 and 2. Majority of nurses and residents felt weekend rounding by attending physicians improved quality, increased early discharges, reduced length of stay and improved patient and family satisfaction.
Conclusions: Introduction of a hospitalist attending physician delivered model of working 7 days a week on an academic inpatient medical service in the Middle East was associated with increased weekend discharges, potential decrease in length of stay with no adverse impact on mortality, and improved perceptions of quality of care, flow and patient satisfaction. Further study is needed to better understand impact of this and other similar models of seven day working in the Middle East.
IMAGE 1: Figure 1 & Figure 2.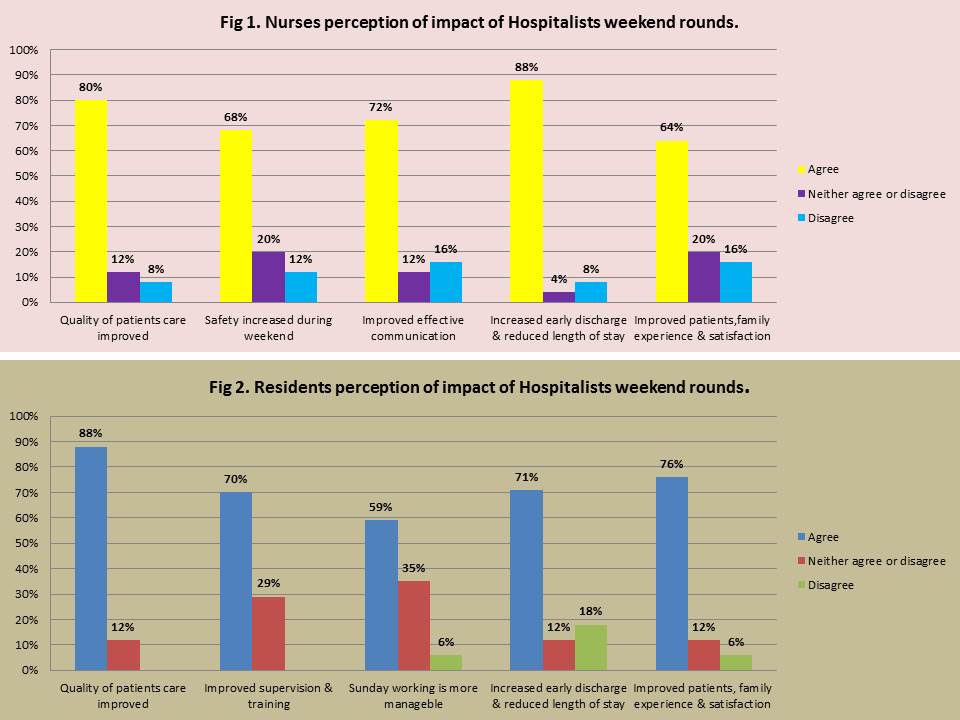 To cite this abstract:
Kartha, A; Alfitori, G; Sajid, J; Errayes, MM; Iqbal, BM; Rafique, SK; Borham, AM. ATTENDING PHYSICIAN DELIVERED SEVEN-DAY CARE ON A GENERAL INTERNAL MEDICINE INPATIENT TEACHING SERVICE: RESULTS FROM A NEW MODEL OF CARE IN QATAR. Abstract published at
Hospital Medicine 2018; April 8-11; Orlando, Fla.
Abstract 353. https://www.shmabstracts.com/abstract/attending-physician-delivered-seven-day-care-on-a-general-internal-medicine-inpatient-teaching-service-results-from-a-new-model-of-care-in-qatar/. Accessed April 5, 2020.