Background: The use of IV insulin is one of the primary therapeutic options for the treatment of hyperkalemia. Unfortunately the available literature reports that hypoglycemia is a common occurrence as a result of the treatment of hyperkalemia. During our safety event review process, we identified the same issue within our own institution. Due to reports of severe hypoglycemia occurring in patients treated with IV insulin, a multidisciplinary group consisting of Endocrine, Nephrology, Hospital Medicine, Pharmacy, and Clinical Nurse Specialists created a weight-based IV insulin order template ("panel") within the electronic medical record. The goal of this order panel was to lower the rates of severe hypoglycemia by using both a weight-based insulin dose and more frequent blood glucose monitoring while adequately treating hyperkalemia.
Methods: All DUH adult inpatient encounters from 7/1/2015 to 4/1/2016 in which patients were treated for hyperkalemia with IV insulin were pulled from our electronic medical record. We manually reviewed all patient charts and used an online database (REDCap) to collect all our data. We compared two populations of patients. The first group of patients used a weight-based order panel of 0.1 units/kg of insulin with recommended glucose monitoring at 20, 60, and 120 minutes post-treatment. The comparison group was treated with a standard insulin bolus per the provider's judgment. Of the 350 charts reviewed, 264 met the criteria for inclusion. There were 195 treatments with the order panel and 69 in the non-panel group. This single-center retrospective chart review compared outcomes in patients who were treated using the weigh based order panel versus standard insulin bolus therapy.
Results: The use of the weight based insulin order panel resulted in reduction in hypoglycemia. There was a difference in hypoglycemia rates (p=0.0486); and more importantly, there were fewer severe hypoglycemia events in the panel group, 2.56%, compared with 10.14% in the non-panel group. Interestingly, there was no difference between the panel and non-panel groups in potassium lowering (p=0.9353).
Conclusions: The risk of hypoglycemia requires caution in the use of IV insulin for treatment of hyperkalemia. Our study confirmed several findings reported in the literature, namely that weight-based insulin dosing appears to be a beneficial therapy. Importantly, we report that our order panel using weight-based insulin dosing at 0.1 units/kg may have reduced cases of severe hypoglycemia while offering comparable potassium-lowering effects compared to patients treated without the guidance of the order panel.
IMAGE 1: Treatment Outcomes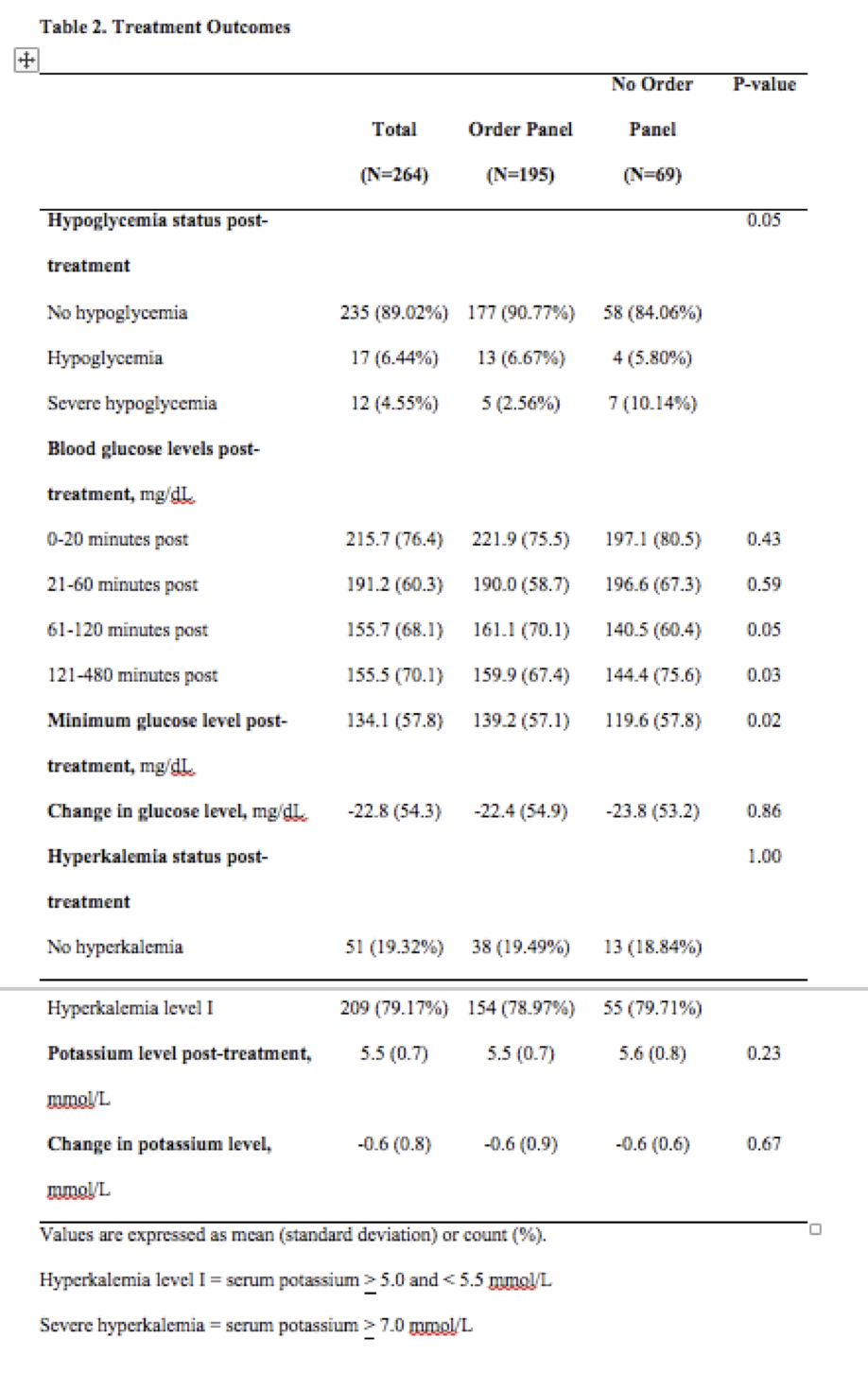 To cite this abstract:
Setji, NP; Brown, K; Setji, T; Hale, S; Cooper, A; Hong, B; Herbst, R; Musser, C; Freeman, S; Shaikewitz, T; Greenlee, J. Assessing The Impact Of An Order Panel Utilizing Weight-Based Insulin And Standardized Monitoring Of Blood Glucose For Patients With Hyperkalemia. Abstract published at
Hospital Medicine 2018; April 8-11; Orlando, Fla.
Abstract 269. https://www.shmabstracts.com/abstract/assessing-the-impact-of-an-order-panel-utilizing-weight-based-insulin-and-standardized-monitoring-of-blood-glucose-for-patients-with-hyperkalemia/. Accessed April 1, 2020.