Case Presentation:
A 37-year old man presented to the hospital for hemoptysis of 4 weeks duration. He has PMH of Granulomatosis with polyangiitis (GPA) with pulmonary and renal involvement; diffuse alveolar hemorrhage and chronic maxillary sinusitis. He was coughing up roughly 20 ml of blood every day. He denied fever, chills and weight loss. Night sweats and fatigue were present. Patient was taking azathioprine and prednisone for GPA. Examination revealed coarse crackles in the right lung base, crusted lesions in his nasal septum. Labs were normal. Chest X-ray revealed a thick wall cavitary lesion in right middle lobe, which was a progression of previously identified nodular lesion. Sputum acid-fast smears were negative for TB. Patient's immunosuppression dose was increased for relapsing GPA, but his hemoptysis continued to persist. CT chest revealed 3.6 cm thick wall cavitary lesion in the right middle lobe with a nodular lesion attached to the dependent cavity wall. Based on the imaging findings Asperillus superinfection was suspected and patient was started on itraconazole. His hemoptysis continued and he was referred for resection of lung cavity. He underwent right middle lobectomy and pathology of the specimen revealed inflammatory cells with granuloma and branching fungal hyphae in the cavitary space consistent with aspergillus species. After the surgery patient did well and his hemoptysis resolved.
Discussion:
GPA (formerly known as Wegener granulomatosis) is a rare multisystem autoimmune disease of unknown etiology. The term mycetoma is used to describe a mobile fungus ball within a preexisting, usually fibrotic, lung cavity. Mycetomas are usually caused by Aspergillus (aspergilloma). The cavity wall has a rich blood supply from the bronchial and other branches of the systemic circulation, and thus has a propensity to bleed. Pulmonary aspergillomas clinically present as chronic productive cough or hemoptysis, which can be life threatening. Surgical resection of an aspergilloma is the only certain method of cure.
Conclusions:
Although bacterial infections can occur in a GPA cavity, Aspergillus superinfection is rare with very few cases reported in the literature. The other aspect that makes our case unique is the presence of active GPA with aspergilloma, the combination that resulted in persistent hemoptysis. It is important to consider aspergilloma in the differential diagnosis of hemoptysis in a patient with GPA and timely referral for surgical resection can prevent significant complications.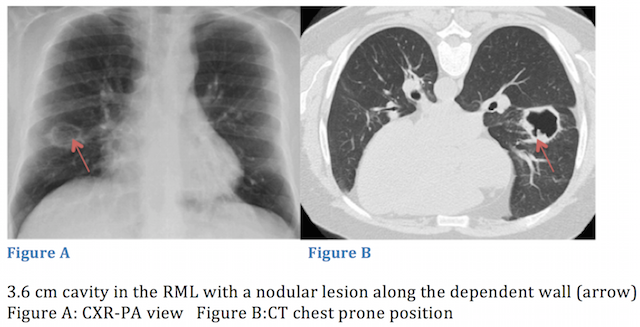 To cite this abstract:
Gudivada D, Rajasurya V. Aspergillus Throws a Curve Ball Again!. Abstract published at
Hospital Medicine 2015, March 29-April 1, National Harbor, Md.
Abstract 533.
Journal of Hospital Medicine.
2015; 10 (suppl 2). https://www.shmabstracts.com/abstract/aspergillus-throws-a-curve-ball-again/. Accessed April 2, 2020.
« Back to Hospital Medicine 2015, March 29-April 1, National Harbor, Md.