Case Presentation:
A 33-year-old asthmatic female presented with a one-day history of productive cough and dyspnea. She reported occasional blood tinged sputum on the day of admission. Clinical exam revealed crackles on the right side. CXR showed mild patchy opacities. Therapy for possible pneumonia was initiated. The patient's clinical status deteriorated within a few hours. Her oxygen demand increased and hemoptysis worsened which required mechanical ventilation. Chest CT showed extensive centrilobular ground glass opacities that affected all lobes consistent with diffuse alveolar hemorrhage. Bronchoscopy was negative for endobronchial lesions and all cultures were negative. Serologic markers for collagen vascular disease were also unremarkable. Coagulation profile was normal. The patient improved with supportive management. She later reported use of "Molly" prior to admission.
Discussion:
Diffuse alveolar hemorrhage is a rare complication of MDMA use. Other potential complications include, hyponatremia, myocardial ischemia, intracerebral hemorrhage, acute hepatic failure and acute hallucinogenic psychosis. Timely recognition and management are very important. This case emphasizes the importance of considering MDMA as a cause of pulmonary hemorrhage. An extensive literature search revealed a case report of a similar presentation following oral use of amphetamine. Physicians caring for patients with recent use of MDMA should be mindful of this complication.
Conclusions:
Specific history of MDMA use should be sought in patients presenting with hemoptysis to avoid unnecessary testing. The pattern of toxicity related to ecstasy is not dose dependent. The risk for death from ecstasy in first-time users has been estimated to be between one in 2000 and one in 50,000. The spectrum of complications associated with 3, 4-methylenedioxymethamphetamine is wide and patient presentation may vary.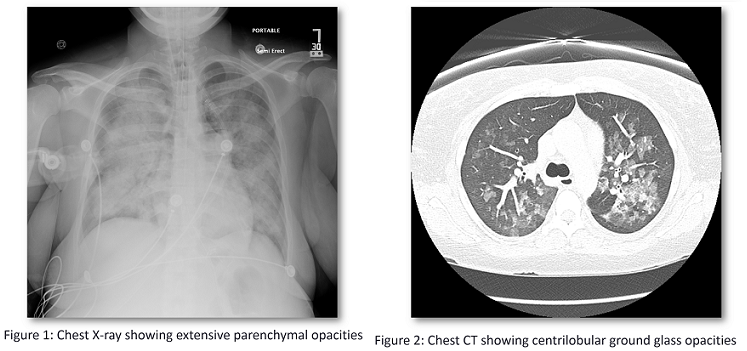 To cite this abstract:
Rehman S, Kowsika SS, Rajaratnam A, Khalid F, Ghobrial I. As Molly Takes the Party Toll: Mdma Toxicity Presenting As Pulmonary Hemorrhage. Abstract published at
Hospital Medicine 2016, March 6-9, San Diego, Calif.
Abstract 758.
Journal of Hospital Medicine.
2016; 11 (suppl 1). https://www.shmabstracts.com/abstract/as-molly-takes-the-party-toll-mdma-toxicity-presenting-as-pulmonary-hemorrhage/. Accessed April 4, 2020.
« Back to Hospital Medicine 2016, March 6-9, San Diego, Calif.