Background:
The use of patient safety indicators such as pressure ulcer rate, allows institutions to monitor and compare their level of efficacy with other hospitals. Medicare and Medicaid have instituted quality measures and payment based on such patient safety indicators. Case‐mix analysis, as often applied in the long‐term care setting, may play an important role in assisting in the determination of the quality of care provided to geriatric patients in the acute care setting.
Methods:
Data were collected from the University Health System Consortium database for more than 100 hospitals across the United States. Rates of pressure ulcers in patients aged 65 and older, from 2006 quarter 2 through 2008 quarter 3 were calculated. Patients who had ulcers on admission were excluded. The Case‐Mix Index (CMI) for each hospital was then obtained. This included the CMI for all patients over the age of 65 as well as the average CMI for the subset of patients found to have ulcers. These data were then analyzed to determine the relationship between CMI and the pressure ulcer rate of the hospital.
Results:
The interesting finding of this study proved to be the lack of correlation between pressure ulcer rate and CMI. It is commonly thought that ulcer incidence increases as the case mix of the hospital increases. The data (Fig. 1) demonstrate that this is not accurate, and in fact the ulcer rate trend actually decreased with increasing CMI, although this correlation was not strong. This study revealed that the rate cannot be attributed to the acuity of the patients who acquire ulcers in the institutional setting of acute care. (Fig. 2). Although the CMI of patients with ulcers is generally higher than the average CMI (Fig. 3), this study demonstrates that the differences in ulcer rates among hospitals cannot be attributed to differences in Case‐Mix Index. There are other factors that contribute to the quality of care in a hospital.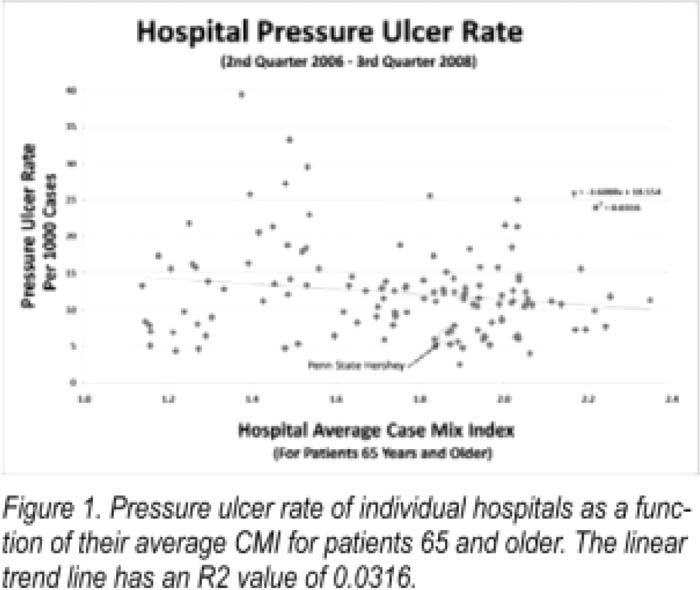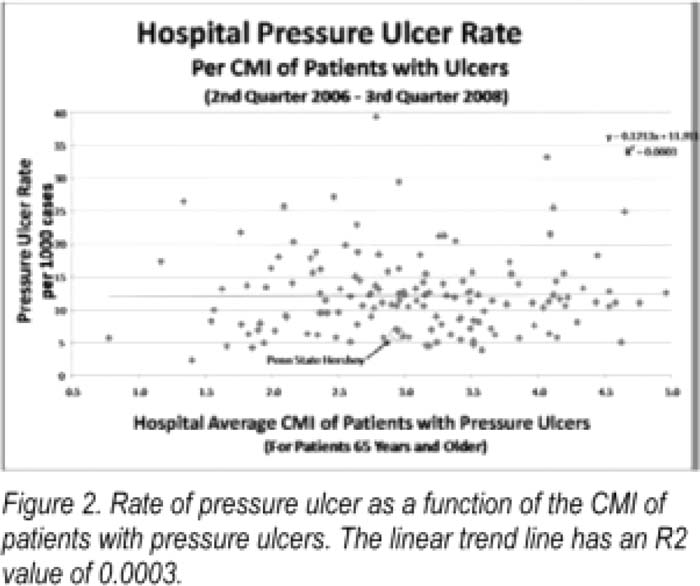 Conclusions:
Pressure ulcer rate is a useful indicator for hospitals to compare quality to other institutions, and is independent of Case‐Mix Index. One possible confounding factor is under/over‐reporting of ulcers. Further research is recommended to identify the influencing factors.
Author Disclosure:
B. Hoffmann, Penn State University, employee.
To cite this abstract:
Hoffmann B. Application of Long‐Term Care Principles in Acute Care: Comparison of Pressure Ulcer Rates by Case‐Mix Index Analysis. Abstract published at
Hospital Medicine 2010, April 8-11, Washington, D.C.
Abstract 66.
Journal of Hospital Medicine.
2010; 5 (suppl 1). https://www.shmabstracts.com/abstract/application-of-longterm-care-principles-in-acute-care-comparison-of-pressure-ulcer-rates-by-casemix-index-analysis/. Accessed April 10, 2020.
« Back to Hospital Medicine 2010, April 8-11, Washington, D.C.