Case Presentation:
This is an 82-year-old male presented to the ER with chief complains of unable to speak with left-sided weakness. Past medical history with Positive for hypertension, hypothyroidism,
dyslipidemia and aortic valve replacement with bovine bioprosthesis done 2 years ago. Physical examination showed that left facial droop as well as the poor dysarthric speech and left hemiparesis. CT scan had done, which was unremarkable for any bleeding, positive for atrophy and small vessel disease and positive for vascular calcification as well as old lacunar infarct. He was given aspirin and had rather rapid dramatic improvement and was presently backed at his baseline. During hospital course, the patient started to become febrile, tachycardia, and fever, further evaluation revealed an echocardiography, which was significant for vegetation on his prosthetic aortic valve with some dilation of the aortic root and concomitant aortic root abscess (image 1). Initial blood cultures were significant for non-aureus Staphylococci, he received endocarditis antiobiotic therapy with no improvement, CT Surgery was consulted, for which they recommended against having any type of operation since possible resection of the aorta was also a possibility in this elderly man. The patient was coordinated a transfer to high level care to re-evaluated and decided to undergo surgical intervention despite the risks.
Discussion:
Infective endocarditis (IE) in elderly patients present a unique diagnostic and therapeutic challenge. Atypical presentations frequently lead to delayed diagnosis and poor outcome. Aortic root abscess in patients with valve endocarditis is not uncommon but carries a very high mortality and morbidity. Early diagnosis is the main key to reduced mortality in elderly patients. Previous clinic data shows that significant risk of IE with advancing age is reflected by the incidence-rate ratio of 8.8 : 1 for persons aged ⩾65 years, as compared with persons aged <65 years,and IE in elderly persons may present with a stroke syndrome, rheumatologic complaints, or peripheral nervous system abnormalities. The increasing use of bioprosthetic valves and the increasing number of older persons who survive previous episodes of IE are important additional risk factors. In addition, about 20% of patients who had definite aortic valve endocarditis presented with periannular abscesses. Aortic root abscess should be suspected in any patient with aortic valve endocarditis who fails to improve within 72 hours on appropriate antibiotics. Several articles have documented that atypical presentations of endocarditis are quite common among elderly patients and that diagnosis is frequently delayed. In a recent study, as compared with conventional treatment, early surgery in patients with IE and large vegetations significantly reduced systemic embolism and death. However, Operative procedures are often technically difficult and associated with high risk, clinical decision making is often hampered by diverse considerations including advancing age, extracardiac complications, prior antibiotic therapy of varying duration, and the availability of appropriate surgical expertise.
Conclusions:
This case reports that TIA can be initial clinic presentation in an elderly patient with valvular endocarditis as well as Aortic Root Abscess, a high index of suspicion and an aggressive diagnostic approach are required to ensure timely diagnosis and appropriate therapy.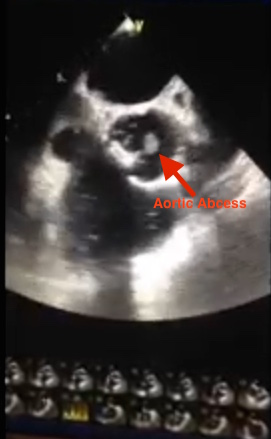 To cite this abstract:
Ramos-Ramirez M, Shi Q, Li H, Gebremedhin A, Tarar M. Aortic Root Abscess with Valve Endocarditis Presenting As Transient Ischemic Attack in an Elderly Patient. Abstract published at
Hospital Medicine 2016, March 6-9, San Diego, Calif.
Abstract 753.
Journal of Hospital Medicine.
2016; 11 (suppl 1). https://www.shmabstracts.com/abstract/aortic-root-abscess-with-valve-endocarditis-presenting-as-transient-ischemic-attack-in-an-elderly-patient/. Accessed April 4, 2020.
« Back to Hospital Medicine 2016, March 6-9, San Diego, Calif.