Case Presentation:
A 57 year old Hispanic woman with a history of chronic low back pain due to lumbar spondylosis and sacroiliac (SI) joint dysfunction previously treated with multiple joint injections, lumbar nerve blocks and radiofrequency ablations presented with a six week history of progressive left buttock and back pain. Notably, the patient received a left SI joint steroid injection four days prior which had further aggravated the pain. Her initial exam revealed an obese woman with normal vital signs, a 2/6 mid-systolic murmur, left buttock tenderness, no spinal tenderness or focal neurological deficits. Labs were significant for a white cell count of 15,800/µL, erythrocyte sedimentation rate 23mm/hr, C-reactive protein 9.45mg/L, and creatine kinase 157 U/L. On hospital day #1, the patient developed worsening back pain and agitation along with a fever of 102.9°F, heart rate 105 bpm, and blood pressure 93/52 mmHg. She was fluid resuscitated and started on empiric broad-spectrum antibiotics for a suspected abscess with clinical improvement. MRI of the left hip revealed septic arthritis of the left SI joint with a subcentimeter fluid collection and edema in the left iliacus muscle, concerning for abscess and myositis (Figure 1). The fluid pocket was unamenable to drainage per orthopedic surgery. Blood cultures were positive for Granulicatella adiacens (G. adiacens)in 3 of 4 bottles at 24 hours. The organism was highly susceptible to ceftriaxone and moderately so to penicillin. TEE revealed no valvular vegetations. The patient was then discharged to home on four weeks of ceftriaxone.
Discussion:
The practice of interventional pain medicine has become increasingly popular. In particular, with chronic low back pain being a common complaint and SI joint dysfunction a significant contributor, SI joint injections are frequently performed to reduce associated pain. A review article from 2007 reported zero complications from SI joint injections since the 1960's. More recently, a 2013 case report described a patient with pyogenic sacroiliitis after an SI joint injection with blood cultures growing MSSA, consistent with the finding that staphylococcal isolates cause the majority of septic arthritis cases.
Here we introduce a case of streptococcus-related septic sacroiliitis and iliacus pyomyositis. G. adiacens is a normal component of oral flora but difficult to isolate as a nutritionally variant streptococcal species. The most well-known clinical syndrome caused by G. adiacens is endocarditis, though it has also been responsible for other infections such as sinusitis and septic arthritis of the knee after arthroplasty. Our patient was treated with intravenous antibiotics for the same duration as is recommended for infective endocarditis despite lack of echocardiographic evidence due to the inherent high risk. The fastidious G. adiacens is seldom found in people without infective endocarditis and Granulicatellaendocarditis carries a poorer prognosis compared to those caused by more typical streptococcal species.
Conclusions:
Sacroiliac joint injections, though generally considered benign and more frequently utilized in recent years, may present with complications. When presented with bacteremia from the hard-to-isolate granulicatella species, it is essential to consider infective endocarditis in the differential diagnosis.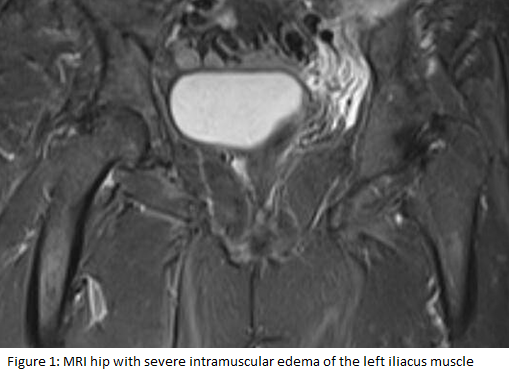 To cite this abstract:
Hong A, Rhyu J, Cohen SE. An Unusual Cause of Septic Hip After Joint Injection. Abstract published at
Hospital Medicine 2016, March 6-9, San Diego, Calif.
Abstract 559.
Journal of Hospital Medicine.
2016; 11 (suppl 1). https://www.shmabstracts.com/abstract/an-unusual-cause-of-septic-hip-after-joint-injection/. Accessed February 24, 2020.
« Back to Hospital Medicine 2016, March 6-9, San Diego, Calif.