Introduction:
Esophagitis dissecans superficialis (EDS) is a rare although likely underreported endoscopic finding characterized by sloughing of large fragments of esophageal mucosal lining. It is commonly seen in immune suppressed patients and those with multiple comorbidities. We describe an unusual cause of sloughing esophagitis in a patient with no history of immune suppression.
Case Presentation:
An 89-year-old Caucasian woman presented with one week of dysphagia. She endorsed night sweats and a 30 pound weight loss over the last year, but denied fevers, abdominal pain, nausea or vomiting. While the patient had a heavy smoking history and oxygen-dependent chronic obstructive pulmonary disease, she had not recently been on corticosteroids. For further evaluation of the dysphagia, upper endoscopy was performed showing an extremely tortuous esophagus with a large amount of sloughing mucosa.; normal esophageal mucosa was noted underneath the sloughing mucosa. Multiple biopsies were taken throughout the esophagus, and a large fragment of sloughed mucosa was sent for pathology as well. Histology showed focal acute fungal esophagitis. A silver (GMS) stain for fungal organisms revealed numerous yeast forms, consistent with Histoplasma species. Pantoprazole was continued and the patient commenced a course of itraconazole, to be completed as an outpatient. Over the next few days the patient's symptoms improved, she tolerated a diet, and she was discharged to a skilled nursing facility.
Discussion:
EDS has myriad causes including medications such as bisphosphonates, heavy smoking, achalasia, and immunosuppression. It is often seen in elderly debilitated patients on multiple medications. While the most common symptom is dysphagia, EDS can also present with nausea, vomiting, abdominal pain and hemetamesis. Upper endoscopy shows the characteristic white plaques or membranes which can be diffuse or localized to the distal esophagus. EDS generally has a benign, self-limited course, resolving with conservative management alone.
In our patient we describe acute fungal esophagitis secondary to histoplasmosis as the presumptive cause of ESD. Esophageal histoplasmosis is a rare entity, especially in immunocompetent patients. To our knowledge it has not been described as a cause of EDS.
Conclusions:
EDS is an unusual cause of dysphagia with a striking endoscopic appearance. We describe a case of esophageal histoplasmosis as the cause of sloughing esophagitis. The diagnosis is infrequent and rarely seen in immune competent patients.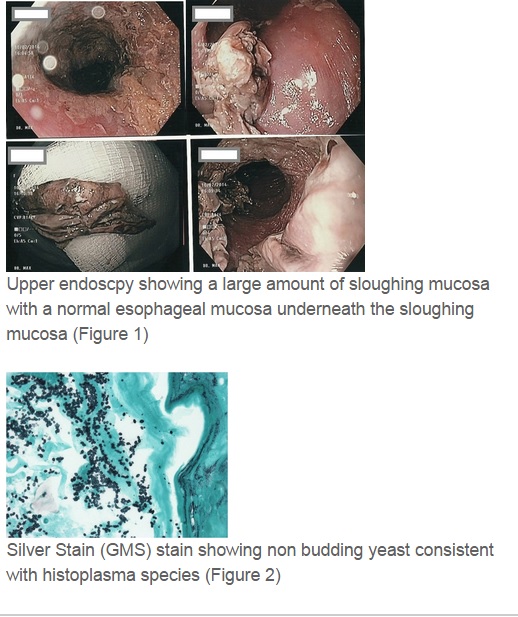 To cite this abstract:
Putrus A, AlSamman M, Al-Ghanoudi A, Bertrand J, Blatt S, Max J. An Unusual Case of Sloughing Esophagitis Due to Histoplasmosis in an Immune Competent Patient. Abstract published at
Hospital Medicine 2015, March 29-April 1, National Harbor, Md.
Abstract 660.
Journal of Hospital Medicine.
2015; 10 (suppl 2). https://www.shmabstracts.com/abstract/an-unusual-case-of-sloughing-esophagitis-due-to-histoplasmosis-in-an-immune-competent-patient/. Accessed April 3, 2020.
« Back to Hospital Medicine 2015, March 29-April 1, National Harbor, Md.