Case Presentation: Bacterial meningitis is a medical emergency. Often signs and symptoms are vague and unspecific, therefore a high index of suspicion is required. Unfortunately, meningitis is often misdiagnosed, generating delays in treatment.
A 2-year-old previously healthy boy, presented in status epilepticus after one day of fever and non-bloody diarrhea. Blood culture was obtained and Vancomycin and Ceftriaxone were started at meningitic doses. Patient improved rapidly; in a few hours he was active and playful with no neurological deficits. Vancomycin was discontinued and the Ceftriaxone was decreased. Patient was diagnosed as complex febrile seizure, thought to be due to a febrile gastroenteritis given his diarrhea.
The next morning he was lethargic, had neck stiffness, absent motion on left upper and lower extremities with decreased reflexes. Preliminary blood culture showed gram-negative bacilli. Ceftriaxone was increased to meningitic doses and Vancomycin was restarted. STAT head CT revealed diffuse leptomeningeal enhancement with no focal lesions. Lumbar puncture showed grossly purulent and bloody cerebrospinal fluid (CSF) with low glucose and high protein, with gram negative bacilli present on gram stain. Infectious Disease consultation was placed with initial concern for disseminated Salmonella infection given diarrhea and gram-negative bacilli.
Later that day, blood culture revealed Pseudomonas aeruginosa. Meropenem and Tobramycin were started. MRI showed septic emboli to the right parieto-occipital region and ventriculitis. Two days later, CSF culture revealed multidrug resistant P. aeruginosa susceptible to Meropenem. Follow up CT revealed hydrocephalus requiring an external ventricular drain and subsequent placement of VP shunt. Patient completed a nine week course of Meropenem.
Discussion: Febrile seizures are the most common neurologic disorder in pediatrics.1 The yield of a lumbar puncture and CSF analysis in a healthy child presenting with complex febrile seizure and no focal neurologic deficits, as our patient, is low.2 The decision of performing this procedure relies on physician criteria and experience and a high index of suspicion is required. Even a patient with an atypical presentation, such as this, requires continued vigilance for signs of neurologic changes.
Pseudomonas is not covered by the recommended antibiotic regimes for empirical coverage of bacterial meningitis.3 The mortality rate for patients with gram-negative bacillary meningitis ranges as high as 40-80%, which is significantly higher when compared to meningitis due to typical bacteria.4 When gram-negative meningitis is accompanied with blood stream infections, as was our patient, the mortality rate increases.5 Additionally, mortality rates were higher for those with Cefepime resistant P. aeruginosa infection.6 Pseudomonal meningitis is predominantly described as a nosocomial infection related to prior neurosurgery, CSF leak, and cranial fractures, but risk factors in the pediatric population are less established.7
Conclusions: In a previously healthy child without predisposing factors, gram-negative bacilli are an unlikely to cause bacterial meningitis. Pseudomonas aeruginosa is even less common. Our patient is currently undergoing workup for immunodeficiency.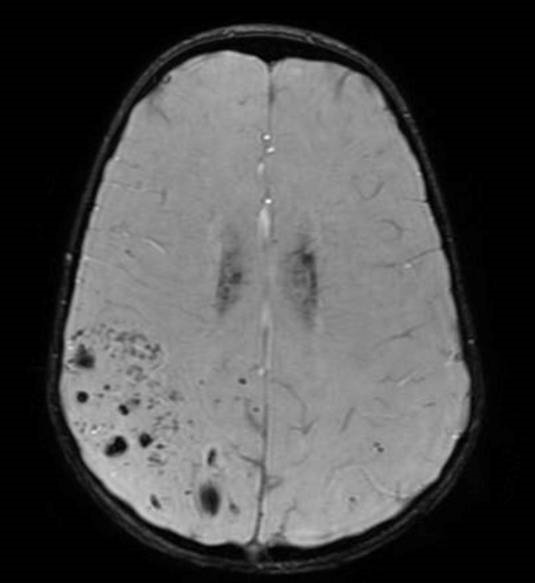 To cite this abstract:
Dazy K, Cortes E, Prutsky Lopez G. An Unusual and Complicated Case of Pediatric Meningitis. Abstract published at
Hospital Medicine 2016, March 6-9, San Diego, Calif.
Abstract 899.
Journal of Hospital Medicine.
2016; 11 (suppl 1). https://www.shmabstracts.com/abstract/an-unusual-and-complicated-case-of-pediatric-meningitis/. Accessed November 22, 2019.
« Back to Hospital Medicine 2016, March 6-9, San Diego, Calif.