Case Presentation:
A 58 year old male is sent from a behavioral health unit for altered mental status, lethargy, and vomiting for one day. He has a history of hypertension and schizoaffecive disorder, for which he takes olanzapine, duloxetine, benztropine, lurasidone, valproic acid, temazepam, lorazepam, and clozapine.
Initial physical examination reveals normal vital signs except for tachycardia. The abdomen is distended with tenderness in the right upper quadrant of the abdomen. His affect is flat, and his mood depressed.
Laboratories reveal a leukocytosis of 12.5mg/dL with bandemia of 26%. Lactic Acid is 3.7mg/dL. Computed tomography of the abdomen with intravenous contrast reveals panduodenitis. Urinalysis reveals 1+ leukocyte esterase, positive nitrites, 1+ protein, 0-5 white blood cells, no blood and few bacteria.
He is admitted to the medical floor and started on ciprofloxacin, metronidazole, and omeprazole intravenously. Urine culture is sterile.
Examinations over the next 3 days reveal tea-colored urine, worsening of abdominal distention, and palpable purpura. Subsequently, he develops melena, anemia, and renal failure. Erythrocyte sedimentation rate is 25 mm/hr and C-reactive protein is 13.500 mg/dL. Estimated urine protein excretion is 724.97 mg/day with 3+ blood in the urine. Rheumatoid factor, anti-nuclear antibody, ANCA, and glomerular-basement membrane antibodies are negative. Serum immunoglobulins reveal elevated IgA. Endoscopy reveals congested, necrotic, and ulcerated mucosa with findings consistent with vasculitis. Skin biopsy reveals leukocytoclastic vasculitis. Intravenous methylprednisolone is initiated, and after a three week oral prednisone taper, the patient recovers to baseline.
Discussion:
The incidence of Henoch-Schonlein Purpura (HSP) in the adult population is approximately 1.3 per 100,000 people per year, as compared with 15 per 100,000 per year in children.1 The disease is generally considered more severe in the adult population, with more frequent diarrhea, leukocytosis, and more severe renal disease.2,3 However, given the decreased incidence in the adult population, most of our data comes from children. Most cases of Henoch-Schonlein purpura are self limited and supportive treatment is indicated. The role of steroids is controversial; however, they have been shown to decrease the duration of gastrointestinal and musculoskeletal symptoms.4 Steroids are commonly used for renal involvement despite systematic reviews showing no benefit in this setting.5
Conclusions:
Henoch-Schonlein Purpura is an uncommon disease in the adult population and can present with gastrointestinal dominant symptoms. Additionally, studies have demonstrated more severe renal involvement in adults, yet we lack data on the role of steroids in this population.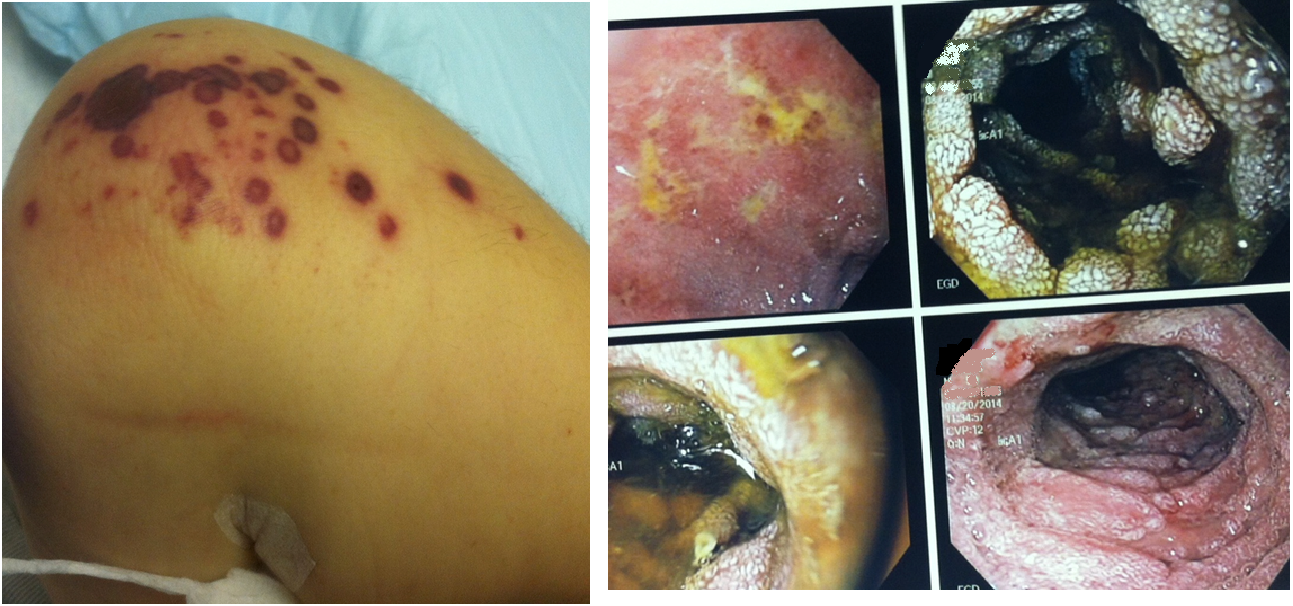 To cite this abstract:
Robichaux S, Williams D. An Evolving Diagnosis: Altered Mental Status to Henoch-Schlonein Purpura in an Adult. Abstract published at
Hospital Medicine 2015, March 29-April 1, National Harbor, Md.
Abstract 669.
Journal of Hospital Medicine.
2015; 10 (suppl 2). https://www.shmabstracts.com/abstract/an-evolving-diagnosis-altered-mental-status-to-henoch-schlonein-purpura-in-an-adult/. Accessed September 19, 2019.
« Back to Hospital Medicine 2015, March 29-April 1, National Harbor, Md.