An Electronic Dashboard to Improve Compliance with Inpatient Quality Measures
1University of Washington Medical Center, Seattle, WA
2Virginia Mason Medical Center, Seattle, WA
3Harborview Medical Center, Seattle, WA
4University of Washington Medical Center, Seattle, WA
5Harborview Medical Center, Seattle, WA
6Harborview Medical Center, Seattle, WA
7Harborview Medical Cenler, Seattle, WA
8Harborview Medical Center, Seattle, WA
9University of Washington Medical Center, Seattle, WA
10Harborview Medical Center, Seattle, WA
Meeting: Hospital Medicine 2010, April 8-11, Washington, D.C.
Abstract number: 203
Background:
Inpatient quality measures, such as compliance with multidisciplinary ventilator bundles to prevent ventilator associated pneumonia and venolhromboembolism (VTE) prophylaxis have been linked to reduced morbidity and mortality. However, at many hospitals not all suitable patients receive recommended care. Hospitals are increasingly reporting performance on such quality and safety measures to government and third‐party entities, with implications for reimbursement and hospital reputation. Efforts to improve performance on these measures often rely on delayed reporting thai limits timely intervention. New methods for immediately detecting and addressing gaps in compliance could improve patient outcomes and hospital quality assessment.
Purpose:
To institute a real‐time, automated electronic dashboard to improve awareness of provider compliance wilh inpatient quality and safely measures.
Description:
We created a real‐time dashboard for quality and safety praclices within our electronic health record (EHR). We pilot‐tested this innovation in an ICU at a 400‐bed academic hospital and an ICU at a 450‐bed county teaching hospital. The dashboard uses existing patient chart data (medication administration record, nursing coded documentation, and lab data) to determine compliance with guidelines for sedation vacations, spontaneous breathing trials, VTE prophylaxis, peptic ulcer prophylaxis, glucose control, oral care, and elevation of the head of bed. Results for each patient are displayed in a grid of color‐coded boxes on a large wall‐mounted computer monitor at the adjacent nursing station, allowing all team members to assess compliance at a glance (Fig. 1). Contraindications and VTE risk can be documented directly within the dashboard. The screen can be switched to display results for all patients in the unit, enhancing team awareness of gaps in performance. When clicking on or hovering the cursor over a box, a pop‐up window displays raw data and trends over time. Links to applicable algorithms are available at the top of each column. Through pilot testing, we refined the algorithm that identified exclusion criteria and enhanced the user experience. A study is now underway to assess acceptance of the technology and to determine if the intervention improves compliance with recommended practices as well as clinical outcomes. Using a pre‐post design, data will be collected from 2 units receiving the intervention and 2 control units.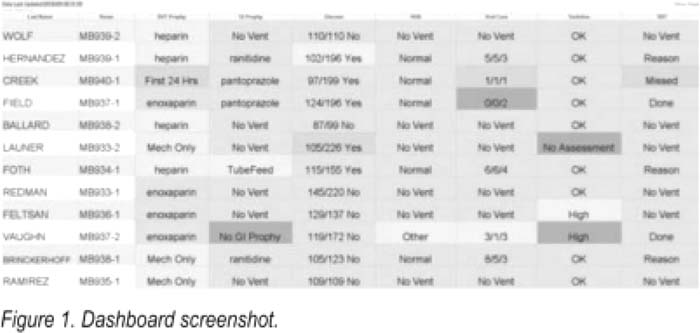 Conclusions:
Our real‐lime dashboard has the potential to improve patient outcomes by enhancing situational awareness among teams responsible for adherence to reportable quality measures. This innovation uses existing clinical data, assimilates it in real time for immediate action, and creates a record for reporting purposes. Studies are underway to determine if compliance and patient care outcomes are improved. Early anecdotal reports suggest improvements in compliance and high provider satisfaction with the system.
Author Disclosure:
A. White, none; B. Aaronson, none; D. Stone, none: Nl. Schaft, none: D. Adams, none; A. Schreuder, none; C. Cottingham, none; M. Neff, none; G. Fletcher, none: K. Nasenbeny, none.
To cite this abstract:
White A, Aaronson B, Stone D, Cottingham C, Fletcher G, Adams D, Schreuder A, Schaft M, Nasenbeny K, Neff M. An Electronic Dashboard to Improve Compliance with Inpatient Quality Measures. Abstract published at
Hospital Medicine 2010, April 8-11, Washington, D.C.
Abstract 203.
Journal of Hospital Medicine.
2010; 5 (suppl 1). https://www.shmabstracts.com/abstract/an-electronic-dashboard-to-improve-compliance-with-inpatient-quality-measures/. Accessed March 29, 2020.
« Back to Hospital Medicine 2010, April 8-11, Washington, D.C.