An Atypical Presentation of a Metastatic Papillary Thyroid Carcinoma of the Brain
Fiorella Llanos-Chea, MD*1; Sonam Jaggi, MD1; Raymundo Alain Quintana-Quezada, MD1; Yi Chun Yeh, MD1 and Maria E Cabanillas, MD2, (1)University of Texas Health Science Center at Houston, Houston, TX, (2)The University of Texas MD Anderson Cancer Center, Houston, TX
Meeting: Hospital Medicine 2016, March 6-9, San Diego, Calif.
Abstract number: 647
Categories: Adult, Clinical Vignettes Abstracts
Keywords: Brain Metastasis, Intracranial Hemorrhage, Iodine-131 and Thyroid Cancer
Case Presentation:
We report a case of an asymptomatic 65-year-old Hispanic male with a left neck mass. Ultrasound and fine needle aspiration were compatible with thyroid cancer. He underwent a total thyroidectomy with modified radical left neck dissection. The tumor measured 5 x 3.5 x 2.7 cm, with complete involvement of the left thyroid lobule. Pathology findings showed moderately differentiated papillary thyroid cancer of oncocytic variant, with positive extrathyroidal extension and lymphovascular invasion, as well as involvement of local lymphatic nodes, measuring from 0.2 to 2.5 cm (peri-thyroid 3/6, 2A group 1/2, 2B group 0/30, 3 group 4/10, 4A group 0/4, 4B group 3/5).
Due to persistent elevation of thyroglobulin in his follow-ups despite TSH suppression (pre-operative: 209.5 µg/L; 3 months after surgery: 154.5 µg/L; 5.5 months after surgery: 287.8 µg/L), an iodine-131 (I-131) whole-body scan with previous withdrawal of thyroid hormone and iodine products was recommended. Hours later, the patient presented with loss of consciousness, left hemiparesis and Broca's aphasia. Brain imaging showed an expansive lesion in the left parietal-occipital lobe with contrast enhancement, recent hemorrhagic areas and intense vasogenic edema. He underwent an urgent craniotomy and resection, thus the pathology results confirmed a metastatic papillary thyroid carcinoma. Unfortunately, the patient deceased soon after surgery due to complications of his substantial intracranial bleeding and edema.
Discussion:
Papillary thyroid carcinoma is the most common differentiated thyroid neoplasm and usually carries a good prognosis. Brain metastasis is rare (1-5%) and carries a poor survival rate. The clinical presentation in this cases can vary from headaches, seizures to focal neurologic deficits. Nevertheless, they can have an indolent evolution. Iodine-131 scan can help in the detection of small, asymptomatic metastasis. However, if the metastasis is in an enclosed area, such as the brain, it can cause acute cerebral edema and hemorrhage. Moreover, the incidence of spontaneous hemorrhage can vary between 3 to 14%, likely due to radiation's susceptibility. The temporal association between I-131 and acute hemorrhage is noteworthy and suggests a causal relationship.
Conclusions: Metastatic papillary thyroid carcinoma to the brain carries a poor prognosis. Since this entity can have an indolent evolution, we do not recommend giving I-131 prior to surgery or radiotherapy given the risk of cerebral edema and hemorrhage. More studies should be done in order to standardize the management of metastasic thyroid carcinoma.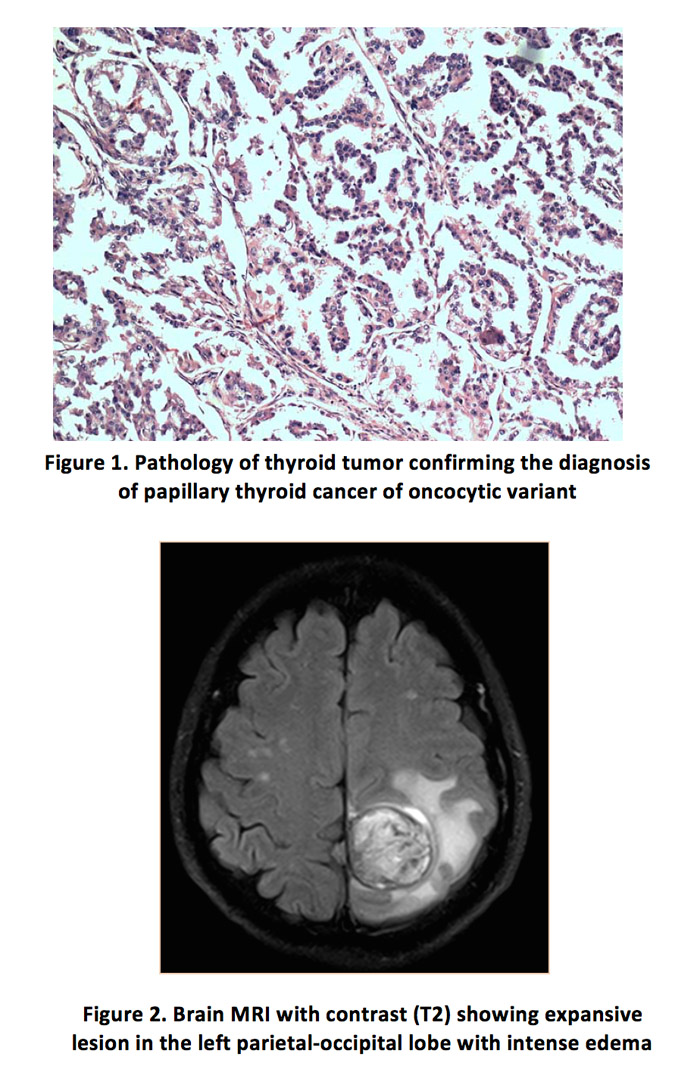 To cite this abstract:
Llanos-Chea F, Jaggi S, Quintana-Quezada RA, Yeh YC, Cabanillas ME. An Atypical Presentation of a Metastatic Papillary Thyroid Carcinoma of the Brain. Abstract published at
Hospital Medicine 2016, March 6-9, San Diego, Calif.
Abstract 647.
Journal of Hospital Medicine.
2016; 11 (suppl 1). https://www.shmabstracts.com/abstract/an-atypical-presentation-of-a-metastatic-papillary-thyroid-carcinoma-of-the-brain/. Accessed April 1, 2020.
« Back to Hospital Medicine 2016, March 6-9, San Diego, Calif.