Case Presentation:
A 42-year-old man with a history of severe hypertension, chronic kidney disease (stage 3), obesity, and smoking presented with one day of acute onset abdominal pain. The pain awoke him from sleep at 4 AM, starting in his lower back and then radiating to the epigastrium. It was constant, severe, associated with mild nausea and anorexia, and exacerbated lying flat. His abdomen felt distended, "like it would pop with a pin in it." Of note, he was on three anti-hypertensive medications but had required up to five medications in the past.
Upon admission, his vitals were notable for a blood pressure of 198/101 and pulse of 76. Physical exam showed mild epigastric tenderness. Labs were unremarkable. He had a non-contrast CT scan which showed moderate hazy infiltration along the dilated celiac trunk extending to the bifurcation, concerning for spontaneous celiac artery dissection. There was no bowel thickening or edema consistent with bowel ischemia. Usually the gold standard for diagnosis of dissection is a CT angiogram, but the risk outweighed the benefits given his chronic kidney disease. Therefore, the next day he underwent an abdominal ultrasound with Doppler which showed significant stenosis of the celiac artery but could not confirm dissection given the small caliber of the vessels. His MRA visualized a partial occlusion of the proximal celiac trunk 1.6 cm in length with a likely focal dissection and/or mural thrombus formation.
The patient was treated for presumed celiac artery dissection with conservative management including bowel rest. His anti-hypertensive medications were up-titrated and smoking cessation recommended. The next step would have been an angiogram to evaluate the need for potential stent placement, but this was again too risky given his kidney disease. He was started on anti-coagulation to prevent thrombosis and distal embolization. Over the next few days, he continued to have a few episodes of pain correlated with blood pressure elevation but eventually his pain resolved.
Discussion:
Spontaneous, isolated visceral artery dissection is rare, especially involving the celiac artery. This patient's risk factors included atherosclerosis, hypertension, smoking, and demographics (five times more common in males with an average age of 55). Appropriate diagnosis of this disease is essential to prevent complications such as progressive dissection, rupture of the vessel, or aneurysm dilatation. If the patient has no signs of bowel ischemia or bleeding, conservative treatment may be attempted with anti-coagulation until the dissection has improved. Otherwise, endovascular therapy (i.e. stent, thrombolytic therapy, or angioplasty) or surgery may be considered, especially if bowel infarction or arterial rupture occurs.
Conclusions: Visceral artery dissection should be considered in patients with unexplained severe abdominal pain, especially in patients with cardiovascular risk factors.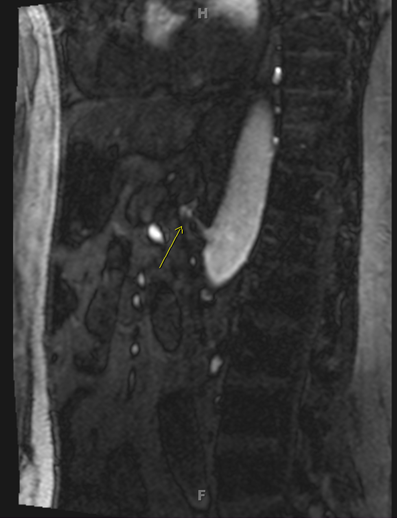 « Back to Hospital Medicine 2015, March 29-April 1, National Harbor, Md.