Case Presentation:
A 67-year-old woman with 50 pack-year smoking history presented with a 2-week history of bilateral leg weakness. She had difficulty with ambulation and sustained several falls. Of note, the patient denied cough, phlegm or shortness of breath. She did not report other neurological symptoms. Her past medical history was remarkable for chronic obstructive pulmonary disease, hypertension, and depression. Her family history was unremarkable for any malignancy. On initial examination, her vital signs were stable. Pulmonary and cardiovascular exams were unremarkable. Neurological exam demonstrated decreased strength in bilateral lower extremities, 2/5 in proximal and distal muscles. Plantar responses were upgoing bilaterally. Complete blood count and comprehensive metabolic panel were within normal limits. Magnetic resonance imaging of thoracic spine demonstrated diffuse edema throughout the thoracic cord worrisome for infectious process or transverse myelitis. The patient underwent a lumbar puncture, and cerebrospinal fluid analysis revealed a lymphocytic pleocytosis suggesting a diagnosis of transverse myelitis. She was treated with intravenous steroids, and subsequently plasmapheresis. Given the history of significant tobacco use, paraneoplastic transverse myelitis was suspected, and a computed tomography (CT) of the chest was obtained. CT chest demonstrated a left hilar/perihilar mass highly suspicious for malignancy. The patient underwent bronchoscopy, and pathology confirming small cell carcinoma. A diagnosis of paraneoplastic transverse myelitis secondary to small cell lung cancer was established.
Discussion:
Small cell lung cancer is an aggressive malignancy that is typically associated with various paraneoplastic syndromes. The usual clinical presentation includes symptoms of cough, weight loss, and/or dyspnea. Paraneoplastic manifestations can precede the diagnosis of underlying malignancy by months or years. Some of the neurological paraneoplastic syndromes include Lambert-Eaton myasthenic syndrome (LEMS), cerebellar ataxia, sensory neuronopathy, limbic encephalitis, encephalomyelitis, autonomic neuropathy, retinopathy, and opsomyoclonus. Lambert-Eaton syndrome is the most common associated paraneoplastic syndrome, which affects about 3% of patients with small cell lung cancer.
Transverse myelitis as the initial presentation of small cell lung cancer is rare and requires a high index of suspicion. The diagnosis of transverse myelitis is established with a combination of clinical signs and symptoms, in conjunction with radiographic and CSF findings. Associated antibodies most frequently detected are anti-Hu, anti-CRMP5/CV2, and less commonly, anti-amphiphysin antibodies. Treating the underlying malignancy can improve symptoms and immunosuppressive therapy may also result in clinical improvement.
Conclusions:
Transverse myelitis as a paraneoplastic manifestation of lung cancer is a diagnostic consideration in patients with a history of tobacco abuse. Hospitalists should have a low threshold to initiate further work up with a CT chest to look for underlying malignancy.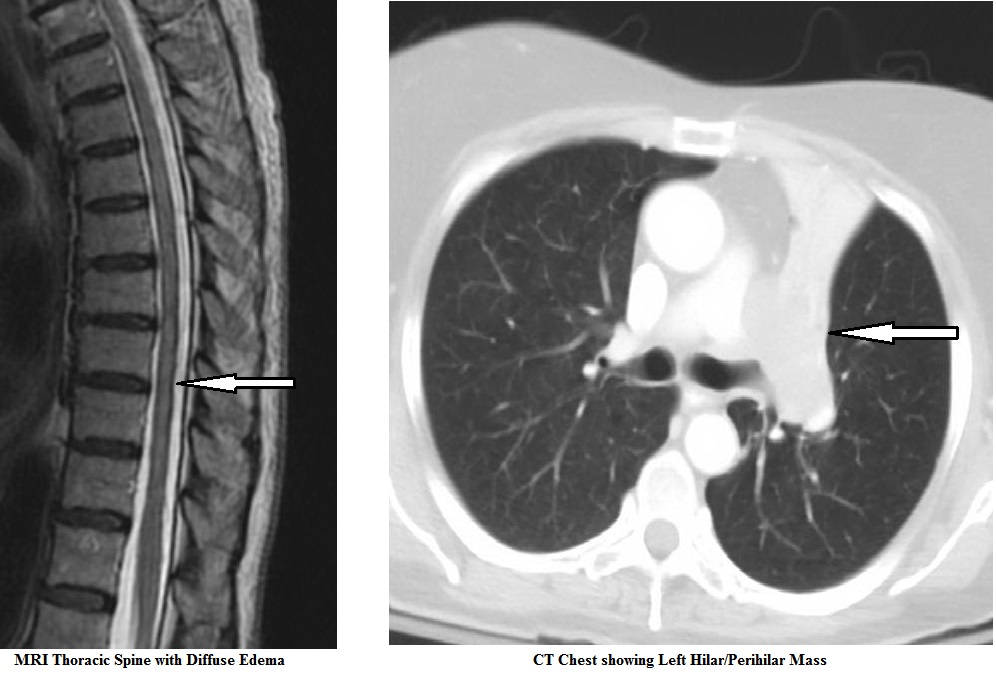 To cite this abstract:
Grover S, Kataria KK, Bansal V. A Smoker's Transverse Myelitis: Have You Ordered a Ct Chest?. Abstract published at
Hospital Medicine 2016, March 6-9, San Diego, Calif.
Abstract 533.
Journal of Hospital Medicine.
2016; 11 (suppl 1). https://www.shmabstracts.com/abstract/a-smokers-transverse-myelitis-have-you-ordered-a-ct-chest/. Accessed March 29, 2020.
« Back to Hospital Medicine 2016, March 6-9, San Diego, Calif.