Case Presentation:
We report a case of Allopurinol induced drug reaction with eosinophilia and systemic symptoms (DRESS) syndrome. A 54‐year‐old male presented with toe pain due to gout. He was started on allopurinol. Two weeks later, he had severe pruritic rash. Initially, rash was noted on the abdomen and later it spread to his face and feet. On exam, he had fever of 102 and tachycardia. He had diffuse maculo‐papular rash involving more than 90% of his skin including palms and soles. He also had oral ulcers, facial swelling and lower extremity edema. Labs showed WBC count 5K, Hemoglobin 12, platelets 104K, eosinophils 14%, Creatinine 3.2, AST 92 and ALT 82. CT chest showed reactive appearing lymph nodes in both axillae. Skin biopsy showed acute vacuolar interface dermatitis. The patient was initially diagnosed with sepsis due to fever, rash and lymphadenopathy and was started on antibiotics. Subsequent Infectious work up including pancultures, Herpes simplex and Human Herpes virus serology was negative. His rash did not improve with antibiotics. Based on type of rash, edema, lymphadenopathy and eosinophilia, a diagnosis of DRESS syndrome was made and pt was started on systemic and topical steroids. His facial edema and erythema improved slowly over several days. He was discharged on gradual steroid taper.
Discussion:
DRESS syndrome is a rare but potentially life‐threatening drug‐induced hypersensitivity reaction. It is also called drug‐induced hypersensitivity syndrome (DiHS). It is a type IV drug reaction (delayed type hypersensitivity) involving the activation and expansion of T cells over several days after antigen exposure. DRESS syndrome rash usually starts 2‐4 weeks after initiation of inciting medication. Patients also develop fever, facial edema, enlarged lymph nodes and systemic involvement (lung, liver, kidney and rarely heart). Lab work shows eosinophilia and atypical lymphocytosis. Most common drugs known to cause DRESS syndrome are anti‐epileptics, Dapsone, Minocycline, Sulfa, Abacavir and Allopurinol. There is evidence for a genetic predisposition to DRESS syndrome similar to steven Johnson syndrome/ toxic epidermal necrolysis(SJS/TEN). DRESS syndrome due to allopurinol is associated with HLA‐B*5801. DRESS syndrome due to abacavir occurs predominantly in patients with HLA‐B*5701. If a patient is positive for the forementioned HLA profile, family members should be screened for high risk HLA profile before starting Allopurinol.
Differential diagnosis includes sepsis, SJS/TEN and acute generalized exanthematous pustulosis (AGEP). SJS/TEN patients develop blisters, desquamation and severe mucosal involvement 4‐28 days after starting the drug and they typically do not have eosinophilia and their skin biopsy shows necrosis. Another differential is AGEP, which starts within 48‐72 hours of starting drug and these patients usually have pustular skin lesions.
Treatment of DRESS involves stopping the suspected drug, supportive care and topical steroids. Systemic corticosteroids are indicated for patients with severe interstitial nephritis, acute hepatitis or interstitial pneumonitis. Steroids are slowly tapered over 8‐12 weeks. Recovery occurs in weeks to months. DRESS has high mortality rate of 5‐10 percent.
Conclusions:
A high index of suspicion is necessary to identify DRESS syndrome in patients who present with rash, fever, edema, lymphadenopathy, systemic involvement and eosinophilia in the setting of exposure to Allopurinol 2‐4 weeks prior to onset of symptoms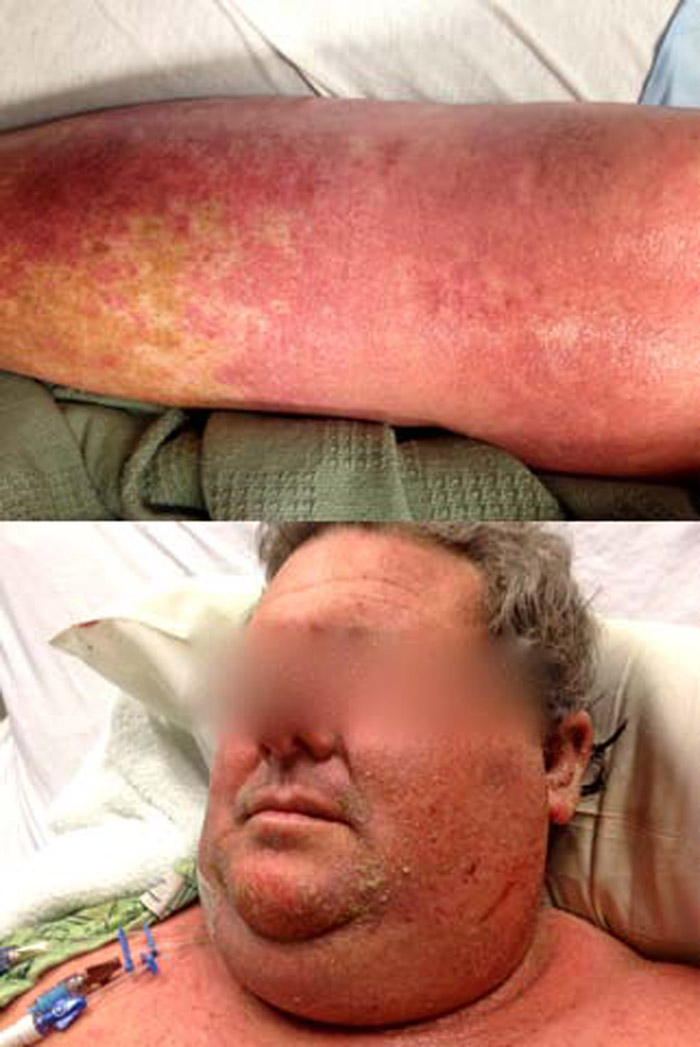 To cite this abstract:
Chuda R, Poddutoori P. A Rare Dress. Abstract published at
Hospital Medicine 2014, March 24-27, Las Vegas, Nev.
Abstract 391.
Journal of Hospital Medicine.
2014; 9 (suppl 2). https://www.shmabstracts.com/abstract/a-rare-dress/. Accessed March 31, 2020.
« Back to Hospital Medicine 2014, March 24-27, Las Vegas, Nev.